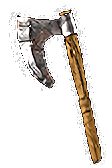 Berserker Axe [Runewords(Bases)]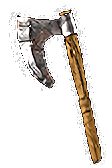 1H damage:
24-71
Sale [5 Sockets]
Base speed:
[0]
Sale [ETH]
Class speed:
Ama, Asn, B, D, N, P - Fast
S - Normal
Adds range:
2
Durability:
26
Req Strength:
138
Req Dexterity:
59
Req level:
64
Quality level:
85
Treasure class:
87
Max sockets:
6
With our reliable and timely updated D2R Berserker Axe[5S & ETH] Trading Price Index for PS4, PC, Switch, and Xbox, you can easily check the current Diablo 2 Resurrected Berserker Axe[5S & ETH] Market Value on Ladder and No-Ladder Mode! The prices of D2R Berserker Axe[5S & ETH] are ranged from 1.41USD to 9.59USD, learn when the price is rising and falling, get the best Diablo 2 Berserker Axe[5S & ETH] trading and buy D2R Ladder Items! Among Non-Ladder D2R items, the Berserker Axe[5S & ETH] is priced at 3.39USD, and in the trading of D2R Ladder items, it requires 4.75USD. Knowing the value will help you buy D2R items at a more favorable price. In terms of our D2R items stock, we still have 99 D2R items in this Runewords(Bases), welcome to buy Diablo 2 items and runes here.

CONGRATULATIONS
ON GETTING
Participants: 10