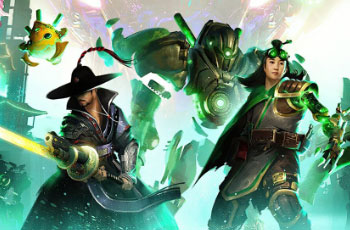 Guild Wars 2 Items For Sale On Utplay.com - Buy Cheap & Legit GW2 Items With Fast Delivery
Guild Wars 2 is a massively multiplayer online role-playing game (MMORPG), created by ArenaNet and released by NCSoft in 2012. Don't have much time to play Guild Wars 2 but want to gather all the GW2 items, weapons, armor, and skins? Utplay.com is the best Guild Wars 2 items shop that has 10 years of experience in selling game currencies. Various Guild Wars 2 items are for sale here at the cheapest price on the market. Upon placing your order for cheap Guild Wars 2 items, our team will complete delivery immediately. The majority of Guild Wars 2 items for sale can be delivered within 10 minutes, and online support will be provided if you run into any problems. Buy cheap GW2 items now here is a simple and safe process, you don't have to worry about the safety of your account. We will try our best to meet your demand if you having trouble buying Guild Wars 2 items here.
About Guild Wars 2 Items
Weapons and armor are the most fundamental prerequisites for surviving the voyage through Tyria in Guild Wars 2. Without them, players would perish if they come into contact with a hostile entity. They are available in a variety of rarities, ranging from Basic (the most common) through Legendary (the rarest and most powerful).
Upgrade components are things that can increase or decrease the benefits or additional effects of a weapon, armor, or gathering equipment. Runes, sigils, infusions, and glyphs are examples of these.
The appearance of an Guild Wars item is determined by its skin. Gamers may customize their weapon or armor to appear different than it typically would. Skins are useful for completing a predefined appearance or for those who don't like how it appears.
Crafting Materials are materials required to create other GW2 items. They can be cooking ingredients, ores, or components. Certain players are unable to obtain it for themselves since some of these resources are scarce. Fortunately, there are several resources available to lead them in the correct way.
How To Get Guild Wars 2 Items In-Game?
Taking loot from dead opponents.
Opening several chests scattered over the globe.
Obtaining raw materials
Various containers are being opened.
Reward for successfully completing a personal narrative quest.
Reward for successfully finishing dungeons.
Reward for completing the map and the planet.
Through World Experience, you can earn a new rank in World vs World or Structured PvP.
Buying them from a seller
Purchasing them from the Gem Store.
Via other players, by mail, or acquired from the Trading Post.
If you are tired of griding for GW2 items, utplay.com offers the greatest Guild Wars 2 items, armors, weapons, and skins purchasing experience with fast delivery, safe transaction, reasonable price, and professional 24/7 LiveChat!