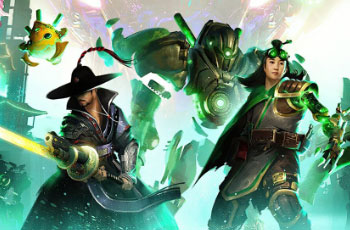 Buy Guild Wars 2 Gold - Fast, Safe, Cheap GW2 Gold For Sale on UTPLAY.COM
Want to get thousands of Guild Wars 2 Gold fast and easily? Buy GW2 Gold from UTPLAY.COM now! We are professional game currency sellers with rich experiences and a good reputation in the market, so we have the confidence to be your best place to get GW2 gold safely at the best ratio here! We have a full stock of Cheap Guild Wars 2 Gold for sale on all servers and realms to ensure fast delivery, as well as a promise 100% safe payment & in-game transactions, refund policy, and 24/7 online instant responsive customer support to guarantee no-worry Guild Wars 2 Gold Buying service!
Guild Wars 2 Gold
Guild Wars 2 Gold is the most important currency in the free-to-play, massively multiplayer online role-playing game that can be used to purchase sweet cosmetic upgrades, craft coveted legendary gear, and unlock some of the Living World content and new equipment from the Gem Store! So as the most versatile out of all the currencies in the MMORPG, no matter if you are a beginner or a veteran, a player in Guild Wars 2 always needs gold.
How To Earn Guild Wars 2 Gold In-Game?
So in order to keep some GW2 gold in your inventory for surviving in the MMRPG, you can farm Guild Wars 2 Gold by yourself with the below ways in the game:
Daily Tasks and Login Rewards (Core): Collecting gold begins as soon as you log into the game, every day you passively unlock a login reward to collect gold.
Collecting materials: Quickly farm materials to resell them for a nice sum of money.
Champion farms: (Core): Kill champions and complete events as quickly as possible on a map to quickly accumulate varied loot.
Meta-events: Complete large-scale events on a map such as the meta event that takes place in The Silverwastes and get lots of rewards.
Achievements and other daily activities: You can actively earn a little gold per day through daily achievements and daily quests such as Daily Sunken Treasure Hunter.
Exchange other currencies to gold: In Guild Wars 2, more and more currency accumulates over time, and many of them can be exchanged for gold, including Dungeon Tokens, Spirit Shards, Karma, Badges of Honor, Guild Commendations, Black Lion Claim Tickets
Why Buy Guild Wars 2 Gold from UTPLAY.COM?
In GW2, there are many different ways to farm Guild Wars 2 Gold in-game by yourself but we can see all these activities are grinding and will take a bulk of your game time to earn enough gold for you. So the most cost-effective and fastest way to get Guild Wars 2 Gold in a short time is to buy Cheap GW2 Gold from a reliable online store such as UTPLAY.COM:
Reasonably fair price to players since we alter the Guild War 2 gold price according to the market in real-time ensures the stability of our price.
have multiple suppliers, and a constant supply
The transaction of the GW2 gold process at UTPLAY is safe, easy, and smooth, delivery is arranged as soon as possible after we have received and verified your payment.
If your order can not be fulfilled promptly owing to a shortage of stock or can't be completed due to clients' denial of payment verification, a full refund can be handled immediately.
Our Live Chat is 24/7 online, which is handy for you to consult at any time, so please feel free to hit us up when you have any problem in buying Guild Wars 2 Gold.
UTPLAY.COM is considerably different than other gaming service websites, we are a customer-first website that assists you along the purchase to make sure you are satisfied.