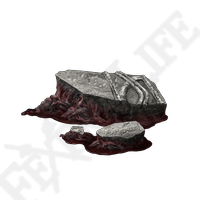 Acquisition (W.I.P)
Finite spawns
Dropped by

Living Jar (1%-5%)
Large Living Jar (20% base, guaranteed to drop one the first time they're killed)
Optimal Farming Recommendation (W.I.P)
Secluded Cell Site of Grace in Stormveil Castle: Walk straight forwards from the grace to find seven Living Jars and one Large Living Jar.
Royal Moongazing Grounds Site of Grace in Caria Manor

: From the Site of Grace, go back into the manor and drop off a series of platforms to the south-southwest to find a large Living Jar

and a number of small ones. After clearing this group out, you can keep descending the cliffside to find more Living Jars for a total of twelve small jars and three large ones.
Craftable Items

CONGRATULATIONS
ON GETTING
Participants: 10