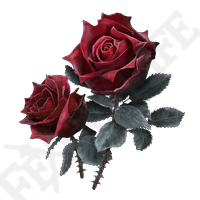 Acquisition (W.I.P)
Found near blood-soaked soil
Infinitely spawns
Dropped by
Unlimited stock at Imprisoned Merchant
Optimal Farming Recommendation (W.I.P)
Fort Haight: 6 bushes can be farmed here: 1 at the entrance stairway, 2 behind the castle, and 3 within the fort's courtyard. After collecting them, teleporting back to the Site of Grace is faster than going back on foot, since the fort is a no-riding zone.
Rose Church: 9 bushes (1 on the pathway leading up to the church, by the fallen tree) can be farmed here. The enemies are easily avoided on horseback. The total run from the Site of Grace to the church collecting all the bushes takes about 45-60 seconds, but you can die to respawn at the Stake of Marika in front of the church, making the process way faster.
With our reliable and timely upated D2R Bloodrose Trading Price Index for PS4, PC, Switch, Xbox, you can easily to check the current Diablo 2 Resurrected Bloodrose Market Value on Ladder and No-Ladder Mode! The prices of D2R Bloodrose are ranged from 0.16USD to 0.24USD, learn when the price is rising and falling, get the best Diablo 2 Bloodrose trading and buy D2R Ladder Items!