Lost Ark Best Soul Eater Build (Full Moon): Pros, Stats, Engravings, Tripods, Gems & Awakenings
9/20/2023 3:21:09 PM
The Soul Eater is a newly released class in Lost Ark Are you looking for the best Soul Eater build for your Lost Ark journey? If you do, we introduce you to Lost Ark best Full Moon Soul Eater class build.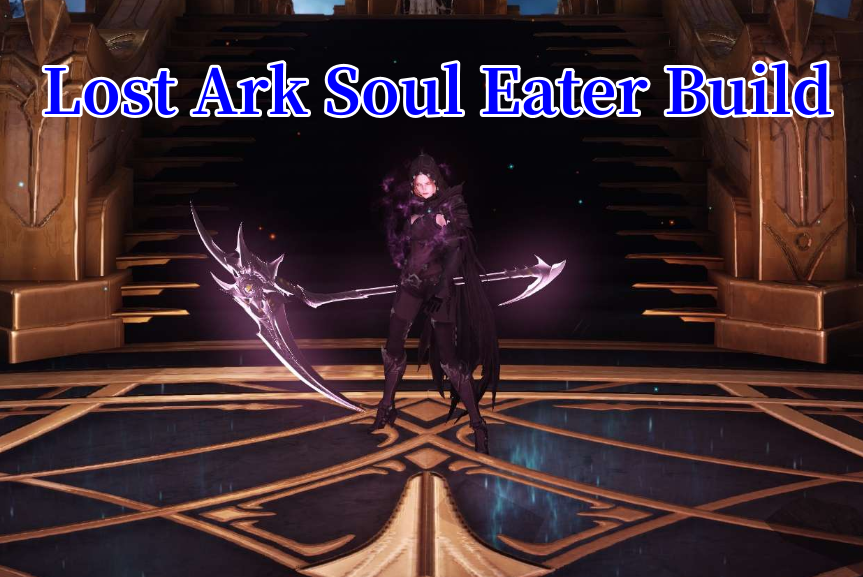 Lost Ark Soul Eater Build Guide - Best Full Moon Soul Eater Build In Lost Ark
Thank TKG who created this Lost Ark best Soul Eater build that is based on the KR statistic and his experience. As The Lost Ark always tries to fix the balance between the class by classes, so, in the future some of the composition of the skills can be changed too. Also, this Lost Ark Soul Eater build guide might be applied, or can be utilized by the KR server players because the Soul Eater hasn't been released globally, yet. Read our Lost Ark Full Moon Soul Eater build guide, we'll talk about pros, stats, engravings, tripods, gems and awakenings of the best Soul Eater build!
Lost Ark Soul Eater Class Engravings
1. Executioner's Full Moon
Critical Rate + 3/9/14%
Possession Meter + 5% when using Soul Stone
Activate Reaper Form (Identity) renew - the Purple Skill Cooldown and increase the skill damage 5/10/15%
Decrease the Purple Skill cooldown during the Reaper Form - 50/60/70%.
Lost Ark Soul Eater Build Combat Stats & Engravings
1. Full Specialization + Critical + Hallucination Set
As you might expect, her backbone combat stat is specialization. The most typical build in Soul Eater in KR right now with the critical stat. It has a nice efficiency with the keen blunt weapon and hallucination set. So, you can utilize the identity whenever you want. Grudge, keen blunt weapon, and class engraving are three engravings that are quite fixed to use. You can utilize or choose from the adrenaline, cursed doll, hit master, and raid captain.
The reason why the specialization critical build class uses the raid captain is that during activation on the reaper form, she can get the movement speed buff and self-buff. And with the combination with the support, she can get full efficiency with the raid captain too. But of course, it can be a little annoying to maintain the movement speed buff too. So, the choice is yours.
2. Full Specialization + Critical + Nightmare Set
In the Nightmare setting, the skill cycle can be a little simpler than the hallucination set, because you need to wait for the nightmare buff. In other words, that means you have to wait for the nightmare buff to be turned on and activate the reaper form. The nightmare build is quite mainstream, and most representatives of the Full Moon Soul Eater build. Waiting or managing time was a little bit annoying experience. Due to these reasons, you need to manage your skill combos and cycles more carefully to make her show you a full DPS performance. Not to mention, you could have a slightly lower critical rate than the hallucination set.
That means, some of the build also can be added in the near future. But Full Moon Soul Eater class engraving is now entering the formalization phase.
Lost Ark Soul Eater Build Pros & Cons
Pros
1. High Damage Performance
2. Free on Positioning (Hit Master)
3. Fast & Stylish Combat Style
4. Easy to Understand and Utilize Mechanic
Cons

1. Soul Stone Brake, Limit on Skill Usage
2. All Damage Performance Depends on Identity
3. Slight Expensive Cost to Build
4. DPS Leaking can be Happened Sometimes, Missing 3 Core Skills is Quite Crucial
Lost Ark Soul Eater Build Requirements
1. High Efficient on Specialization Stat
Main & Core Stat
About 1600-1800 needed to smooth the battle circle
2. Wealth Rune Required for Stable Supply
Lost Ark Soul Eater Build Core Mechanics
The core mechanic of Soul Eater Build is more simple than you expect. Almost every action you take as a Soul Eater wins crease or as an applied position meter. Fill up the soul stone and position the meter with your skill. Perform soul stone or purple skill occasionally. When the position meter is filled up, change your form to more like activating it and start to pour everything you have. The old purple skill starts to renew and you can start to use the fresh or renewed skill in a short period of time.
Lost Ark Soul Eater Build Tripods
Lost Ark Soul Eater Build Gems

Lost Ark Soul Eater Build Awakenings
Awakening is recommended to use the death bringer. Actually, the damage factor of the end and the death bringer do not have many differences. Above all, death bringer fills up the whole soul stone meter when you make an effective hit. Choice of the awakening skill is a preference but still death bringer is recommended to use for the fluent skill combo.