Lost Ark Witcher Event Guide: Island, Quest, Rewards, Card Set, Skins, Weapons, Wallpaper and More
1/19/2023 11:10:00 AM
The Lost Ark x The Witcher crossover update is dropping in Arkesia, let's get into everything about the Lost Ark Witcher event where you can get an all-new island, main & daily quests, themed rewards, items, skins, card set, pets, mounts and more.
Lost Ark Witcher Event Start and End Date
The Lost Ark x The Witcher Collab event officially arrives on January 18 and is going to end on February 22, 2023, new character customization scars will be available, so you have more than a month to participate in the event, but there is a downtime begins on January 18 at 12 AM PDT (8 AM UTC) and is expected to last 4 hours. The event will go live after the downtime.
Lost Ark Witcher Event Island
There is a brand new island where you can encounter iconic characters from The Witcher, it's called the White Wolf's Haven Island and there are a lot of quests you got to do, to unlock the Witcher island, you'll need to speak with the Guild Investigator in major cities. Completing the [Set Sail!] Main Story Quest will allow you to sail around Arkesia, and the use of the Ocean Liner to reach White Wolf Haven Island requires you to get Main Quests and Daily Quests done.
Lost Ark Witcher Event Quest & Rewards
On the island, the quests probably take you about 20 minutes to 30 minutes if you read through everything, but if you skip everything it'll probably take you 10 to 15 minutes to complete. Then there is a Daily Quest area that has five stages and a lot of people are confused about if there's anything else to do after the current quest because there's nothing that really tells you to come back tomorrow or something yet, but at the end of the first quest, there is a dialogue that shows you to come back after in the day and if you look at the quest log, you can actually see there are five versions over there. We have Festival Cooking Panic (In Progress), Song of the Bards, What is this doll, Build a landmark, The and Beginning (Final). Each of them is going to give you at least a card, and they're probably going to give you skins and stuff as well as a Mokoko Witcher skin, if we'll get that, that's going to be on the fifth and final quest, so it's gonna take you five days to complete it and we'll get all the cards along the way and maybe we'll get some other Lost Ark items.
The quest rewards include Witcher Potions, 2 Jukebox songs, a new Card Set featuring 5 Witcher Characters (Geralt, Ciri, Dandelion, Yennefer, and Triss), a Stronghold structure, Emoticons & Selfie Stickers, and a Title.
Lost Ark Witcher Skins
You can find Geralt and Ciri Witcher Themed cosmetics in the in-game store, as well as character weapons skins, wallpaper, and Witcher hairstyles.
Lost Ark Witcher Wallpaper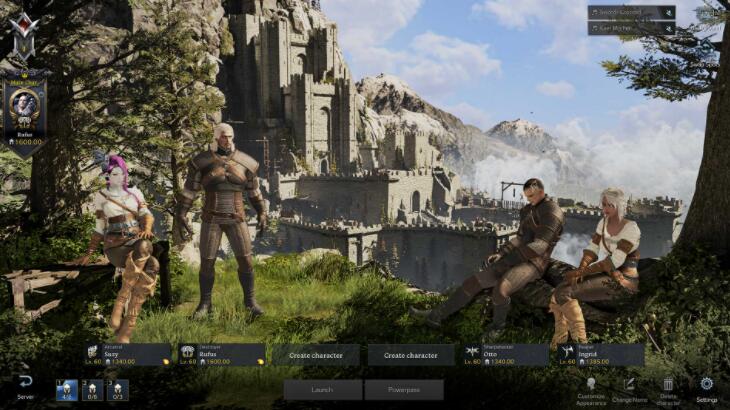 Lost Ark Witcher Skins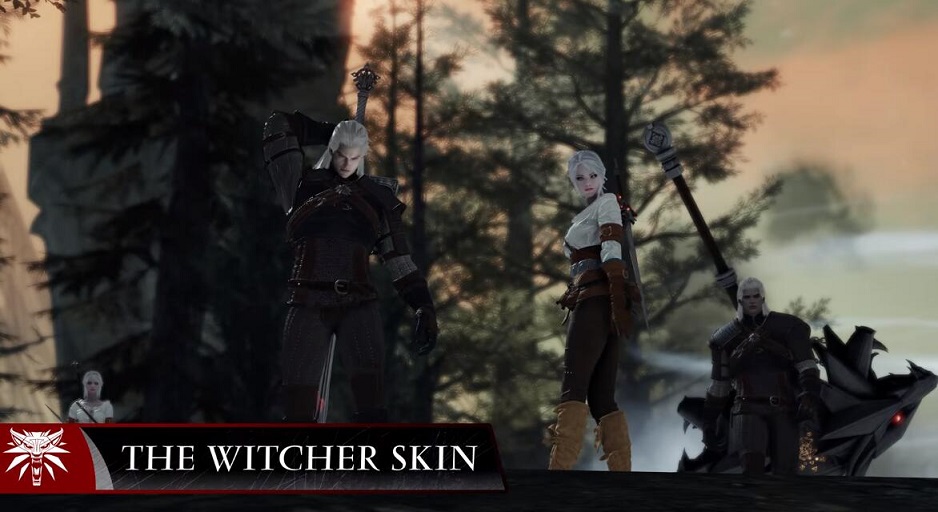 Lost Ark Witcher Weapons