Lost Ark Glaivier Pinnacle and Control Build Guide 2022 - Best Lost Ark Glaivier Build PvE
4/28/2022 11:46:09 AM
If you want to keep ahead of the competition with other players, a powerful build is critical. Since the release of Glaivier in Lost Ark NA and EU, a ton of builds created around its two class engravings. Today, we'll focus on the Lost Ark Glaivier Pinnacle and Control build 2022 guide for PvE.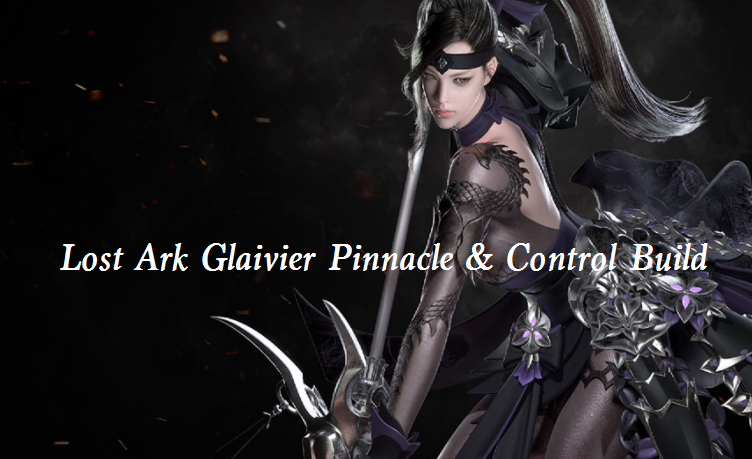 Lost Ark Glaivier Pinnacle and Control Build 2022 - Best Lost Ark Glaivier Build PvE
Below are two examples of Pinnacle Glaivier and Control Glaivier build in Lost Ark. The Glaivier build creator Claysthetics also gives the details at different skill points.
Lost Ark Glaivier Pinnacle Build
This build is going to focus on stance dancing with a full charge on the identity gauge so that you can make the most out of the buff that you are going to get. The Pinnacle, also known as Climax in KR makes our stance dance when we are in the moon or going to the sun, even better as long as we do it when they are max out with their full three charges, and is one of the most fun builds to play in the game. You need 300+ plus skill points, this class needs a lot of skill points to be good. Starting with 304, this is budget skill points at this point, but if you need to go even lower degrade Stampeding Slash to level one that will put you at 304 skill points, if you are brand new with no skill points, degrade Wheel of Blades all the way down to level one and you'll get 260 skill points.
For the 348 SP build with all the power, this is going to have almost everything we need to pop up and start with our stat line is a heavy spec in light crit or swiftness, NA and EU will probably want crit off the rip, but as we get the later legion raids with the better sets, we are going to be able to switch the crit over to swiftness, but now we are going to focus on a 70%/30% ratio with specialization on every single piece with crit being the off stat on your necklace.
For the engravings, you're going to want to focus on Climax - Keen Blunt Weapon, Mass Increase, or Grudge, two to three engravings are good enough for our current content so don't waste too much Lost Ark gold.
For our cards and our beginner set is going to be the Trixion and mid-range cards are going to be the Lostwind Cliff and the max super best cards are going to be the Light of Salvation.
Glaivier Pinnacle AOE Build with 348 Skill Points
- Stats: 70 Spec Per 30 Crit or Swiftness
- Engravings: Climax - Keen Blunt Weapon, Grudge - Cursed Doll, Mass Increase - Raid Captain, Mp Efficiency Increase
- Cards: Trixion, Lostwind Cliff, Light of Salvation
- Gear: Harsh Oath
- Skills: Stampeding Slash, Wheel of Blades, Flash Kick, Vault, Half Moon Slash, Chain Slash, Raging Dragon Slash, Shackling Blue Dragon, Starfall Pounce, Red Dragon's Horn
Lost Ark Glaivier Control Build
The second Glaivier PvE build is also good, the Temperance basically just disables your red weapon slash glaive and makes you only able to cast blue skills, which literally makes you a spear master and since the trade-off means that we can no longer jump into sun stance, we just get a flat 36 damage increase to all of our blue skills, a lot of people actually don't enjoy stance dancing, so they enjoy lance mass glacier. Starting with 312 skill points build, if you're brand new, you can just downgrade Windsplitter to 268, not that big of a deal, but don't sleep on no skill points, the ideal loadout for a 340 plus build is gonna have almost everything we need to pop off. Our stat line is going to be heavy swift and light crit again, every accessory with swiftness and your offset on your necklace being crit chance, and you'll be good to go, this build is actually really solid.
For our skill run down for blue lancer, and it's going to start off with the blue ultimate because if we're playing blue, we might as well go in on the class fantasy and it's the cooler old of the two. For the rest of our blue skills, we're going to start off with blue dragon again, our crit chance increase Windsplitter, Stampeding Slash, Chain Slash, Raging Dragon Slash, etc.
For the engravings, we're going to want to focus on and it's going to be Control - Ambush Master, and Grudge with Adrenaline or a mana recovery and because the build is so spammy with late-game CDR, when you get six engravings you'll probably want to pick up Cursed Doll and Raid Captain.
Glaivier Control Raid Build with 340 Skill Points
- Stats: 70 Swift Per 30 Crit
- Engravings: Control - Ambush Master, Grudge - Cursed Doll, Adrenaline - Raid Captain, Mp Efficiency Increase
- Cards: Trixion, Lostwind Cliff, Light of Salvation
- Gear: Preordained
- Skills: Windsplitter, Stampeding Slash, Flash Kick, Vault, Half Moon Slash, Chain Slash, Raging Dragon Slash, Shackling Blue Dragon