Lost Ark Best Tier 1, Tier 2 & Tier 3 Honing Material Islands - Lost Ark T1-T3 Island Guide
4/2/2022 8:22:18 PM
In Lost Ark, we have been learning a lot about how hard it can be to get from T1 to T3. In this Lost Ark beginner guide, we list the best Lost Ark islands to get tier 1, tier 2, and tier 3 honing materials. As soon as you start honing, these are the best Lost Ark tier 1, tier 2, and tier 3 material islands to visit straight away, because there are lots of materials to farm.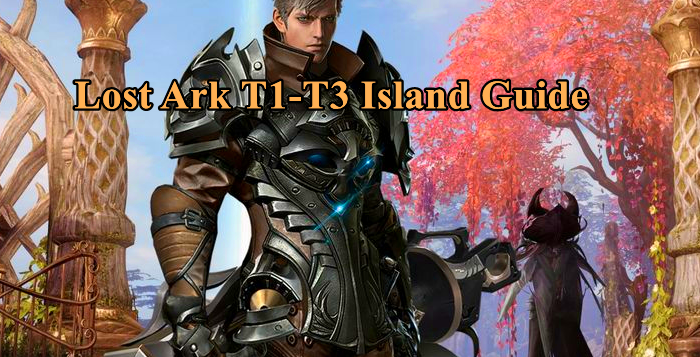 Lost Ark Best Tier 1, Tier 2 & Tier 3 Islands To Get Honing Materials
Once you are level 50, Lost Ark becomes about chasing increasingly higher gear levels in order to become more powerful. Not only does the higher gear level make you more powerful, but it also is needed to access the content. Your different gear pieces have item levels, together the individual item levels of your gear add up to an overall item level on your character sheet. Lost Ark is divided into 3 tiers of play. Tier 1 takes you up to item level 600 after which you transition into tier 2. Then at item level 1100 you transition into tier 3. If you want to level up fast, we gathered the best Lost Ark islands that give insane amounts of tier 1-3 honing materials, therefore you can start honing up your gear.
Lost Ark Best Tier 1 Material Islands - Lost Ark T1 Island Guide
1. Shadow Island
Shadow Island is going to be the closest one to you as soon as you kind of hit that tier 1 level and you start pumping up your item score because you're going to be in Vern Castle. So you want to hit up Shadow Island as soon as possible, you get loads of materials from this specific island. Shadow Island contains one primary objective that asks you to trek through the Shadespire on the island and kill various creatures. To start the quest, your character needs to reach at least level 50 before the NPC, Mercenary Captain Zardin, would offer you the mission.
2. Dreamgull Island
This is another best Lost Ark tier 2 material island. You will need to also do the Lullaby Island mission to get the specific song to finish every single quest on Dreamgull island. Begin by completing every single one of the island's purple challenges. An item at the island's entrance needs to be interacted with in order to open the NPC. You will receive the Island Token Dreamgull Island Token once you have completed the task.
3. Serenity Isle
Serenity Isle is a good Lost Ark T1 island as well. Arrive at the island. The wreck near the beginning of the island should be investigated. If you do this you will be able to begin the Who's There? mission. Five Lavish Guardian Stone Fragment Chests and one Lavish Destruction Stone Fragment Chest are the prizes for completing this quest. You're tasked with investigating the Piled materials by the mission. Wreckage materials may be found directly to the right of the debris. The following prompt will direct you to meet with Fallen Umar once you study the materials.
4. Starlight Isle
Starlight Isle is going to give you a lot of Lost Ark tier 1 materials and a pretty good boost. You can get to Arkesia's Starlight Isle by boat from the rest of Arkesia's islands. After attaining character level 35 and finishing the Wavestrand questline, you can sail to the Starlight Isle in Lost Ark. The questline will ultimately be unlocked if you simply play through the main tale. Make an appointment with starkeeper Favreau, who serves as the guardian of the heavens on Starlight Isle.
5. Panda Island
You must complete both the yellow and purple questlines on this island in order to obtain the upgrade materials. The purple ones aren't too difficult; all you have to do is gather some bamboo and keep an eye on the pandas. In order to complete the yellow quest, you'll need to search the island for three secret locations. Here in the northeast, tucked up behind some woods, lies the first location. A Mokoko seed may be found right here. It's possible to leap over the island to reach the other side of the island from this location. Finally, there's a mokoko seed waiting for you as a bonus! And the Lost Ark best tier 1 honing island for honing resources is Panda Island!
Lost Ark Best Tier 2 Material Islands - Lost Ark T2 Island Guide
1. Fomona Island
This island is the single best spot for Lost Ark tier 2 materials. Fomona Island is right above West Lutera. Something important to know about this island is that it can be completed by both genders. The reason this is important is completing this island which has a ton of guardian leap stones in it, so make sure that if you do it on a male character you also come back to this island on an alt account. Make your way to the quest giver just east of the entrance, you're going to talk to Ariana. And you need to help her because she this it's her fault that she hasn't yet found her true love. Make your way down past the quest giver to the south where you'll interact with a second NPC who's then going to ask you to collect the item we discussed all the way up north. Make your way over there interact with it and make your way back down.
2. Azure Wind
Azure Wind is one of the best islands Lost Ark tier 2. It helps to get a lot of tier 2 materials rather quickly. This is located just off the coast of Yorn and it's a very quick and easy way to get a lot of honing materials. This island is a little bit of a pain but you don't have to be 100% to in order to get a lot of quick materials. When you first get to the island, you will have a couple of yellow quests that involve a sick and dying horse. Once you do a couple of the prerequisites, you will eventually unlock the ability to do certain kinds of puzzles that are triggered by talking to these little wooden horse toys. You can do these horse quests in any order apart from the four final horses which require you to do all of the horses of a certain type before you unlock the final one of that category.
3. Hypnos's Eyes
To get access to this island, you must first complete the purple mission on Resort Gravis. Hypnos's Eyes is a PVP island, but don't worry you can do all of the quests without actually doing any PVP. It is directly to the east, you got to navigate the sandstorm seas and some sirens.
4. Gravis, Atropos & Twilight
Gravis it's just a little bit Hypnos's Eyes and while you're in that direction, head up to Atropus as well. Because Atropus has high seas coin chest and 10 000 pirate coins and there's also a vista. But the thing about that one is it's a long around the world quest and it takes you all over the place, so you might as well get it started.
5. Distorted Island
Distorted is a pretty good Lost Ark T2 honing material island. Because you can actually get the island heart just by doing the quest on the island and you can also get more T2 stones from the welcome challenge. The island's quest beginning NPC, Mephito, moves about a lot, making it difficult to keep track of where he is at all times. In order to find the NPC, you're effectively playing a game of hide and seek. To avoid missing him, make sure to thoroughly inspect the room before going on. It's one of the best Lost Ark islands for tier 2 materials.
Lost Ark Best Tier 3 Material Islands - Lost Ark T3 Island Guide
1. Anguished Isle
Anguished Isle is an island that is a must-know when it comes to Lost Ark best T3 material islands. This is where you're going to get a lot of materials and you can do this before you even reach T3 so that's pretty sick. What's more, this is the only island in tier 3 that you have to do every day. You can find the best Lost Ark tier 3 honing material island in the south of Punica. It requires you to have a 1.1k gear score. Once you get on the island, you want to head over to the NPC, she's going to give you a quest the first time you come here to just move around the island, kill some mobs. Once that quest is done, you're going to have a daily quest that you can do basically every day in order to get materials. All you have to do is kill uh some mobs on the island until the field bar is 100. Once you return to the NPC, she's is going to give you a key and some island materials.
Buy Lost Ark gold if you are tired of grinding. Utplay.com guarantees you safe and legit Lost Ark gold for sale here!