Madden 21 Team Diamonds 2 Players & Team Chems, Sets | MUT 21 Theme Diamonds 2 Promo
3/19/2021 9:59:53 AM

The yearly most exciting promo drops into MUT 21! Let's welcome the Madden 21 Team Diamonds 2 Set and reline your Ultimate Team with these best quality talents!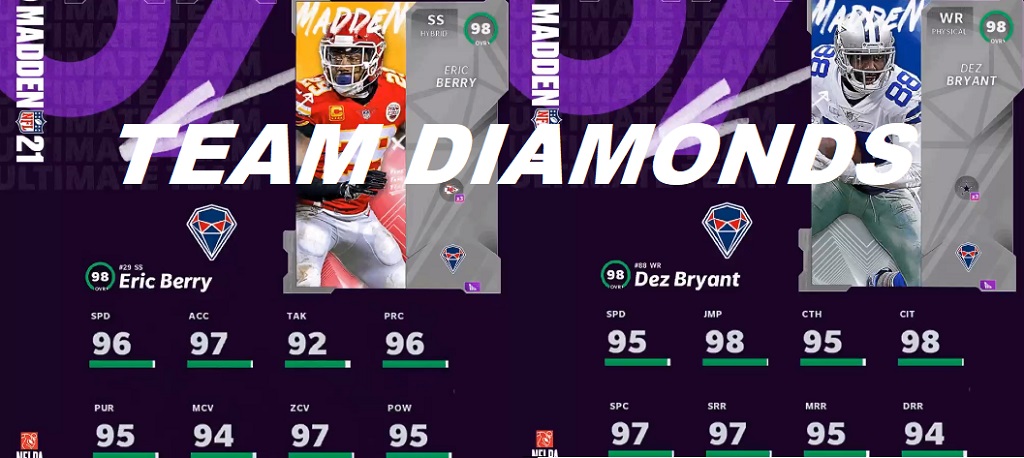 Madden 21 Team Diamonds 2 Promo
If you are an old Madden player, needless to say, you must be very excited about the return of team diamonds in Madden 21; and if you are a newbie or don't know much about this promo, don't be panic we will tell you why the team diamonds drop fire in Ultimate Team.
Related Read:
Madden 21 Series 6 Level Rewards, Redux Players, Team Builders, Sets, Solos
Madden 21 Golden Ticket Promo Guide
Madden 21 Best Abilities (Offense & Defense) For Each Position After AP Update
What Are Team Diamonds Players in Madden Ultimate Team?
Team Diamonds program also know as Madden 21 Theme Diamonds is one of the most fan favorite promos in the game, as it adds a new collections objective featuring excellent talent to your Ultimate Team, which offers a great way to mix in players that might normally make their way in the MUT lineup - and gives players something to look forward to representing their team loyalty. So the team dimaonds are most loved by the people running theme teams.
MUT Team Diamonds Promo is usually be released in two series in the whole season, once at the beginning of the new version of the game, and once during the Free Agency period. Each series of the Theme Diamonds involves 32 players covering 98 OVR geniuses and 1 Team Diamond Master. And because of the special team chemistry, they have become the most popular player card.
How To Get Madden 21 Team Diamonds Cards?
You can obtain the Team Diamonds players by completing their sets and solo challenges in-game. Keep read to discover the missions you can challenge for earning one of the theme diamonds.

Madden NFL 21 Team Diamonds 2 Players & Their Team Chems
NFC
98 Dez Bryant (WR): DAL, BAL
98 Michael Turner (HB): ATL, LAC
98 Sterling Sharpe (WR): GB
98 Charles Haley (LOLB): SF, DAL
98 Antoine Winfield (CB): MIN, BUF
98 Mark Bavaro (TE): NYG, CLE, PHI
98 Russ Grimm (LG): WAS
98 David Boston (WR): ARI, LAC, MIA
98 Shawn Springs (CB): SEA, WAS, NE
98 Kyle Long (RG): CHI (recently signed with KC, may get them too)
98 Mike Minter (FS): CAR
98 Sammy Knight (SS): NO, KC, MIA, JAX, NYG
98 Paul Gruber (LT): TB
98 D'Marco Farr (DT): LAR
98 Chris Spielman (MLB): DET, BUF
98 David Akers (K): PHI, SF, DET, WAS
AFC
98 Johnny Unitas (QB): IND, LAC
98 Darrius Heyward-Bey (WR): OAK, PIT, IND
98 Eric Berry (SS): KC
98 Braylon Edwards (WR): CLE, NYJ, SEA, SF
98 Julius Thomas (TE): DEN, JAX, MIA
98 Brent Grimes (CB): MIA, ATL, TB
98 Kyle Vanden Bosch (RE): TEN, ARI, DET
98 Marcus Stroud (DT): JAX, BUF
98 Mark Gastineau (LE): NYJ
98 Lorenzo Neal (FB): LAC, NO, CIN, TEN, BAL, NYJ, TB
98 Peter Boulware (LOLB): BAL
98 Darryl Talley (ROLB): BUF, ATL, MIN
98 Willie Anderson (RT): CIN, BAL
98 Matt Light (LT): NE
98 Dunta Robinson (CB): HOU, ATL, KC
98 Dri Archer (HB): PIT
Info from Pro Football Reference
4 Diamonds: MIA, BUF, BAL, LAC, ATL
3.5 Diamonds: KC
3 Diamonds: NYJ, JAX, WAS, DET, TB, SF
2 Diamonds: NE, PIT, CLE, CIN, TEN, IND, NYG, PHI, DAL, MIN, NO, SEA, ARI
1 Diamond: HOU, OAK, DEN, CHI, GB, CAR, LAR
Best Madden 21 Team Diamonds 2 Players To Get
Which 98 OVR Team Diamonds to get? Here is the best 10 ones we think you should get for your team:
1. Eric Berry: CHIEFS

2. Sterling Sharpe: PACKERS

3. Braylon Edwards: BROWNS

4. Julius Thomas: BRONCOS

5. Brent Grimes: DOLPHINS

6. Dunta Robinson: TEXANS

7. Kyle Long: BEARS

8. Russ Grimm: FOOTBALL TEAM

9. Michael Turner: FALCONS

10. David Akers: EAGLES
Madden NFL 21 Team Diamond 2 Sets & Solos
Earn One 98 OVER Team Diamond Card by completing a 17 card set

Complete Each Set by exchanging 6x 90-94 OVR from their team, 10x 85-89 OVR from their team, and a specific named player from their respective team.

Earn Team Diamonds by completing the Solos under Team Affinity