Madden 21 Golden Ticket Promo - Release Date & How To Get A 99 Golden Ticket Player?
4/6/2021 10:19:09 AM

In this guide, we're going to be going over how to get golden tickets in Madden 21 Ultimate Team. As you know, the Golden Ticket promo is making its return to Madden 21 Ultimate Team, and this week there's actually a very important thing to take advantage of which is going to give you the opportunity to pull a golden ticket and create your version of any 99 overall cards in this game.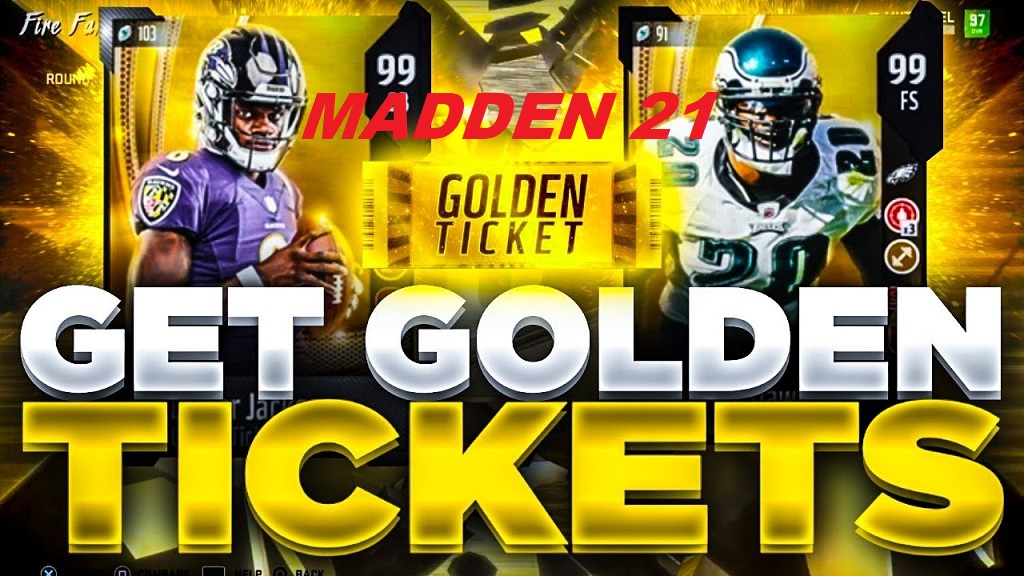 Madden NFL 21 Golden Ticket
Let's get into this one and start it off a quick rundown on how this promo works, in case you're newer to Ultimate Team or you forget how it ran last year. Essentially the way the Golden Ticket promo works are you have an opportunity to pull a golden ticket in-game, there will be 20 tickets released on Xbox, PS4, and PC. If you end up pulling a golden ticket, EA Sports will get in contact with you and allow you to create a 99 overall version of any card in this game. And the possibilities are really endless - you can make a funny card like Will Clap, you can do your favorite player whoever that may be, you could try and make a really glitchy card like Isaiah Simmons, and you're going to be able to create any 99 overall by being in constant contact with yay. In Madden 21, players on all platforms (i.e. Xbox One, Xbox Series X|S, PS4, PS5, PC, Steam and Google Stadia) will have a chance to pull for a Golden Ticket collectible.
Related Read: Madden 21 Series 6 Level Rewards, Redux Players, Team Builders, Sets, Solos
Madden 21 Golden Ticket Release Date
Wednesday, April 7th from 7-9PM ET

Friday, April 9th from 9-11PM ET
How To Get A Golden Ticket & Create A Golden Ticket Player in Madden 21?
Follow the below steps and rules, you have a chance to get a golden ticket:
1. Logging into Madden Ultimate Team to receive 3x Golden Opportunity Pack during the above dates and times

2. Pull out Golden Ticket collectible from the Golden Opportunity Pack (only 10 Golden Ticket collectibles for each day and a total of 20 Golden Tickets for the entire program, so the odds is very low)

3. Make sure you have your Madden Rewards email address appropriately linked to your account because EA is going to be contacting you based on the email that you did end up putting in

4. To create your own unique golden ticket card you need to follow the below rules:
Golden Ticket players must be built off a base player item that has already been released in Madden Ultimate Team this year.
Golden Ticket players cannot be players that have retired from the NFL during the 2020 season (In other words, Legends are good; however, players who retired this year are not. E.g. Drew Brees, Philip Rivers, etc.).
Golden Ticket players cannot use Icons from the Superstar KO mode.
Golden Ticket players will get a physical chemistry slot.
Golden Ticket players will get a team chemistry slot. Team chemistry will operate the same way it does for the Veterans program in that the team chemistries available will only be those that the player played for in the NFL in a regular season game.
Golden Ticket players will get a secondary position chemistry slot (if it applies to them).
Golden Ticket players will be stand alone player items and will not be eligible to go into Power Ups.
Winners get to choose which Tier 3 Buckets they want available on their Golden Ticket player. The only restriction is it must be from an archetype from that position. (E.g. Winner could choose for Michael Vick to have a Field General, Strong Arm, Improviser and Scrambler QB ability bucket).
Golden Ticket Players will receive a 5th ability slot.
Golden Ticket Players still need to hit the thresholds for abilities. (E.g. Winner could choose Tom Brady but it will be difficult for Brady to achieve the speed requirement for Escape Artist).
Physical ratings will be handled by the MUT Team but winners will be able to choose up to 3 skill ratings they want to see boosted.
Golden Ticket Players will not be a Limited Time (LTD) item and will be in packs for the remainder of the year with an increased opportunity to pull them from packs the first 48 hours after their initial release in game.
Winners get to choose card art from any program released except card art from the Legend LTD and Ultimate Legend Career Edition programs.
Winners can choose the archetype for ability buckets (Total of 5).
Winners have 10 days from being contacted to finish designing their Golden Ticket player. If a winner is unable to finish designing their Golden Ticket player in this time period, they will forfeit this opportunity.
The Madden Ultimate Team reserves the right to refuse any Golden Player ticket selection.
As you see, the odds of pulling a Golden Ticket from the Golden Opportunity is very low, but it is surely worth taking a shot. You don't need to pay money or coins for the Golden Opportunity pack and though you don't want to spend your luck on golden tickets, you can get a Madden coin quicksell.