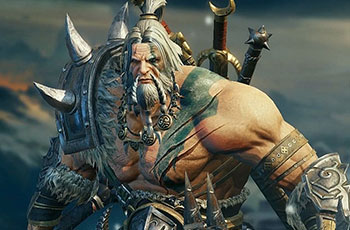 Buy Diablo Immortal Platinum - Cheap, Fast, Safe DI Mobile Platinum Store
UTPLAY.COM provides Diablo Immortal Platinum for sale with the cheapest price and fastest delivery to help worldwide Diablo Mobile gamers save money and time! At the same time, hassle-free and risk-free transactions are ensured by our secure payment methods and legal sources.
About Diablo Immortal Platinum
Diablo Immortal Platinum is a very useful but extremely limited currency in the Diablo Mobile game.
What is Diablo Immortal Platinum Used For?
We need platinum to exchange Diablo Immortal items with other players at the market.

Platinum is used as currency for special shops and services, such as buying Legendary Crest from Crest Merchant.

Extracting spells from Charm Craftsman to skill stones costs 500 platinum.

Platinum is required to craft Legendary Gems at Apprentice Jewelcrafter.

Platinum can be used to buy Echo Crystals for crafting Normal Gems from the Crystal Merchant.
How To Get Diablo Immortal Platinum?
Platinum is available for purchase with real money on in-game store.

Otherwise, get this Diablo Mobile Platinum as a reward by completing daily activities in the game.

Or selling items in the Marketplace to earn Platinum.
Cheapest and Fastest Methods To Get Diablo Immortal Platinum
Not like the Diablo Immortal gold, Diablo Immortal Platinum is almost non-farmable and hard to acquire for free in the game by yourself. So the fastest way to get the amount of the currency you need is surely buying Diablo Immortal Platinum from Store with cash, but the price could not be the best. So the cheapest and fastest way to get Diablo Immortal Platinum is buying from a reliable game currency selling store such as UTPLAY.COM!
Why Should You Buy Diablo Immortal Platinum at UTPLAY.COM?
More than just a secure online payment method, Platinum is provided 100% from legitimate sources to ensure risk-free transactions.
Adjust Platinum prices according to market trends to ensure players always get the best price, and multiple discounts are available for VIP members and holidays.
Stable and sufficient inventory of Diablo Immortal Platinum on PC, ISO, Android, arrange for expedited delivery after confirming your order and payment, solving your urgent need for DI Platinum.
If your order is not completed on time, the refund can be processed quickly and promptly through 24-hour online customer service.
Whether it's an order question or a question about our service, you can always get timely help from 24/7 LIVECHAT.