Madden 23 Best Abilities (Superstar & X-Factor) - Ability Tier List in Madden 23
11/9/2022 5:10:17 PM
X-Factor and Superstar skills are both kinds of boosts that can be applied to your players in Madden 23 Ultimate Team and Franchise. What the are best abilities to equip for different positions? Today we are going to present a Madden 23 abilities tier list covering the best X-Factor and Superstar abilities for offense and defense.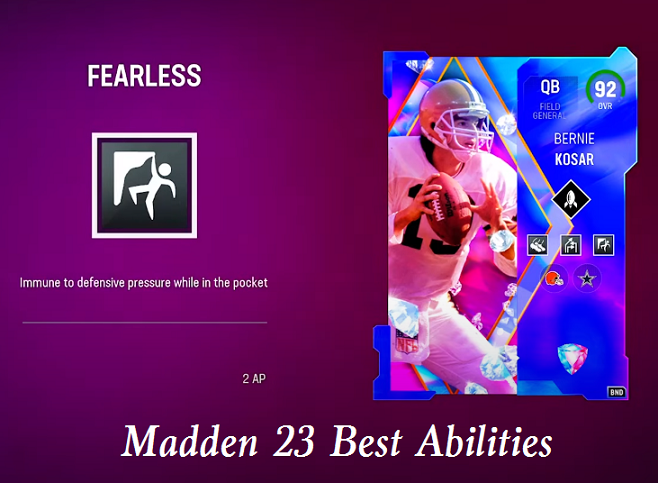 Madden 23 Best Abilities for Offense - Offensive Abilities Tier List in MUT 23 & Franchise
Below is the updated Madden 23 ability tier list by GutFoxx, ranking the X-Factor and Superstar abilities in both offensive and defensive lines from the best to the worst. What to note is that the same ability in different positions may have different effects, so you will probably see it in more than one tier, in addition, considering the AP cost, the overall rank of some abilities may be lower than you think, for example, Gunslinger would be an S-tier ability, the issue is that it's too expensive. If you are looking for the best abilities for QB in Madden 23, Hot Route Master, Set Feet Lead, and Fearless are some of the best options to use quickly. Passers with Hot Route Master ability can access four extra hot routes during pre-play adjustments.
- S Tier: Hot Route Master, Deep Out Elite, Route Technician, Fearless, Set Feet Lead, Pass Lead Elite, Short In Elite
- A Tier: Slot Apprentice, WR Apprentice, TE Apprentice, Inside Deadeye, Sideline Deadeye, Tank, Long Range Deadeye, Gunslinger, Backfield Master, Outside Apprentice, Threat Detector, Identifier, Deep In Elite
- B Tier: Post Up, Route Apprentice, Juke Box, Roaming Deadeye, Red Zone Threat, Quickdraw, Playmaker, Matchup Nightmare, Slot-O-Matic, Conductor, Edge Protector, Secure Protector
- C Tier: Evasive, Backfield Mismatch, Bulldozer, Short Out Elite, Mid In Elite, Mid Out Elite, Bruiser, Leap Frog, Gift-Wrapped, Arm Bar, RB Apprentice, Hi-Lo Deadeye
- D Tier: Nasty Streak, Agile Extender, Anchored Extender, Reach For It, Backlash, Screen Protector, Honorary Linemen, Protected, Run-Off Elite, Spin Cycle, Dashing Deadeye, QB Playmaker
- E Tier: Gutsy Scrambler, Safety Valve, Return Man, Balance Beam, Sleight Of Hand, Human Joystick, Recuperation, Second Wind, Fastbreak, Grab-N-Go, Tight Out, Energizer, No-Look Deadeye
- F Tier: Lofting Deadeye, Red Zone Deadeye, Pocket Deadeye, Clutch, Homer, Closer, Comeback, Indoor Baller, Persistent
Madden 23 Best Abilities for Defense - Defensive Abilities Tier List in MUT 23 & Franchise
Moving on to the best defensive abilities in Madden 23, you can equip Medium Route KO or Inside Shade on your linebackers and safeties, and Deep Route KO for cornerbacks, all of these are elite skills, but Film Study is kind of controversial.
- S Tier: Medium Route KO, Deep Route KO, Inside Shade, Outside Shade, Under Pressure, Edge Threat Elite, Edge Threat, Film Study
- A Tier: Lurker (LBs), Double Or Nothing, Bench Press, One Step Ahead, Short Route KO, Inside Stuff, Deep Out Zone KO, Deep In Zone KO
- B Tier: No Outsiders, Out My Way, Flat Zone KO, Mid Zone KO, Pick Artist, Speedster, Tip Drill, Secure Tackler
- C Tier: El Toro, Reach Elite, Deflator, Crusher, Enforcer, Acrobat, Unpredictable, Strip Specialist, Defensive Rally
- D Tier: Unfakeable, Chuck Out, Mr. Big Stop, BOGO, Instant Rebate, Run Stopper, Tackling Supreme, Demoralizer, On The Ball, Stonewall
- F Tier: Goal Line Stuff, Lurker (DBs), Ripper, Spinner, Swim Club, Adrenaline Rush, Extra Credit, Outmatched
- G Tier: Indoor Baller, Homer, Clutch, Second Win, Recuperation
Equip top-tier abilities in Madden 23 Franchise and Ultimate Team to noticeably improve your team and win more MUT coins.