FIFA 23 Best Teams To Use In Career Mode - Top 10 Teams You Should Play With In FUT 23
8/31/2022 11:47:03 AM
With FIFA 23 just around the corner, are you a career mode player who just cannot pick a team? Are you one who is always struggling who to go for, who's got potential, who needs saving, you've kind of come to the right place! Today we are going to take you through top 10 teams to use in FIFA 23 Career Mode, which are good teams to start saves on FIFA 23.
Top 10 FIFA 23 Career Mode Teams To Use - Which Are Best Teams You Should Play With In FUT 23
If you are looking to take a newly wealthy club to the top or want to promote your way in the leagues, Career Mode is a great way to make your football coaching dreams come true by investing in your first team and producing young players to join your team one day. In the past few days, we have received so much information from EA about the additions and the changes to FIFA 23 Career Mode and that has started to get the brain ticking over thinking about which teams you should start a Career Mode with in FIFA 23. So, whether you're looking for a small-market club to build into international stardom, or a powerhouse franchise with unlimited resources, these are the 10 best teams to choose for a FIFA 23 starter Career Mode.
10. OGC Nice
We present you a built team that will start FIFA 23 and the club right here is OGC Nice, this is the first one that we are going to pick this league one team. They have European conference football which is a big thing for them. And they've made some decent signings. We've gone with 4-2-3-1 formation to start off with, some of these players in the bench and reserves have moved on, but this is the starting lineup that they should have just signed Schmeichel from Leicester, Ramsey, just make sure he doesn't score. Currently sits 15th in the table, they might have dropped to 16th by the time of recording, not good enough for these, they have survived in league on for 15 years. They've got conference football this year granted, 15 years warrants a little bit more for those fans. So if you've got this team, maybe you could have some good players who've got two good players up here, we've got Delord, may be replaceable soon, we've got Gouiri young player, we've got Ilie who is signed from the Romanian club Rapid. He's going to be a really rapid and good player 19 year old, he'll go up in rating next year. Stengs is the same very young, very good, we've got Atal, a fastest defense apart from Dante, the slow coach, very nice lineup which can push on and has good potential to do, they've had a slow start for the season.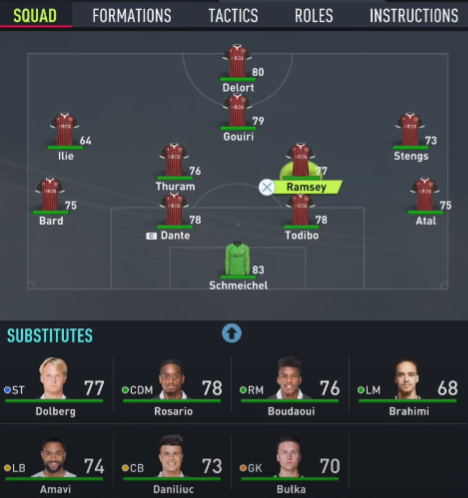 9. Stade Rennes
Go for a 4-4-2 formation, this team looks very tasty, they've got a lot of players, they've got Doku, put on the wing as Terrier is gonna go up front, they've got Terrier, they've got Laborde, they've got Kalimuendo who they've just signed from PSG, 20 year old. Alemdar in goal, 19 year-old, they've got the Traore, Bade who's coming through the ranks, a very tall and very capable center-back Truffert. So, a very talented squad, you've got try and keep these young players together and they have definitely got to push on, they've got the likes of pace merchants, wizards, they've created the previous good bunch edouard mendy, raphinha. Stade Rennes have real potential in league 1, let's try and reach it in a save.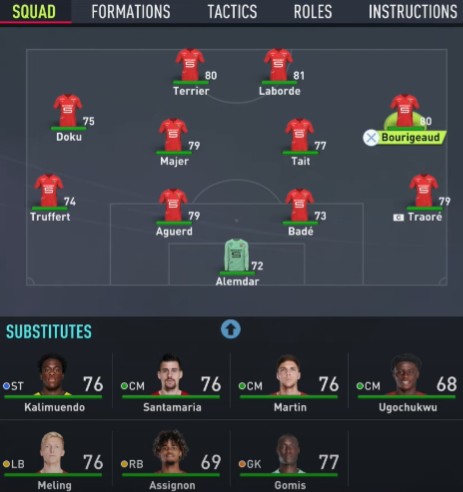 8. Salernitana
We're gonna get these players up from the reserves to show you how truly good this team could be with the signings they've made. All these ones below are new signings got frank ribery in this FIFA, this looks like a very good squad, vilhena - a brilliant addition from Espanyol, very good Maggiore, another one they've got a stronger defense with the likes of Bronn and they've got Fazio who is slow, but he's a leader on the field. Candreva from sampdoria, an ex-italian international, Bohinen is upfront in real life and he is not an out and out striker and they only did survive relegation last season by one point, that is absolutely insane. In the spent the 2014-15 season in Serie C, so they don't want to go down, they are trying their hardest to stay up as by the additions they've made.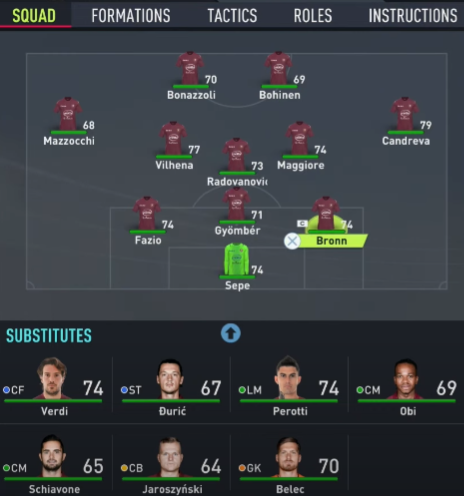 7. RCD Espanyol
The next team you should play with in FIFA 23 is the RCD Espanyol, the mini Barcelona, they have got an aging squad, Puado isn't in the starting lineup, it's mohammed who isn't in the game, he's from the b team. They've got likes of Joselu up front, if you remember him from his newcastle days, you won't be a fan. We've got Lecomte who's now having his little stint in Spain, they did get relegated a couple of seasons back, not the greatest from them, they've got quite a few low rate of players mixed with good Olivan, another signing Souza from the belgian leagues. The challenge with espanol is to try and get them competing with Barcelona. That is a big one, if you can do that, make them the biggest side of the spanish giants, you're on for a really good save in FIFA 23.
6. Bayern Leverkusen
They've got some older players, the experienced heads like Hradecky, the goalkeeper, Bellarabi has been there while Tah even though he's not too old, but they've got Diaby, you've got to keep hold of these. Schicek is just going into his prime, he's had a brilliant euros, that's a bit ago now, they've got Palacios, Paulinho, Tapsoba, but is being locked up by Chelsea. They've got Frimpong, Adli, Wirtz, even Fosu-Mensah, they've just signed Adam Hlozek, who's a brilliant signing always linked with west ham because of the czech republic link, but honestly an amazing team. They are in the champions league this year, they don't have much to lose. As a manager of Leverkusen, you're not expected to win the whole competition, but your players will be progressing, their ratings will be going up, you will stand a huge chance in seasons to come if you go with this team, if he keeps signing youth, a striker is probably the next position, Hlozek can play on the wing, get a huge goal scoring striker in front of Florian Wirtz and you've got yourselves a very exciting team here.
5. Newcastle United
Another best career mode team to use in FIFA 23 is the Newcastle United. After the Private Investment Fund (PIF) takes over at the back end of 2021, Newcastle United is now considered the richest club in world football. Nick Pope and Sven Botman have joined the club so far this summer, but can you take the Geordies to Premier League glory? We recommend any Newcastle United save to be started with the help of the Financial Takeover feature and use to the best of your ability PIF's financial muscle. Attempt to break into the top 6 in your first season and then build from there with a mixture of experience and youth.
4. A.C Monza
Former Italian Prime Minister Silvio Berlusconi is back in Serie A as the main owner and shareholder of Monza. More known for Formula One rather than Football, Monza will be playing in Serie A for the first time in their 109-year history. Alongside Berlusconi, his long-term associate and close friend Adriano Galliani is also at the club as their CEO and have had a very busy transfer window. Andrea Petagna, Stefano Sensi, and Pablo Mari are just some of the high-profile signings that the club has made over the past few months. The club also showed off their ambition by signing UEFA EURO 2020 winner and local lad Matteo Pessina from Atalanta. A great team to challenge the traditional Seven Sisters of Italian football and bring the Monza name on the lips of everyone in Europe.
3. Juventus
After a few years without the proper licenses, FIFA has once again gained the license for many teams, with Juventus being the most popular. After a long hiatus, fans will once again be able to enjoy playing as Juventus with all the proper licenses, giving them a chance to compete for the Serie A title in Italy. Without Ronaldo and Dybala on their team, Juventus is in serious need of star players as well as a quick-thinking manager to guide them to Italian and European dominance.
2. Fulham
Putting all the signings into this team will take you absolutely forever, as they're getting a bit of a reputation which the challenge is to stop, becoming a yo-yo team, they are joining in with Norwich and West Brom despite it not looking like them, two teams being a yo-yo team, at this moment in time in real life and they desperately need to avoid it. A fact is the last two seasons that they've actually been in the premier league, they have suffered relegation. Marco Silva has to get it going, they really need to strengthen this squad, he can get Mitrovic in the prem, he can get Pereira dominating in the middle, Ream is still going, there's a lot of signs that can still be made, there are splashing the cash in real life trying to stay up. Can they become the biggest club in fulham over Chelsea, that is the challenge and it's a good chance if you can keep it going.
1. Manchester United
The final FIFA 23 best team to use is the Manchester United, wouldn't call it turmoil after win against Liverpool, but still big need for improvement and a break challenge for the champions league if you can get it going, not started well in real life, but you get to start a new clean slate as you start save, Erik Ten Hag has some building to do and the biggest thing in this squad really because Morale is in FIFA, keeping the Morale up Harry Maguire not having the best of times, got David De Gea who's sometimes having a shocker, Ronaldo, it's your decision, do you get him off the wage bill, do you keep him there and try and keep him happy. You've got other players out on loan, Lingard, does he come back and play, Henderson, if David De Gea having a bad time, a bit of bias because he did make seven appearances for the Mighty Mariners.