FIFA 23 Pro Clubs CAM Build Level 10 & 100 - Best Pro Clubs Build in FIFA 23
10/26/2022 3:50:58 PM
With different skill points in FIFA 23 Pro Clubs, you can choose different perks and archetypes for your build. Today we are going to dive into two FIFA 23 Pro Clubs best CAM builds for level 10 and level 100.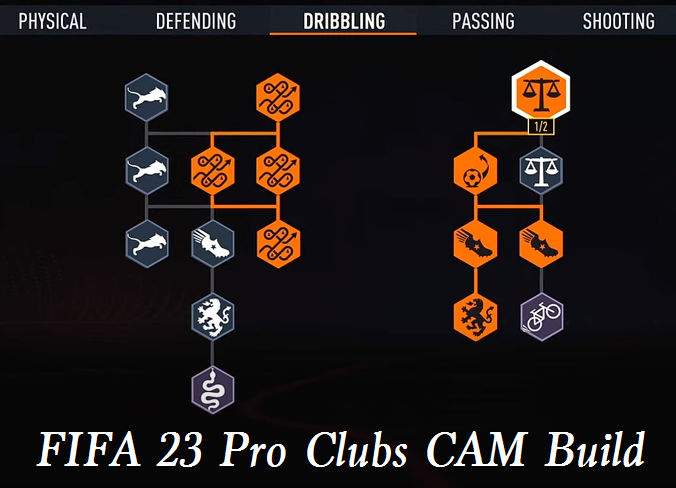 FIFA 23 Pro Clubs CAM Build Level 10 - Best Pro Clubs Build in FIFA 23
This is a level 10 FIFA 23 Pro Clubs CAM build by DiamondLobby with the best setups.
Profile
Starting with the body setting of the athlete, setting your height to 5 foot 10 and your weight to 99 pounds this is going to increase your agility and balance which is really important when playing this position but also being 5'10 is going to allow you to make late runs into the box and score more goals
- Height: 5'10"
- Weight: 99 lbs
Attributes
Getting your dribbling to a high level, you need agility and balance as your main role in the team is creating space for others and playing that killer pass, so having extra agility means you can take a quick touch to the side and lose your man, giving you the time and space to play a through ball to either your striker or winger. If you want to upgrade passing, your team is going to rely on you to break defensive lines with passes, it is really important that you have these stats leveled up as a CAM. You can upgrade your short passing first as you are not really going to need to make many long passes, most of your assists are going to come from a quick touch out of your feet and a through ball through to your striker. The same thing for crossing as well, you're not going to be out wide, so you really don't need to upgrade this, after passing you'll want to finally upgrade your pace a bit as even though you don't need that much pace as a cam, it really helps with those bursting runs into the box, especially if you're playing against AI players, they won't pick up your runs anywhere near as much as if you are playing at striker, so having that extra acceleration means you can drift into the box late and get on the end of some of those crosses.
Perks
- Precision Pass: this is going to boost your short and long passing stats by a significant amount, also grants you a five-star weak foot as well, which if you didn't have this perk would cost you a lot of upgrade points to unlock, so Precision Pass is the first perk you want to be putting on this CAM build.
- Light Passes: regardless of who you're passing to on your team, they're gonna be able to take their first touch a little bit easier, if you've played a lot of pro clubs before then you'll know how frustrating it is to put your teammate through one-on-one only for them to then kick the ball straight into the Keeper's hands first touches can be a pain so make sure you put on light passes as one of your perks
- Active First Touch or Threaded Pass: the selection of the third perk is depending on what you are going to prioritize, you can go with either one of them, the Active First Touch perk is going to give you a small burst of acceleration when you take your first touch from a pass, as for the Threaded Pass perk, this is going to make your chip through balls and through balls a lot more accurate, which is very much important for a CAM as those two passes are usually how you're going to get your assists.
FIFA 23 Pro Clubs CAM Build Level 100 - Best Pro Clubs Build in FIFA 23
Moving on the second FIFA 23 Pro Clubs CAM build by JCC at level 100. Precision pass gives us the best chance of finding strikers, skills can be very effective against other manually controlled players, they're not the best against CPUs but against the manually controlled players, if you're playing against any or a back four, you need skill moves. the finisher archetype to give you 95 finishing we use our cam builds like a third striker.
Profile
- Height: 6'2"
- Weight: 198 lbs
Attributes
Physical 80
Defending 54
Dribbling 84
Passing 74
Shooting 88
Pace 88
Archetypes
- Finisher Archetype
- Cheetah Archetype
Perks
- Skilled Dribbler
- Active First Touch
- Precision Pass
Check out more FIFA 23 news and go to buy FUT 23 coins with the cheapest price at UTPLAY.