NBA 2K22 MyTEAM: End Game Cards Were Revealed Shortly Before Season 8
6/21/2022 10:21:24 AM
NBA 2K22 MyTEAM's End Game cards have the highest rating of any cards released on the platform to date. Several days before the start of Season 8, they arrived.
We'll take a look at some of the current prices for some of the most highly rated cards in the game.
Currently available End Game Cards
Only two cards have been officially announced as End Game cards as of this time. Magic Johnson is the End Game, and Dirk Nowitzki is the End Game.

At the moment, packs contain only one card: Magic Johnson. The Origin Packs in NBA 2K22 MyTEAM are available for purchase if you'd like to put your skills to the test.

Remember that these cards have a 99 OVR for all card attributes in addition to having an A+ on all grades. Both Dirk Nowitzki and Magic Johnson cards in NBA 2K22 MyTeam Auctions are selling for more than 1.5 million MT. I think they're worth the money if you have the MT on hand, though. If that doesn't work, you could try opening a few Origin Packs.
NBA 2K22 MyTEAM Origin Packs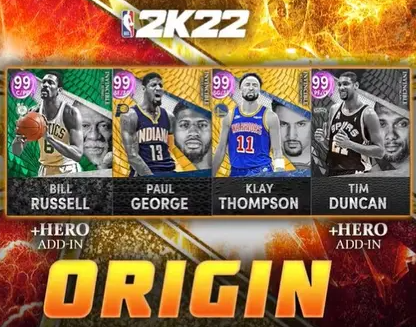 The End Game Magic Johnson was revealed today in the Origin Packs. It's possible to pull the best card in NBA 2K22 MyTEAM at this moment. You can get some great players for a reasonable price in these packs. Below, we'll take a look at some of the best cards.
The following are our picks for the best cards in the latest MyTEAM Origin Packs for NBA 2K22:
End Game Magic Johnson - 99 OVR - PG/SG

Invincible Tim Duncan - 99 OVR - PF/C

Invincible Paul George - 99 OVR - SF/SG

Invincible Bill Russell - 99 OVR - C/PF

Invincible Klay Thompson - 99 OVR - SG/SF

Hero Bill Russell - 99 OVR - C/PF

Hero Tim Duncan - 99 OVR - PF/C

Origin DeMar DeRozan - 99 OVR - SG/SF

Origin DeMarcus Cousins - 99 OVR - C/PF

Origin John Havlicek - 99 OVR - SF/SG

Origin Lonzo Ball - 99 OVR - PG/SG
New Skill Challenges & Locker Codes
NBA 2K22's new packs and updates are also available. In addition to the Origin Packs, MyTEAM has added a new Skill Challenge and Locker Code.

To complete the Skill Challenge, you must face the best cards in the Origin set, win the game, and score a double-double with a player.

Obtain an Origin Pack, 10 Tokens, or a Diamond Shoe Pack by entering the following MyTEAM Locker Code: 'MyTEAM-ORIGIN-CARDSZ4P22' into your account