Lost Ark News: What Makes Lost Ark So Popular?
4/28/2022 3:30:48 PM
Lost ark is obviously a huge success and its release in the west is not without its problems, however, as it stands, it is the second most played game on steam, which is huge.
The game has also gained more attention in the past month." The "attention" refers to the fact that in April, about 150,000 more players joined the game, or rejoined it, which is another very important thing. Let's see what changes Lost ark has made in the midst of this?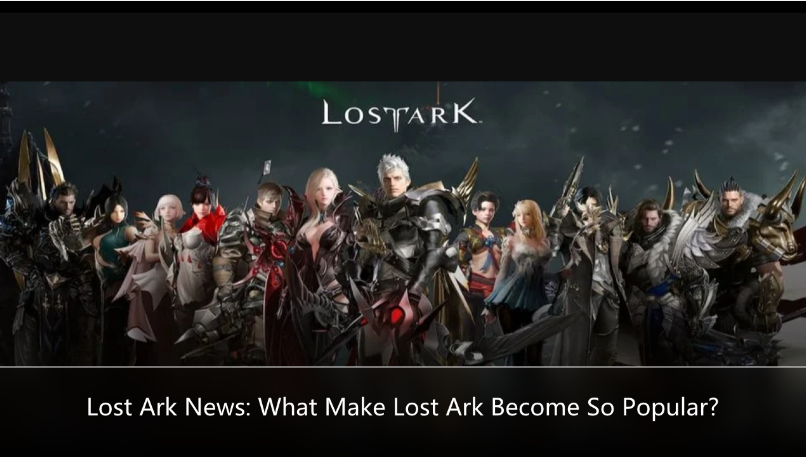 Lost Ark News: What Makes Lost Ark So Popular?
1. Lost Ark- The Message
A big message from the team at amazon and smile gate, talking about content cadence, talking about feedback from the players, this was a fantastic message, a fantastic way of communicating the fact that they have seen what's going on and they've noticed and that they are willing to adjust their original plans to better fit our release.
2. Lost Ark - Happy hour event
Happy hour edition on March 25th, another again more pots more consumables to use on a daily basis which is great well not that great for the economy, not that great for gathering, but it's great because it's one less thing for people to spend lost ark gold on as opposed to you know buying these spots from the ocean house. All of the consumables for free sure, affect the crafters and the crafting in general, especially for consumables.
3. Lost Ark - The first roadmap
The same as the no gvg content that's not in the game is an alleviation of pressure right and then comes the big road map reveal.
Finally, receive the roadmap on the 4th of April.
The Updates coming forward were
April - Glavier Release
South Vern Continent
Feiton Power Pass 960
Secret Map can be queued X 4 in one Run
May - Legion Raid Commander Valtan
New Class Destroyer
New Guardian Raid: Deskaluda
Trial Guardian Raid
The majority of active players care about this particular content, with no new item level increase in April or no new content to do for high item level players in April, but adding this content in may is a fantastic choice by now with all of the incentives and events that had even a completely free to play that was active in the lost ark and cares about getting his character up.
4. Lost Ark - Better communication
Valtan would come in, even if it comes in the middle of May, here are a couple of things that he would want them to change.
Go quickly through them, number one better communication, to be transparent with the updates new details that can keep the players going and make them know.
In terms of communication, just saying things or saying more things about what's happening they've done. If it's something that would shed a negative light on the game or maybe the company because you know the majority's perception is different.
5. Lost Ark - Monthly events
Grand Prix was an amazing event, but the event guardian was a bit lackluster, in terms of working for the guardian raid event right a rotation of events on a schedule as we received the Grand Prix event. Next month, a new event to replace, have an event every month, not against having an event every month but it's something mandatory for the game.
6. Lost Ark - Layers on top of layers
What lost ark needs layers on top of layers and even more layers, as that is low stark, there's a new layer being added with the legion raids right that's the top layer and then there are more layers being added with these whole events, horizontal activities that are coming up, they're not even out in Korea, but they're coming out this year right in Korea not sure when we're gonna get them, but shouldn't take that long.
Trying to catch up and in general content and item level increases might take longer, but stuff that doesn't require that should come to other regions relatively fast after they release it in Korea.
7. Lost Ark - More things to do
Two times chaos dungeons, two guardian raids, three daily quests, the guild donation come on, it's just pressing a couple of buttons, it really is included in this list, anguish island daily, as long as you don't have the star or the heart sure if you do then that's not a thing here and five times rapper, there's a lot of other stuff that you can do on a daily basis.
On a weekly basis two abyssal dungeons, one abyssal raid, the pirate shop, the guild shop and the weekly quest. There's a lot more to this list, he didn't mention the PVP system at all like, there's a lot of PVP that can be done in lost ark PVP is really cool, if you're into PVP, of course not everyone's into PVP, but just saying why that why assuming everyone's into pve content, but not into PVP.
PVP is also a big part of one of the games, then there are the collectibles, there's a nice rewarding system that even rewards you with progression things like skill points or lost ark gold that can be used to progress, in terms of item level if that's the only thing you care is to hone on a daily basis, then collectibles do help you with that to a certain degree, there's a whole other thing with gathering and crafting at your stronghold and stronghold.
8. Lost Ark - Skin flood
Cash shop update, numerous posts about how the cms agree with the need for skins, cash casual skins, swimsuit cute skins and flood the cash up with it.
The cash shop should be flooded in skins, 70 days into an MMO's release, with four different sets of skins to choose from they're also available on the auction house for you to purchase and on top of that we have the Mokoko skin or whatever the animal skin right that you receive that everyone received for free after the release of Argos.