FIFA 22 4-2-3-1 Best Custom Tactics & Instructions - How To Use 4-2-3-1 FUT Formation Effectively
9/24/2021 10:31:02 AM

Today we introduce a top formation in FIFA 22 4-2-3-1 (which is possible the best meta formation in FUT 22), and breakdown on the 4231 starter custom tactics and instructions, hope to help you dominate your opponents and create more opportunities to score goals in FIFA 22.
FIFA 22 4-2-3-1 Formation Tutorial - Best Tactics & Instructions, How To Use 4231 Lineup Effectively
The release of FIFA 22 is rapidly approaching and many of you are making plans for Ultimate Team, you will almost certainly want to determine the best formation for your team. This is due to the fact that your lineup will eventually determine the type of positions you need to fill, while also affecting your approach on the pitch. Knowing what custom tactics with each of FUT team is also important and that's may be the key to success. Now check out this best FIFA 22 formation tutorial to learn how to use 4231 FUT formation effectively in FIFA 22. We also include an analysis of gameplay for this formation, as well as a full description of the strengths, and weakness of lineup 4231 FUT 22.
Tactics For 4-2-3-1 FUT Formation FIFA 22
Mode: Attacking/Defending
Formation Base: 4-5-1
Available in: FUT
This is the most used formation in FIFA Ultiamte Team, it's quite good for chemistry, so you can use any formation you want for chemistry because this formation is very good for a starting team in FIFA 22 and only getting to tactics and in the instructions. There is a flat back four at the base of the formation, a double-pivot in defensive midfield, three attacking midfielders, and a striker ahead of them. One of the major draws of this formation is that the two outside attacking midfielders can operate like wingers while maintaining a CAM card chemistry slot. The possibilities are simply endless.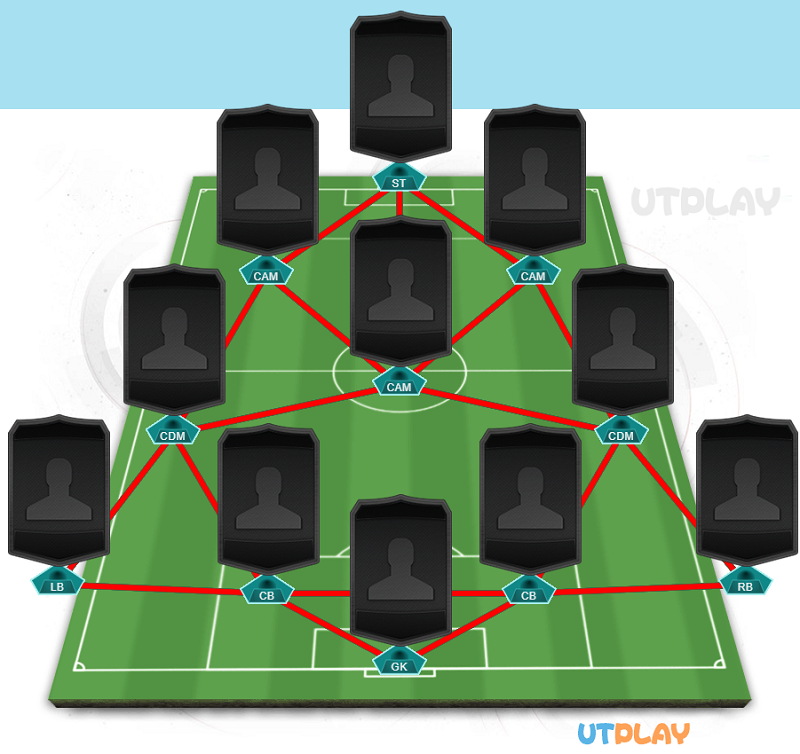 Defence
Defensive Style: Balanced
Width: 45
Depth: 40
Offence
Build Up Play: Fast Build Up
Chance Creation: Forward Runs
Width: 55
Players in Box: 6
Corners: 3
Free Kicks: 2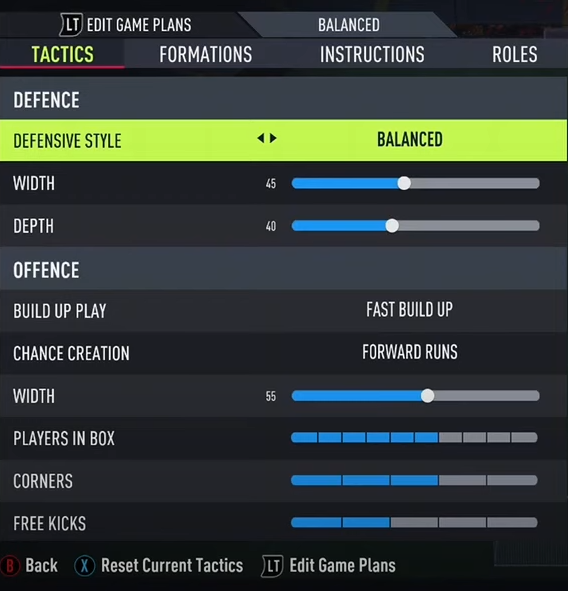 Analysis: The defensive style for this best FIFA 22 formation/lineup is going to be on balanced, width and depth is so important, there's no benefit to going super high or low, so keep depth around 40-50, and 75 depth is perfect, if you are a new player, 40-60 is perfect for you. For the build up play, you are recommended using fast build up, that's because you can link it to the chance creation which is a new feature for this year. Forward runs is the best to go especially on information like this, pushing those players forward and getting all of those attacking players, you've got free campsite and a striker to work with, so make forward runs and get in opposition box quickly. Using 50-60 width, going with 6 players in box, corners on 3, and free kicks on 2.
FIFA 22 4-2-3-1 Player Instructions
- Attacking Mid: Stay forward, get into the box for cross, normal interceptions, stick to position
- Striker: Balanced width, get in behind, stay forward, normal interceptions
- Defensive Mid: Balanced defence, balance4d attack, cover wing, stick to position, normal interceptions
- Center Back: Stay back while attacking, normal interceptions, stick to position
- Full Back: Stay back while attacking, step up, normal interceptions, mixed attack
- Goalkeeper: Comes for crosses, sweeper keeper
If you find this FIFA 22 4-2-3-1 tactics & instructions guide helpful and want to see more, make sure you follow our news list on utplay. Various kinds of the most popular and hottest FIFA 22 formation guide and custom tactics will be updated to help you find the most suitable formation and tactics in FIFA 22. And welcome to buy FIFA 22 Coins cheap to build FUT 22 best squad, we'll try our best to serve for you.