Best FIFA 22 442 Custom Tactics and Instructions - Best Formation to Start Ultimate Team
9/23/2021 11:46:18 AM
The FIFA 22 tactic system works in a similar way as that in FIFA 21, but changes are still made to improve the game. Are you looking for the most meta tactics in FUT 22? Try out the best FIFA 22 custom tactics and player instructions for 442 formation in Ultimate Team.
Related Read: FIFA 22 Best Formations and Tactics
Best FIFA 22 442 Custom Tactics and Player Instructions - FIFA 22 Best Formations
How do FIFA 22 custom tactics work? The defensive tactics are the exact same as last year, nothing has changed. We do have Drop Back, Balance, Pressure on Heavy Touch, Press After Possession Loss, and Constant Pressure. Balance is the same as last year, a more natural approach that the players apply a bit of pressure but there is no direct force of applying pressure itself, they kind of maintain their positions. Where this will change is that the width, now the slider goes all the way from one to 100, so in effect, you could have a bit more of new change to your system and you can perfect it to how you want. Not just for width, the depth, the attacking width and the players in the box, and more have changed as well.
What's the best FIFA 22 formation to start in Ultimate Team? There are lots of formations to choose from in FUT 22, with the addition of some new formations, but what really matters is the tactics and instructions. We are going to start with the 4-4-2 flat formation, it provides a good balancing attack and defenses are sitting too deep. Check out the custom tactics and player instructions of 442 formation in FUT 22 by KingSunny27.
FIFA 22 4-4-2 Custom Tactics
The defensive style used here is balanced, and 50 width is recommended, no matter what depth you play, you are going to be sitting much deeper and you will have to use those manual offsite traps, you can start with 60 depth, it provides a good balance. As for chance creation, although possession might work, it still makes our attack too static, you can go with forward runs, which works very well in their new edition into FIFA 22. When it comes to width, you can try with 55 to 65, 55 is selected because it provides a balance. The choice for players in box is 5 here but you can experiment with four and six. Corner and free kicks in this custom tactic don't really matter.
Defence
- Defensive Style: Balanced
- Width: 50
- Depth: 60
Offence
- Build Up Play: Balanced
- Chance Creation: Forward Runs
- Width: 55
- Players in Box: 5
- Corners: 1
- Free Kicks: 1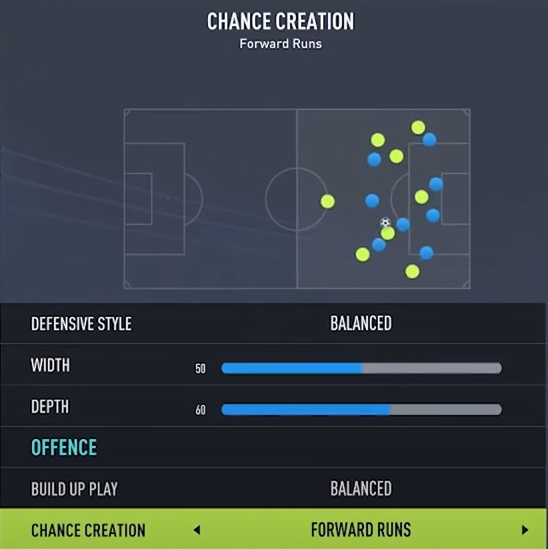 FIFA 22 4-4-2 Player Instructions
- Strikers: put one of the strikers on Stay Forward and one the other one is on Balanced, one striker is on Stay Central as well.
- Center Midfielders: one center made on Balanced, the more attacking one, and one on Stay Back While Attacking
- Wingers: the finish shots are too overpowered, you will use a left-wing, left-footed winger on the right-hand side, and the right-footed winger on the left-hand side, use Cut Inside on one of them and Balance on the other one, both are working very well. The players are running too far ahead and we need to build up this game, it's more about build-up than just blind counter-attacking, so get in behind maybe not be the best option here.
- Full backs: they both are Stay Back While Attacking.
Stock cheap FIFA 22 coins with our discount coupon for buying the most overpowered players at the starting of FUT 22.