FIFA 21 Headliners Predictions - Release Date, Predicted Headliners Players, Promo Offers, And More
12/30/2020 11:00:55 AM

Headliners promo is coming!
December is coming to an end, and January is just on its way which means that the amazing Headliners promotion is arriving soon in FIFA 21 Ultimate Team, with a selection of dynamic items in packs as well as a player SBC. And there are various special offers will be released during the Headliners promo event for fans, such as the lightning rounds, headliner players squad building challenges, themed objectives and more. Want to know which players could be featured in FIFA 21 Headliners and how to earn all the Headliners promo offers? Here are our Headliners predictions, covering FUT 21 Headliners release time, rules, player SBCs, promo offers, and more, helping you better make FIFA 21 Headliners investments.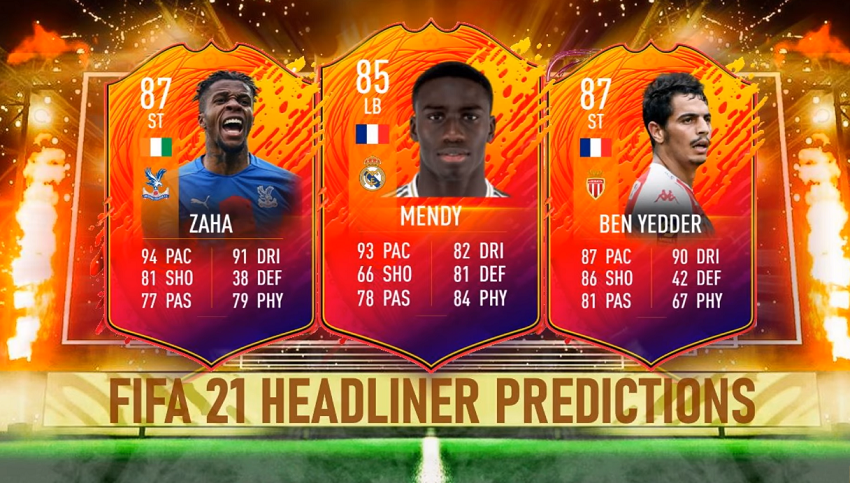 FIFA 21 Headliners Event Guide - What Is Headliners In FUT
First introduced on FIFA 19, Headliners are a curated selection of players who performs very well during the season so far. And EA will release various special offers such as squad building challenges, weekly objectives, pack offers and headliner players for FIFA fans. At the launch of the event, each FUT 21 Headliners player item type will be released at one in-form upgrade higher than their latest qualifying performance based in-form (TOTW, MOTM, Hero, Record Breaker or Team of the Group Stage item).
Read more: What To Invest In For Party Bag SBC On FUT 21
FIFA 21 Headliners Release Date - When Will Headliners Release In FUT 21
According to the previous rule, EA Sports released the list of headliners player items every Friday.
FIFA 19 Headliners - February 1st, 2019
FIFA 20 Headliners - January 17th, 2020
So for this version, we can expect FIFA 21 Headliners event to come in a similar date - a Friday in January 2021 and players will be available in FIFA 21 packs for a limited time.
FIFA 21 Headliners Rules - How Does FUT Headliners Upgrades Work
The FUT Headliner players must have received at least one in-form card so far in FIFA 21 Ultimate Team, and they must have no existing dynamic live item, TOTY, or regular card with a rating of 90 or higher. These new headliners players will not have locked ratings. Each time a FUT 21 Headliner earns a TOTW, Hero, MOTM, Record Breaker, or TOTY item, their FUT 21 Headliners player item will always increase to be one in-form upgrade higher. But if the player receives a new IF card with a different position and others remaining the same, then his Headliners card won't change in FIFA 21 Ultimate Team.
FIFA 21 Headliners Offers
During the Headliners event in FIFA 21, you can enjoy various offers include:
- Promo packs
- Player cards
- Special SBCs
- Themed objectives
- More
FIFA 21 Headliners Player SBC Predictions
Here are some of the players who could feature in the FIFA 21 Headliners prediction for FUT 21.
ST: Calvert-Lewin - Everton - 85
LF: Mkhitaryan - Roma FC - 86
RB: Aguilar - AS Monaco - 83
ST: Watkins - Aston Villa - 85
GK: Sommer - M'gladbach - 88
RM: Berardi - Sassuolo - 84
RB: Walker - Manchester City - 87
CM: Modric - Real Madrid - 88
LB: Mendy - Manchester City - 85
RM: Hirving Lozano - Napoli - 87
CM: Goretzka - FC Bayern - 87
CF: Joao Felix - Atlético de Madrid - 87
ST: Ben Yedder - AS Monaco - 87
ST: Zaha - Crystal Palace - 87
CM: Valverde - Real Madrid - 86
LB: Robertson - Liverpool - 89
LB: Son - Spurs - 90
CF: Dybala - Piemonte Calcio - 90
CM: Alberto - Lazio - 87
CDM: Kante - Chelsea - 90
CM: De Jong - FC Barcelona - 87
So are you hoping to include any of these FUT 21 Headliners players in FIFA Ultimate Team? Do you need to buy FUT coins on making pre-investments for the Headliners promotion FIFA 21? Utplay.com here always provides the cheapest FIFA 21 Coins and best service, more guide and tips for this event will be updated, stay tuned!