FIFA 21 TOTY Market Crash & Investment Guide - Best Time To Buy & Sell
12/28/2020 7:34:27 PM

In this FIFA 21 Team of The Year investment guide, we're going to talking about the market updating for the big promo; also going over how can you make coins, what investments can you make, and also when to buy and sell your card during the TOTY market crash period.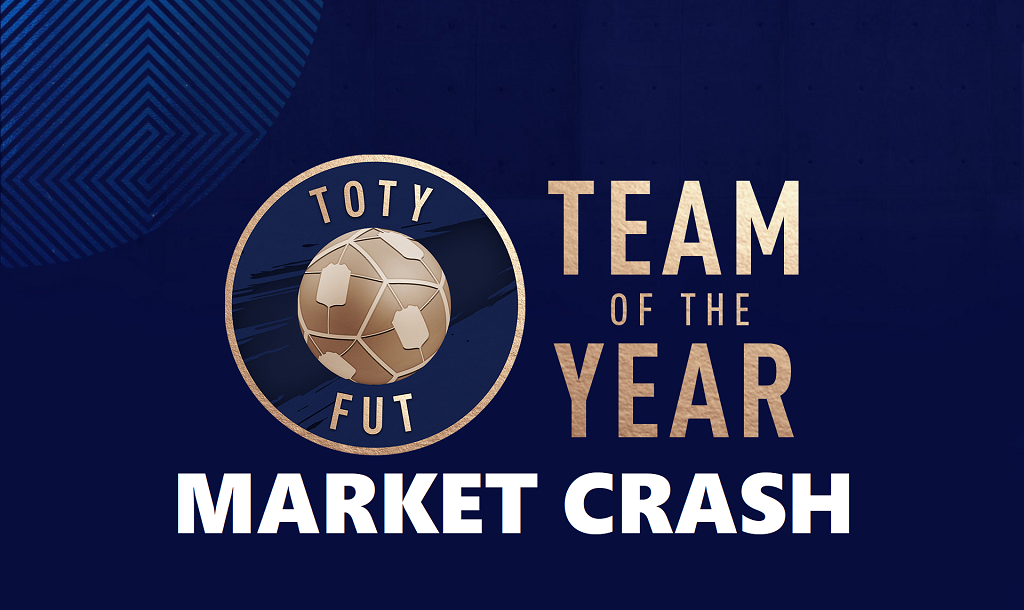 Rated Read: Madden NFL 21 TOTY Predictions, Release Date, Sets & More
FIFA 21 Team Of The Year Market Crash Explain
Looking at the market now what can we prepare to do because if this team of the year loading screen or the announcement for voting is going to be so soon literally on our doorstep, then we do need to be prepared for this. Because the market right now is not going to be looking too good when TOTY gets announced, we do see this with all of the other promos as well, as soon as there is a new card design announced and there are going to be lots of different people also talking about selling their cards. Then we are going to see a big impact on the market. Especially EA Sports with a team of the year, they do know to acknowledge how big of an earner this is for them. So they do release special sort of trailers with real-life footballers, things like that it's just going to get casual is especially excited for this and they are going to start selling.
EA Sports have been slowly working up to this and has been taking coins off the market. These expensive freezer species that is no accident, probably EA Sports were knowing what they are doing in preparation for Team of The Year, also the party bag is quite expensive and we did get a few showdowns as well. Those FIFA 21 coins that you put in you're not going to be able to get them back. EA Sports all of this collection is in a perfect position, they know people are going to be panic selling because all of this team of the year the uncertainty when are the announcements coming when is the actual promo going to be released. And because people are already low on coins from all of these SBCs that they have been arguably wasting their queens on.
Come to Team of The Year, EA Sports are hoping people are going to be putting on FIFA points to try and get their coin total back up. And most likely every single year, EA Sports do definitely get away with that but, what we're going to be doing now to make sure that we are ready for this.
FIFA 21 Team Of The Year Investment Tips
If you are want to make some profit or upgrade your team during the FIFA 21 Team of The Week promotion, check out how the transfer market will react with the TOTY Promo, go to take preparations, and learn some investment tips:
How Will FIFA 21 TOTY Promo Affect The Market?
Since Black Friday, the market has been in a constant decline, what's likely going to happen is this is going to be the end of the downtrend, below is how the market will be affected by TOTY:
1. People save packs for Team of The Week cards, before TOTY is released, the number of new cards in the market will be reduced
2. During the TOTY promo, people open their saved packs and also pack with FIFA Points, sell, discard what they pack, a massive coin injection onto the market, the price of lots of cards will drop and this results in people upgrading their teams
3. These TOTY Cards are always really expensive therefore the large majority of people will not be able to afford these cards and end up buying cheaper alternatives and this is where the market rises significantly for the icons, informs and top-rated players.
How To Prepare For FIFA 21 TOTY Promo?
Although we are not sure about the release time of TOTY, it is not far from us and it is time to make some preparations for doing a profitable investment:
1. What To Sell & When Is The Best Time To Sell?
When is the best time to sell? Actually, you can sell when you're happy with the profit to re-invest, and we recommend selling that week of rewards between Thursday-Saturday to get your coins back.
Definitely, we recommend you are going to be playing weekend league with a fully untradable team. In other words, just make sure that you do have all of your coins available, you don't want to have any tradeable cards still sitting around in your club because if you do miss them and forget about selling, most likely unfortunately they are going to be going down in price because everyone is panic selling. Also all of these lightning rounds, they do genuinely have a lot of supplies especially on gold cards but this doesn't mean that all of the cards in the Ultimate Team are just going to be crashing down and not recovering at all. That is definitely not true but right now all you should be worrying about before we do get this announcement is selling your cards and making sure that you are ready.
2. What To Buy & When Is The Best To Buy?
When is the best time to buy? That is usually around the start of Team of The Year maybe a little bit before that. The market to be at its lowest the weekend sell-off before the TOTY release.
If you are not a suitor of TOTY or don't have enough Coins to invest in TOTY, but you want icons, special cards, or high-rated players to improve your team, then one week before TOTY is released is the best time to buy.
FIFA 21 TOTY Release Date Predictions
We do know that Team of The Year is going to be released in January, and also FUT TOTY is always on Mondays. EA Sports can always change this, we for sure know in January but maybe it isn't going to be necessarily a Monday again this year, but that would literally be changing what they have done for the past 6-7 years, so it wouldn't make any sense at all it's definitely going to be Monday. In our opinion, there's no chance of EA Sports changing that no reason they would. So in January, we do have Monday on the 4th and also Monday on the 11th, and it could be either one of them but we can look closer in there is going to be FIFA 21 Team of The Year. While we do need first of all for the voting to actually start before EA Sports can release the promo because they don't even know who's going to be getting a Team of The Year cards that is what asks the foot community do you decide. But EA Sports first of all need to announce team of the year with all the new graphics and the voting the nominees, and that is going to be happening sometime before of course the team of the year promo. So we are going to get a little bit of a heads up, this does need to be announced in advance, probably at least a week maybe four five-six days if EA Sports are really pushing it.