Diablo 4 1.1.1 Nightmare Dungeon Tier List - Best 5 NM Dungeons for Farming
8/11/2023 4:00:27 PM
This is the Nightmare Dungeon Tier list for Diablo 4's Patch 1.1.1 for Season 1, Season of the Malignant. In this guide, you will see which dungeons in Diablo 4 are S Tier and very worth running, C Tier, or even Salvage Tier which shouldn't be run if you have a choice when trying to level fast and efficiently in Diablo 4.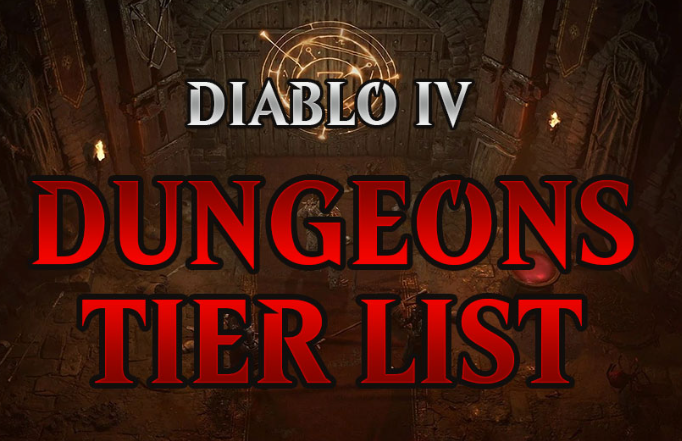 Diablo 4 1.1.1 Nightmare Dungeon Tier List
You will run the dungeons from top to bottom, ideally you always want to run the S or the a tier Dungeons and they are also sorted from top to bottom in the categories, so all those cave is a little bit better than Hoarfrost demise but since they're an S tier anyway, they're going to be very good and worth your time, same for A tier, Nostrava Deepwood is going to be a little bit better than Mercy's reach and so on and so forth, so ideally you never want to play the C or the salvaged here, ideally, we would suggest always salvaging these and sometimes it can happen that you don't have the S or the A tier left over, so you will have to default to playing the B tier dungeons which is Stockade, Charnel House, Collapsed Vault, Lost Keep, Garan Hold, we have ran this on a rogue so we're a little bit faster on the bigger dungeon so that might be a little bit scuffed, but feel free to change everything as you want, but again, the S and the a-tier dungeons are going to be set in stone most of the time, so whenever you are running these, you'll be golden, now ideally, you would want to capitalize on having this information, because we have gotten a Sigil drop rate above as well, so in game, whenever you are playing the game you will run into the problem of having a lot of sigils, ideally, and then you will find the highest tier difficulty nightmare dungeon at the top left which is in this case tier 50, and then the lowest one in the bottom in this case tier 41, you would know if the lowest tier will still give you experience, so ideally this one is going to be your level and then you will just run them from right to left.
S Tier
Uldurs Cave

Domhainne Tunnels

Sarat's Lair

Immortal Emanation

Hoarfrost Demise
A Tier
Nostrava Deepwood

Akkhan's Grasp

Mariner's Refuge

Dead Man's Dreadge

Komdor Temple

Pallid Delve

Tomb of the Saints

Mercy's Reach
B Tier
Stockades

Charnel House

Collapsed Vault

Lost Keep

Garan Hold
C Tier
Betrayer's Row

Kor Valar Ramparts

Shifting City

Iron Hold

Ancient Reservoir

Twisted Hollow
Salvage
Faceless Shrine

Heretics Asylim

Path of the Blind

Halls of the Damned

Bastion of Faith
What's really good that happened with this patch as well is that we got rid of code Enchanted, we got rid of resource burn and we got rid of backstabbers all of them very annoying time-consuming affixes or very dangerous in some cases, so now when you are sorting your dungeons, you will have an eye out at first at the nightmare dungeon, it's itself which dungeon that is going to be because you don't really need to pay attention to the affixes anymore, none of these are basically going to kill you in any way, so you can just look at the dungeon itself, and check with the corresponding tier list on your second monitor if that one is worth, running or you need to salvage this one, then next one Immortal emanation, so you go and run this one and you don't even pay attention anymore to the affixes because none of these are actually going to threaten you some of them like Melee defender or range Defender might slow you down, but that is not going to be a big issue, because you still probably are going to blast through all of the dungeons.