D2R Ladder Season 2 Start & Reset Date - When Will Diablo 2 Resurrected Season 2 Ladder Release
8/2/2022 4:46:19 PM
When is Ladder Season 2 starting in Diablo 2 Resurrected? As we all know that Ladder 1 is going to end, and Diablo 2 Resurrected Ladder 2 drops soon. Here we talk about D2R Ladder Season 2 start time and 10 tips to prepare for it!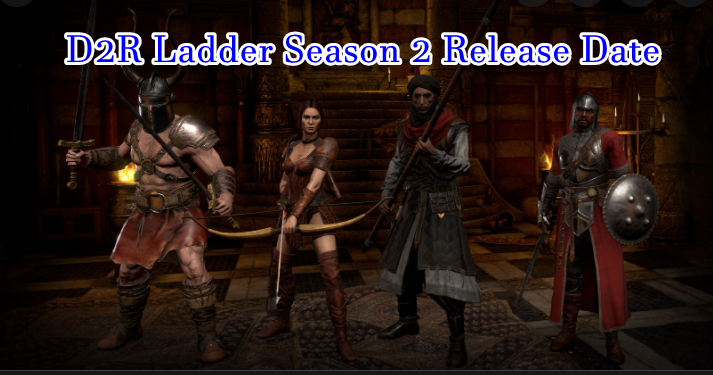 D2R Season 2 Ladder Start - Diablo 2 Resurrected Ladder 2 Release Date
There was a tweet from Adam Fletcher saying that the D2R Ladder could be reset sometime between mid to late August most likely. Adam Fletcher is the global community lead for Diablo. So he posts updates here and there from the different Diablo Series including Diablo 2 Resurrected. It was said by the design lead Robert Gallerani that each D2R season will be 4 months versus the current D2 series which is around 6 month seasons. So April 28th was when the first Ladder Season was released for Diablo 2 Resurrected. 120 days or 4 months after would put it at either let's say Thursday or Friday, so the 25th or 26th of August would most likely be the D2R Season 2 Ladder reset date.
How To Prepare For D2R Season 2 Ladder Drop
Here are the best D2R Ladder Season 2 tips for the start and first week.
1. Making a plan.
You need to have a plan about what are you going to do the first day weekend and week. Here are some options for you, farm bosses for the first cast their D2R items to trade or farming keys for the first uber attempts to trade or maybe doing ubers yourself or playing in a group and grinding that experience. Make sure you decide what you're going to do and achieve or otherwise you will get none of it.
2. D2R Ladder Starter Build
Typical starters especially solo are sorceress and paladin. Blizzard, hydra, frozen orbs sorcs are the best to start with. As for paladin, you can either spin those hammers or get on the feast of heaven's hype. Other good starters are goldfind barbarian, travincal for life, lightning traps assassin can do a lot of things fast. Lightning fury javazon is one of the strongest classes that destroys density easily. Then bone and summon necro, although they are very strong and good, their start is much slower. Make sure to look up the fastest leveling builds for each class if you play solo. In a group, look for what is needed in the group.
3. Playing With Others
Diablo 2 Season 2 Ladder is all about playing online. so embrace it in full. Join public games at the start if you do not have a group, this way you can avoid cues and level up faster. If you want a group joins either big communities in discord. For example, content creators can check their group finding channels or look for multiplayer forums on different sites.
4. Leveling
Leveling is quite easy if you are in a group. For normal typical sports are Tristram, Tombs, Baal, and Cows. For Nightmare, just pass it through and settle on Baal runs. For Hell, once you hit Act 4 and if you are less than level 60. Farm Chaos with your buddies beat the game and farm Chaos and Baal. These two are by far the fastest ways to level your character to 90 plus. If you play solo, our first advice would be to join those games above for leveling and then continue solo again. Otherwise in normal, you can level at Flayer's Jungle and Battlemaid Sarina for level 24. Don't forget to check experience shrine by Act 1 waypoints. In Nightmare, just run Baal waves. In hell, depending on your build, you'll likely want to stop by early level 85 zones Mausoleum if you can. Stony Tombs and Ancient Tunnels will give you a lot of experience, and also a chance to win a lottery if something decent drops.
5. Shopping
Shopping is also an essential part. During your playthrough especially solo, make sure to hit shops for specific items. Teleport stopped by Great Marsh between level 19 and 24. Those with tp charges will be red. So check only these, it's needed for everyone. But zork lower res ones from drognon or mala starting at level 31 plus useful for the majority of the characters at the start.
6. Gearing Up
If you rush through the game or play in a group, your gear is likely non-existent. The best advice is to spend 10 to 15 minutes in Act 1 Nightmare and farm Gheed for belts, boots, and gloves. The belt can get 30 res plus lots of life or fhr. Boots 30 faster run work and 40 res. Glass 30 resistances and a map. Next, get your spirit inside Nightmare. counters can drop all the runes relatively fast. If you can farm hell counters do that better. Spirit in a sport helps a lot to improve mana, life, faster hit recovery, and damage. Inside even in a normal polearm will be essential for your mana issues and comfort of play. Normal cows can drop crystal long and broad sports. But if Larzuk will give you 4 sockets for the spirit. The same goes with the polearm, Cows drop item level 28. Those can roll max 4 sockets, use the cube recipe to get it. Early ancients pledge shield or free perfect diamonds is a great option for the shield. For magic find, you can make rhyme later on for the swamp.
Stealth will be the basic armor for most casters until very long. For non-casters well most likely too. Later on, you can swap in smoke with nef and lum for resistances if they are lacking. Make yourself lore in a helmet for the extra skill and lightning res. Later on, you can spend your first dash of gold on gambling circles to get something more decent. Don't forget to make edge runeword tir, tal, and amn in a bow for the discount. You can find the bow in Act 1 normal by Charsi. You will come across some decent rings or simple fcr ones in your playthrough. For the amulet, cube up three rings into an amulet for the chance of getting plus 2 or 3 skills to your main skill tree. You need to be at least level 80 to get an amulet with a plus 3 prefix. Already at about 55, you can get plus 2 or simply gamble them as well.
7. Farming
Now you're pretty much set for your first farming. Based on your plan and what you decided to do here is a common list of early farming spots.
Bosses: And and Meph. This is a classic first gear farming option.
Superuniques: Eldritch, Pindell in Act 5 and Shenk. Other classic easy leveling spots and occasional good rare items or uniques.
Easy high level areas: Maus & Crypt, Pit, Stony Tombs, Ancient Tunnels and Arachnid Lair good for leveling and winning a lottery early on.
Medium high level areas: CotD, River of Flame, Maggot Lair, Act 2 Temples. These places are harder but most likely untouched by public games.
Hard high level areas: Chaos Sanctuary, Woldstone, Keep & Baal, Art 5 Portals, Swampy Pit, Driftern Cavern, and Icy Cellar. Pretty much your end-game farming options and variety.
Hell cows: For runes and bases, no discussion.
Travincal: For runes, gold, and jewelry.
Keys farming: Countess, Summoner, Nihlathak for keys. Also, make sure to hit boss packs and ghost-type mobs in the first two. Since the game can be unstable and have cures on Ladder launch, make sure to run several of the places together based on the plan and the build you have chosen.
8. Trading
Trading is an essential part of playing online. With trading, you can get lots of runes early on. Here are some tips on it. Check prices on trading sites and once you find something make games with a trade name offer already, it will speed up the process. Make trade games when you afk, so somebody can hop in and then you can text them back. Post your trades for the night on those platforms mentioned before. All of this will speed up your trading and will help you put the correct price.
9. Get Rich
Who doesn't want to get rich before Diablo 2 Resurrected Season 2 starts? This is partially luck in terms of what you find but also you need to know what to do. Typical strategies will be making sure to sell the right items at the right time. All the soar compiler gear will go for really high at the start and will drop later on.
The same goes for most used bases early on like 4 open socket monarchs, eth elite polearms, heart of the oak flails, and cta crystal swords as well as paladin shields with high resistances. Selling keys for uber Tristram if you do not plan to farm torches yourself is a good way to get mid runes early on. This also means that runeworld bases 4 and uber build farming items will be expensive a few days into the Diablo 2 Ladder Season 2 reset. Check your typical smiter gear setup and consider selling those if you find them. At the same time if you can invest in a torch farming machine that's a good way to get your first fortune. Although it is always easier with a group. Other typical trading items are grand charms from Baal Diablo and new attack, perfect gems, perfect amethyst, and rubies rolling sol runes.
10. Split Magic Finding
If you are rather a farming-only guy, consider grouping up with two hours and doing split farming runs where each chooses an area. They are best equipped for and you farm only that one. This is a sort of player 3 farm that improves rune drop chances by 40% and doesn't require much clearing power. Best down on forums or discord.