FIFA 22 La Liga TOTS Predictions | FUT 22 Team of the Season Release Schedule
3/26/2022 11:32:16 AM
Before the end of FIFA 22, the Team of the Season celebration should be the most anticipated promo on the FUT calender. Some big names around the world are expected to appear on the TOTS squad. When is the FUT 22 Team of the Season release date? Starting from the major leagues, today we are going to bring the FIFA 22 La Liga TOTS predictions, along with the release schedule for more squads.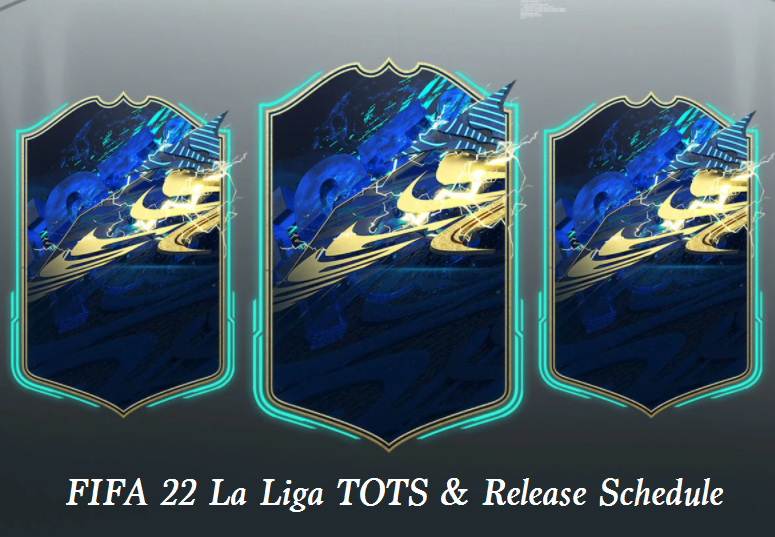 FUT 22 Team of the Season Release Schedule Predictions - When Will FIFA 22 TOTS Come Out?
Team of the Season is one of the biggest events in FIFA 22 Ultimate Team to celebrate the best players of the season, lasting around 2 months, there will be over 10 TOTS squads revealed into FUT 22, including Community TOTS, EFL TOTS, Ultimate TOTS and TOTS for each league like Premier League, La Liga, Bundesliga, Serie A, Ligue 1, etc. Players who are selected will receive a special blue card with a significant overall boost. Then, when is FIFA 22 TOTS? Based on the previous TOTS release date, we'll have two or three TOTS teams each week, and the squad of major leagues usually come out on Friday, other squads may be revealed on other days like Monday. So, the FIFA 22 Team of the Season event is expected to start by revealing Community and EFL squads on April 22, 2022, and more squads will be available in the following weeks.
FIFA 22 TOTS Release Schedule Prediction
- April 22, 2022: Community TOTS, EFL TOTS
- April 29, 2022: Premier League TOTS
- May 2, 2022: Saudi Pro League TOTS
- May 6, 2022: La Liga TOTS
- May 9, 2022: Super Lig TOTS
- May 13, 2022: Bundesliga TOTS
- May 16, 2022: Liga NOS TOTS
- May 20, 2022: Serie A TOTS
- May 23, 2022: Eredivisie TOTS
- May 27, 2022: Ligue 1 TOTS
- May 30, 2022: MLS TOTS
- June 3, 2022: Ultimate TOTS
FIFA 22 La Liga TOTS Predictions - La Liga Team of the Season FUT 22
Team of the Season players are generally voted by EA and the FIFA community, which players will be selected in the La Liga squad? Here is a full list of predicted FIFA 22 Li Liga TOTS players picked by hayze - Fifa Predictions, featuring Aubameyang, Modric, and more great cards that are worth an upgrade. You will be able to earn TOTS player items, packs, and FUT 22 coins through various themed SBCs and Objectives.
Forwards:
Correa - ST - Atlético de Madrid - 83 to 94 - 11 goals, 5 assists
De Tomas - ST - RCD Espanyol - 79 to 91 - 14 goals, 3 assists
Aubameyang - ST - FC Barcelona - 85 to 94 - 7 goals, 1 assist
Iago Aspas - ST - RC Celta - 84 to 94 - 13 goals, 4 assists
Unal - ST - Getafe CF - 75 to 92 - 14 goals
Vinicius - LW - Real Madrid - 80 to 94 - 14 goals, 6 assists
Guedes - LM to LW - Valencia CF - 81 to 94 - 11 goals, 5 assists
Benzema - CF - Real Madrid - 89 to 97 - 22 goals, 11 assists
Muniain - CAM to LW - Athletic Club - 83 to 93 - 3 goals, 7 assists
Ferran Torres - RW to LW - FC Barcelona - 82 to 93 - 4 goals, 3 assists
Midfielders:
Fekir - CAM - Real Betis - 84 to 94 - 6 goals, 6 assists
Soler - CM - Valencia CF - 81 to 94 - 9 goals, 5 assists
Busquets - CDM - Real Madrid - 86 to 94 - 1 goal
Kroos - CM - Real Madrid - 88 to 95 - 1 goal, 3 assists
Modric - CM - Real Madrid - 87 to 95 - 2 goals, 5 assists
Juanmi - LM - Real Betis - 75 to 93 - 12 goals, 1 assist
Parejo - CM - Villarreal CF - 86 to 93 - 2 goals, 6 assists
Trejo - CDM - Rayo Vallecano - 75 to 89 - 3 goals, 9 assists
Defenders:
Acuna - LB - Sevilla FC - 84 to 93 - 1 goal, 3 assists
Alaba - CB - Real Madrid - 84 to 94 - 1 goal, 3 assists
Diego Carlos - CB - Sevilla FC - 82 to 93 - 2 goals
Eder Militao - CB - Real Madrid - 82 to 93 - 1 goal, 2 assists
Jesus Navas - RB - Sevilla FC - 84 to 93 - 2 assists
Pau Torres - CB - Villarreal CF - 82 to 92 - 4 goals
Goalkeepers:
Courtois - GK - Real Madrid - 89 to 96 - 12 clean sheets