Best FIFA 22 4222 Custom Tactics & Instructions - How Do You Play 4-2-2-2 Formation in FUT 22
1/7/2022 10:08:46 AM

4222 is one of the most balanced formations in FIFA 22, it's a classic and brilliant system. In Ultimate Team, what kind of tactics should you use? Now, we'll bring the FIFA 22 4222 best custom tactics and player instructions, hope you can get some tips to play the 4-2-2-2 formation better in FUT 22.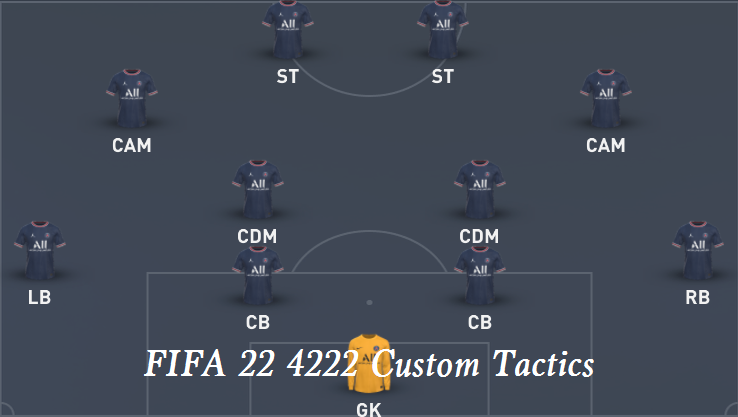 Best FIFA 22 4222 Custom Tactics & Instructions - How Do You Play 4-2-2-2 Formation in FUT 22
4-2-2-2 is a traditional football formation and is very widely used in each FIFA game. Is 4222 a good formation in FIFA 22? FIFA 22 4222 formation is extremely effective, it's similar to 442 but probably a little bit better and more consistent than the 442. The flexibility of the formation makes it highly variable, you can transform it into a 4-4-2 or 4-2-3-1 by changing the position and movement of players.
Let's take a look at the custom tactics and player instructions of FIFA 22 formation 4222 by Connor Woolf.
Custom FIFA 22 Formation 4222 Tactics
When it comes to the tactics of 4-2-2-2 formation, starting with balanced on the defensive style works along with 45 width and 55 depth, the depth is a little bit down to your personal preference, it's recommended from 45 the way up to 65, anywhere in that range. For the offence Build up play, Long ball is not bad, but balanced is a better option. And direct passing is the way to go for chance creation. Next is the width, 60 works on the 422. For players in the box, 5 to 8 is fine and the recommended quantity is 7. The more people you have in the box, the more likely you are to score a goal. Then lower your corners and free kicks down from 3 to 2, it will stop you from getting counter-attacked on from your own corners, make sure you do that, it will help you out in ways that you probably won't even realize. This is one of the best custom tactics to use with the 442 formation in FIFA 22 Ultimate Team, you can use it as a baseline and make a few adjustments.
Defence
Defensive Style: Balanced
Width: 45
Depth: 55
Offence
Build Up Play: Balanced
Chance Creation: Direct Passing
Width: 60
Players in Box: 7
Corners: 2
Free Kicks: 2
FIFA 22 Formation 4222 Player Instructions
- Strikers: Get in Behind and Come Back On Defence. To make them be as close together as they can and down into the midfield a little bit and helps out in terms of the attacking fluidity of the team.
- LAM & RAM: Come Back On Defence and Get Into The Box For Cross. This is a fundamental must on the 422 formation, it just helps out in terms of the attacking side of the game where you want to be.
- CDM: Cut Passing Lanes, Cover Center. If you do struggle defensively, definitely put one of your players on Stay Back While Attacking, it will just help you out in terms of the defensive side of the game. But with comfortable defending, you can go with balance.
- Full Backs: Stay Back While Attacking and Overlap.
- Goalkeeper: Sweeper Keeper.
Whether you need FIFA 22 Ultimate Team news or FUT 22 coins, Utplay.com is a reliable place to go.