NBA 2K22 Green Shooting Tips For Low 3-Point Rating - Best Badges, Min Badges Points & 3PT Rating Required
10/11/2021 11:33:02 AM
How to shoot green consistently with a low 3-point rating on NBA 2K22? In the guide, famous NBA 2K22 Youtuber - NBA2KLab is going to take a deep dive into answering the question of what is the minimum amount of badges points and 3-point rating required for you to shoot consistently online, as well as the best badges for builds with low 3PT shooting rating.
Minimum 3 Point Rating Required For Shoot Consistently in NBA 2K22
Before we go into the guide, let's take a look at the math here:
Make % Per 3 Point Rating Level
Here is a chart of make percentage per free point level throughout the green window and you can see there's a big make percentage drop off between the rating of 80 and 75 as you can see in this gap.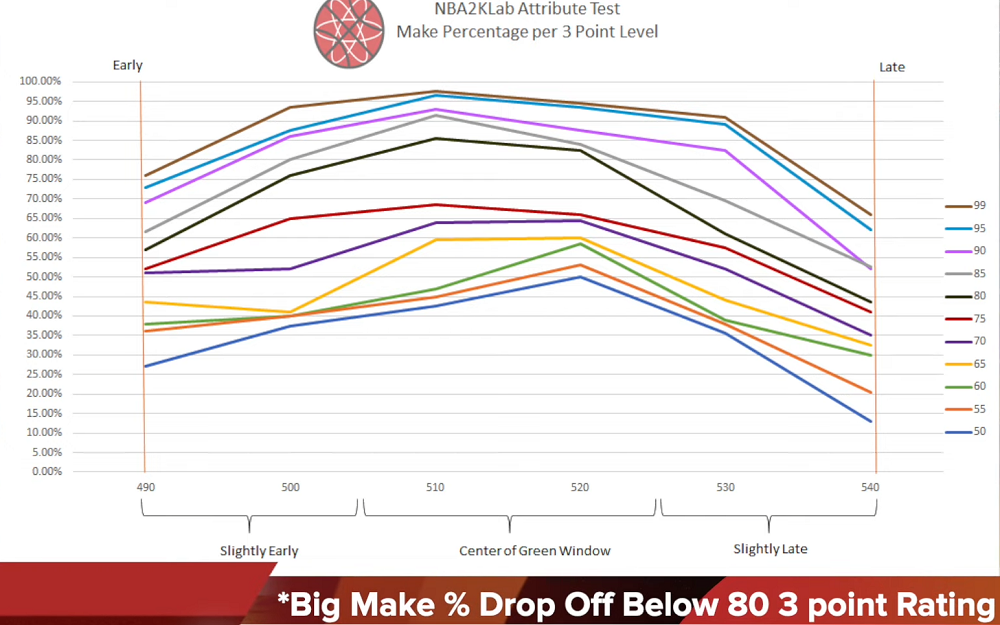 Make % for 80, 75, + 70 3 Point Ratings
If blow up that section right there, you can see 80 to 75 has a large gap and this initiative will make you think "maybe I should stick with 80 as the minimum to shoot consistently". But actually, a free point rating between 75 and 79 is viable if you give it the correct badges, this is because the chart you're seeing and the test was done by NBA2KLAB without badges or hot zones.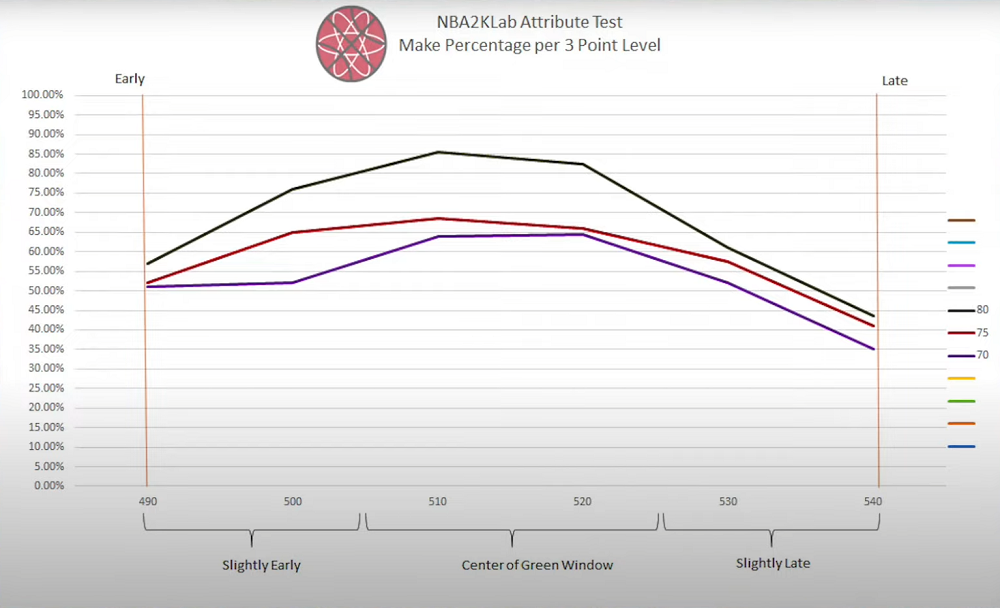 Average Make % Throughout Green Windows for Multiple 3 Point Ratings
So if you look at the average make percentage throughout the green window here with no badges and no hot zones, 75 is sitting at about a high 50s and just below 60 range with no badges, so with the right ones you'll be able to pump it up and you will be able to shoot consistently.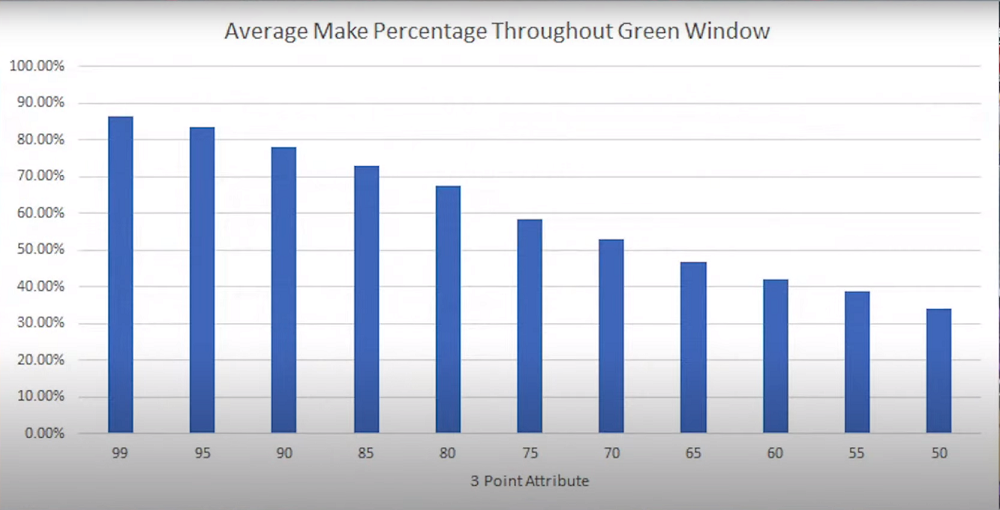 Best Shooting Badges To Go With Low 3-Point Rating in NBA 2K22
Here to demonstrate the gameplay, we take the build with a 76 three-point rating with 19 badges points, here are the badges it was equipped with:
Best Shooting Badges for Low 3-PT Rating: Blinders (Bronze), Corner Specialist (Silver), Limitless Spot-Up (Bronze), Catch & Shoot (Silver), Deadeye (Silver), Green Machine (Silver), Sniper (Gold), Hot Zone Hunter (Silver)

The key badge of shooting is gold Sniper and when you get your 19 badge points and your 76 free ball rating combined, you will see how well it can shoot: greening from the corner consistently.
76 Rating + 19 Shooting BP, Allows You To Invest On Any Build
Because of the way this game is laid out in terms of making percentages and ratings, the percentages you're going to get, and also just how effective some of these shooting badges are, especially the sta1 and sniper, when you do combine with it - 76 free rating with 19 batch points, if you invest in the gold sniper, you will be a very consistent shooter as underrated six and his shooting fight is now opening passing lane so he can play the full game.
Now that you know a 76 rating and 19 shooting bad points is enough to shoot very consistently online, it essentially allows you to invest everything everywhere else to make the build you want. Free ND is what we recommend and especially shift from the corners.
Defensive Tips For Build With Low 3-PT Shooting Rating
We've got some tips in giving you badges and controls breakdown in terms of shooting with a lower rating, here we also want to cover some bonus content on how to defend with a build that uses the low 3-PT shooting rating well:
How To Defending Passing Lanes With Lower 3PT Rating Build?
Play with the guard's mind and make the center look like he's open, so the guard can throw it but you're anticipating that the whole time. When you're playing from the corner, it's a thing called a Sweet Spot, so you kind of sit in the middle of the road in the corner pass and you shade back, forth shade back, forth, and just play mind games. It's just mind games going back and forth, and just making your opponent look open but the whole time you're playing it.
For example, if you're you know playing with the center, you're moving back and forth, trying to get the point guard to go at you and you end up getting the easy block. So shading and just kind of making your opponent think that he's got the open shot without it actually being there.
Best Defensive Badges for Build with Low 3 Point Shooting Rating
Best Defensive badges are especially going to help big men this year with their paint defense:
Intimidator, Pogo Stick, Ankle Braces, Menace, Clamps
That's all of our NBA 2K22 Shooting Guide for Low 3 Point Rating Build, hope it will help you some. If you want to collect some cheap NBA 2K22 MT for building your MyTeam squad, welcome to check out our best offer of NBA 2K MT Points.