NBA 2K22 New "2-WAY STAR" Build-97+Badges Build in 2K22
9/30/2021 10:21:09 AM

NBA 2K22 has a lot of constructions about Shooting Guard. Today, take a look at the "2-WAY STAR" build to see if it fits your mind and makes a breakthrough in the game. In order to better display, the next step is to introduce the construction data.
NBA 2K22 New "2-WAY STAR" Build-97+Badges Build in 2K22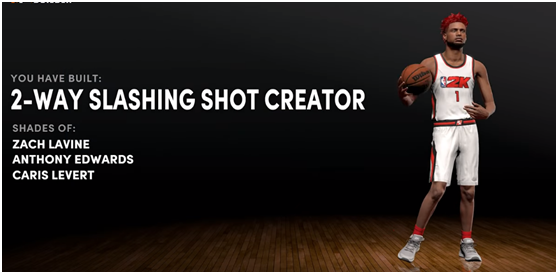 1. Body Settings
Height: 1.99m
Weight: 81kg
Wingspan: 2.21m
Body Shape: Compact
2. Attributes
Finishing
Close shot: 25-99
Driving layup: 25-99
Driving dunk: 25-99
Standing dunk: 25-73
Post control: 25-84
Shooting
Mid-range shot: 25-85
Three-point shot: 25-80
Free throw: 25-99
Playmaking
Pass accuracy: 25-98
Ball handle: 25-84
Speed with ball: 25-84
Defense/Rebounding
Interior defense: 25-63
Perimeter defense: 25-97
Steal: 25-99
Block: 25-80
Offensive rebound: 25-83
Defensive rebound: 25-83
Physicals
Speed: 25-88
Acceleration: 25-85
Strength: 25-43
Vertical: 25-97
Stamina: 25-99
3. Choose Your Takeover
Primary: Extreme Clamps
Secondary: Stop-up Precision
4. Badges
- Finishing badges: Fast Twitch (Bronze), Limitless Takeoff(HOF), Posterizer(Silver)
- Shooting badges: Blinders(Bronze), Green Machine (Bronze), Lucky #7(Bronze), Clutch Shooter (Silver), Hot Zone Hunter (Silver), Sniper(HOF), Chef(Silver), Stop&Pop(Silver)
- Playmaking badges: Ankle Breaker(Silver), Quick Chain (Gold), Triple Threat Juke(Gold), Quick First Step(Gold), Unpluckable(Silver), Handless for Days(Gold), Tight Handles(Bronze)
- Defensive badges: Clamps( HOF), Interceptor(HOF), Rim Protector(Silver), Chase Down Artist(Gold), Rim Protector(Silver)
Buy cheapest NBA 2K22 MT at utplay.com.