NBA 2K22 Best Game-Breaking Demigod Center Build! Best Build + Best Badges!
9/17/2021 3:35:51 PM

Power Forward on the NBA 2K22 is almost dominated by hard work. He is indispensable for rebounding, defense, and blocking, but he is often the last to shoot and score. Therefore, the power forward can be regarded as the most inconspicuous role on the basketball court.
The role of modern basketball power forwards is completely different from the past hard work. Many power forwards have become more comprehensive, and more and more power forwards has become good at three-pointers, organizing the ball, and their status in the game has become higher and superior. Bring you the best power forward build in NBA 2K22, hope it can make you have a good performance in NBA 2k22.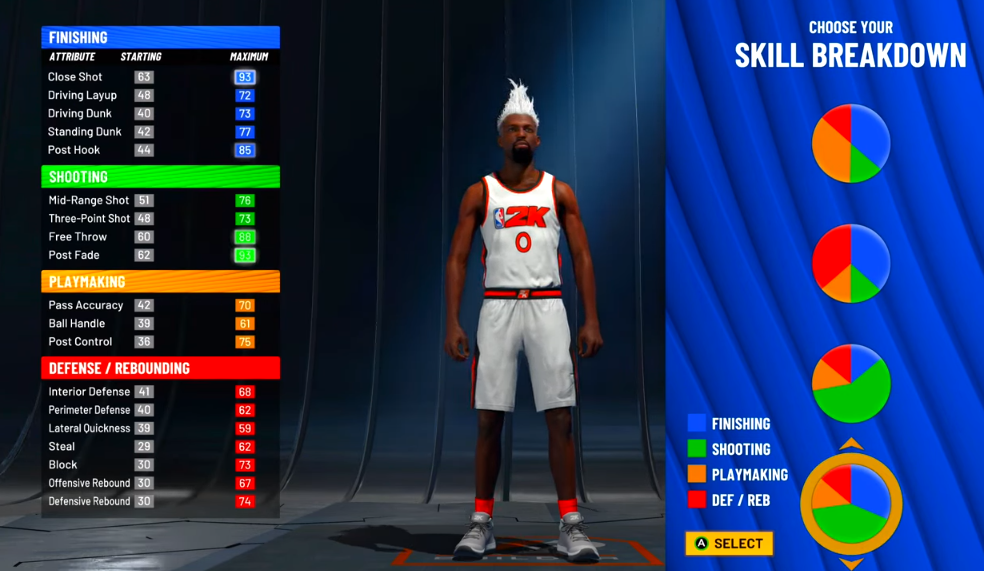 NBA 2K22 Game-Breaking Demigod Center Build! Best Build + Best Badges!
# Position
Power Forward
# Handed
Right
# Skill Breakdown
Choose the pie chart with majority Shooting/DEF/REB
# Physical Profile
Choose the Agility and Vertical pie chart
# Set SF Potential-Attribute
Finishing:
Close Shot - 53
Driving Layup - 64
Driving Dunk - 68
Standing Dunk - 26
Post Hook - 28
Shooting:
Mid-Range Shot - 80
Three-Point Shot - 78
Free Throw - 88
Post Fade - 81
Playmaking:
Pass Accuracy - 69
Ball Handle - 58
Post control- 27
Defense/Rebounding:
Interior Defense - 78
Perimeter Defense - 63
Lateral Quickness - 68
Steal - 69
Block - 85
Offensive Rebound - 79
Defensive Rebound - 86
# Choose SF Body Shape
Body Shape: Built
Height: 6'8"
Weight: 188 lbs
Wingspan: 90.0"
# Choose SF Takeover
Glass Cleaner
# Test SF Potential-Badges
Finishing:
Bronze - Slithery Finisher
Shooting:
Bronze: Clutch Shooter
HOF: Hof Zone Hunter, Catch & Shoot, Deadeye, Sniper, Blinders
Sliver: Green Machine
Playmaking:
Gold: Quick First Step
Defense/Rebounding:
Gold: Rebound Chaser, Rim Protector, Box, Clamps, Brick Wall, Chase Down Artist, Intimidator
Bronze: Interceptor, Menace
If you need to buy NBA 2K22 MT, utplay.com is a reliable website.