The Best Build on NBA 2K22 REVEALED!- Best Small Forward Build 2K22
9/11/2021 3:00:24 PM

Why is it necessary to build a Small Forward in NBA 2K22? We have learned more about the best build. Based on this, a series of player builds such as Point Guard, Small Forward, Power Forward, and Center have been carried out. NBA 2K22 has diversity, but considering the advantages of small players mentioned by NBA2K22 officials, Small Forward must be a must in the NBA 2K22 Build. Small Forward build will not only become a game for creating shots, but it is also a very safe construction. If you own NBA 2K22 Small Forward build, he will always work for you and be the best sf build 2k22.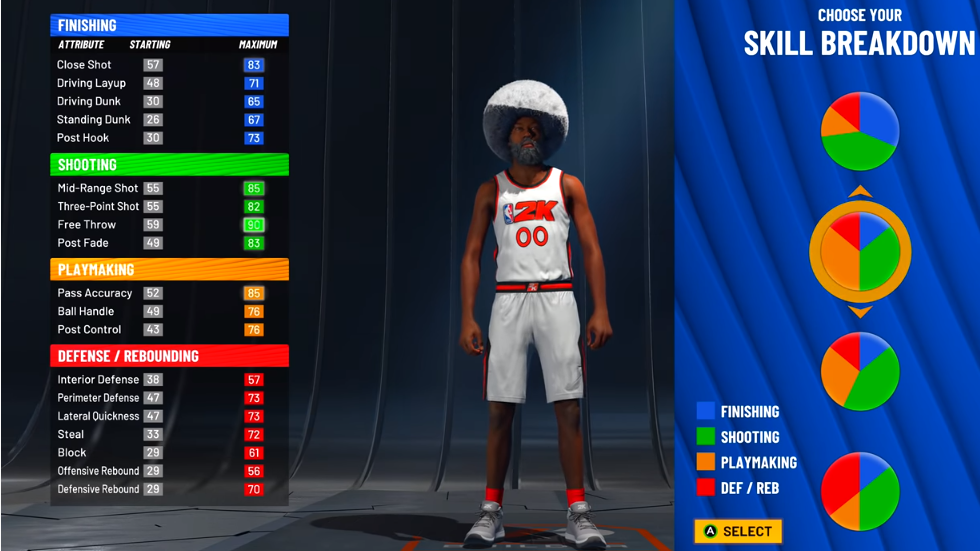 Best Small Forward Build on NBA 2K22
# Position
Small forward
# Handed
Right
# Skill Breakdown
Choose the pie chart with majority Shooting/Playmaking
# Physical Profile
Choose the Agility and Vertical pie chart
# Set SF Potential-Attribute
Finishing:
Close Shot - 57
Driving Layup - 71
Driving Dunk - 65
Standing Dunk - 26
Post Hook - 30
Shooting:
Mid-Range Shot - 85
Three-Point Shot - 82
Free Throw - 90
Post Fade - 81
Playmaking:
Pass Accuracy - 85
Ball Handle - 76
Post control- 73
Defense/Rebounding:
Interior Defense - 38
Perimeter Defense - 73
Lateral Quickness - 73
Steal - 72
Block -61
Offensive Rebound - 29
Defensive Rebound - 66
# Choose SF Body Shape
Body Shape: Slight
Height: 6'5"
Weight: 178 lbs
Wingspan: 86.0"
# Choose SF Takeover
Spot Up Shooter
# Test SF Potential-Badges
Finishing:
Bronze - Giant Slayer
Shooting:
Bronze: Catch& Shoot, Volume Shooter
Gold: Limitless Spot-Up
HOF: Blinders, Hot Zone Hunter, Sniper, Deadeye
Sliver: Green Machine
Playmaking:
Bronze: Bail Out, Unpluckable, Stop &Go, Glue Hands
HOF: Handles for Days, Quick Chain, Quick First Step, Ankle Breaker
Sliver: Dimer, Floor General, Bullet Passer
Defense/Rebounding:
Bronze: Pick Pocket,
Gold: Clamps
Silver: Intimidator
Above is the best NBA 2K22 small forward build, if you need to buy NBA 2K22 MT, UTPLAY.COM provides it with the cheapest price, fast delivery, and safety deal.