NBA 2K22 Best Point Guard Builds (Next Gen & Current Gen) - 3PT Playermaker, Finisher, All Round PG Builds
9/10/2021 8:18:30 PM

In this guide, we break down the Best MyPlayer Point Guard Builds on NBA 2K22 MyCareer Current Gen and Next Gen, featuring the most overpowered 3-point shot playmaker, finisher and all round PG builds which will dominate the basketball court.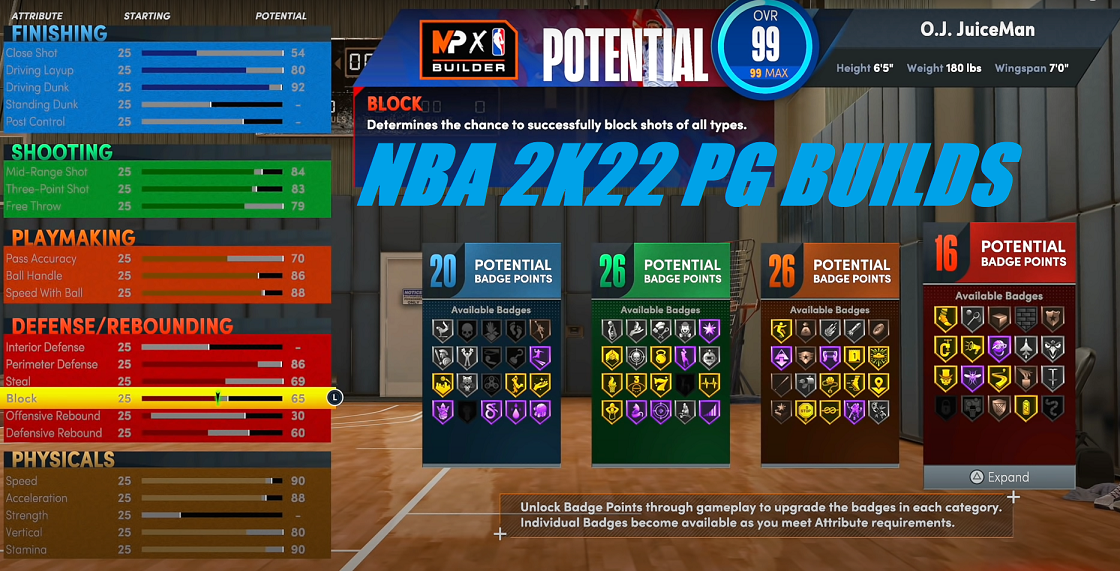 Best MyPlayer Point Guard (PG) Builds on NBA 2K22 MyCareer
Points Guard is typically referred as the playmaker to finish moves and assist teammates with directing offensive plays, could be the shortest players in the team. So the best back build is all about the plethora of shots you can take and ball control.
Here are the most powerful Point Guard Builds in the NBA 2K22 MyTeam:
3-Point Playmaker - The multicoloured build with similar plays to Stephen Curry or Damian Lillard, are able to get open to make shots and sink threes easily, increase your player speed. It is powerful PG build will give you high enough stats to dominate from behind the line.
2-Way Finisher - If you want to make a pure defender, 2-way finisher with similar plays to Ben Simmons running at your point guard position will help you score in paint and guard the opponent's play shot effectively.
Related Read:
NBA 2K22 Best Jumpshots - 100% Automatic Green Jumpshots
NBA 2K22 Best Token Reward Cards Worth Getting
Buy Cheap NBA 2K22 MT To Upgrade Your MyTeam
Top 3 Best NBA 2K22 Current Gen Points Guard Builds
Top 1 - Safest and Meta PG Build
Body Setting
Height: 6'2"
Weight: 165 lbs
Wingspan: 78.5"
Body Shape: Defined
Physical Profile
Speed: 87
Strength: 46
Acceleration: 86
Vertical: 64
Attributes
Finishing
Driving Layup: 80
Driving Dunk: 64
Shooting
Mid-Range Shot: 90
Tree-Point Shot: 87
Free Throw: 90
Post Fade: 83
Playmaking
Pass Accuracy: 88
Ball Handle: 87
Post Control: 63
Defense/Rebounding
Perimeter Defense: 75
Lateral Quickness: 75
Offensive Rebound: 52
Defensive Rebound: 65
Badges
Finishing Badges
Acrobat (Bronze)
Shooting Badges
Blinders (HOF)
Chef (HOF)
Deadeye (HOF)
Mismatch Expert (HOF)
Hot Zone Hunter (HOF)
Lucky #7 (Gold)
Playmaking Badges
Ankle Breaker (Gold)
Handles For Days (HOF)
Quick Chain (HOF)
Quick First Step (HOF)
Bullet Passer (Gold)
Unpluckable (Gold)
Defense/Rebounding Badges
Clamps (Bronze)
Pick Dodger (Gold)
Menace (Gold)
Top 2 - 3PT Playmaking PG Build
Body Setting
Height: 6'1"
Weight: 160 lbs
Wingspan: 78.4"
Body Shape: Defined
Physical Profile
Speed: 86
Strength: 51
Acceleration: 83
Vertical: 73
Attributes
Finishing
Close Shot: 92
Driving Layup: 84
Driving Dunk: 74
Standing Dunk: 51
Shooting
Mid-Range Shot: 80
Tree-Point Shot: 84
Free Throw: 91
Post Fad: 62
Playmaking
Pass Accuracy: 79
Ball Handle: 82
Post Control: 53
Defense/Rebounding
Interior Defense: 34
Perimeter Defense: 76
Lateral Quickness: 72
Steal: 80
Block: 34
Offensive Rebound: 28
Defensive Rebound: 62
Badges
Finishing Badges
Fearless Finisher (Gold)
Slithery Finisher (Gold)
Limitless Takeoff (Gold)
Posterizer (Silver)
Giant Slayer (Silver)
Shooting Badges
Blinders (HOF)
Chef (Silver)
Deadeye (HOF)
Hot Zone Hunter (Gold)
Limitless Spot-Up (HOF)
Rhythm Shooter (HOF)
Sniper (Gold)
Playmaking Badges
Hyperdrive (Gold)
Handles For Days (Gold)
Quick Chain (Gold)
Quick First Step (Gold)
Unpluckable (Gold)
Defense/Rebounding Badges
Clamps (Gold)
Chase Down Artist (Bronze)
Menace (Silver)
Top 3 - Most Dominate Playmaking Shot Creator PG Build
Body Setting
Height: 6'2"
Weight: 165 lbs
Wingspan: 74.0"
Body Shape: Defined
Physical Profile
Speed: 87
Strength: 46
Acceleration: 86
Vertical: 64
Attributes
Finishing
Close Shot: 82
Driving Layup: 80
Driving Dunk: 38
Shooting
Mid-Range Shot: 80
Tree-Point Shot: 87
Free Throw: 90
Post Fad: 78
Playmaking
Pass Accuracy: 88
Ball Handle: 87
Post Control: 62
Defense/Rebounding
Perimeter Defense: 75
Lateral Quickness: 75
Steal: 80
Defensive Rebound: 64
Badges
Finishing Badges 
Slithery Finisher (Bronze)
Shooting Badges
Binders (HOF)
Catch & Shot (HOF)
Chef (HOF)
Circus Threes (HOF)
Hot Zone Hunter (HOF)
Limitless Spot-Up (HOF)
Green Machine (Bronze)
Playmaking Badges
Bullet Passer (HOF)
Hyperdrive (HOF)
Handles For Days (HOF)
Tight Handles (Gold)
Quick First Step (HOF)
Unpluckable (HOF)
Defense/Rebounding Badges
Intimidator (Gold)
Pick Pocket (Gold)
Top 3 Best NBA 2K22 Next GEN Point Guard Builds
Top 1 - Perfect PG Build in Terms Of Defense, Shooting & All Around Guard Play
Body Setting
Height: 6'2"
Weight: 174 lbs
Wingspan: 6'11"
Body Shape: Defined
Attributes
Finishing
Close Shot: 57
Driving Layup: 84
Driving Dunk: 86
Shooting
Mid-Range Shot: 87
Tree-Point Shot: 85
Playmaking
Pass Accuracy: 70
Ball Handle: 88
Speed With Ball: 92
Defense/Rebounding
Perimeter Defense: 90
Steal: 90
Physicals
Speed: 93
Acceleration: 92
Vertical: 80
Stamina: 99
Badges
Finishing Badges
Acrobat, Fast Twitch, Fearless Finisher, Giant Slayer, Limitless Takeoff, Lob City Finisher, Posterizer, Pro Touch, Putback Boss, Slithery Finisher, Tear Dropper, Unstrippable
Shooting Badges
Blinders, Catch & Shoot, Chef, Circus Threes, Clutch Shooter, Corner Specialist, Deadeye, Difficult Shots, Fade Ace, Green Machine, Hot Zone Hunter, Limitless Spot-Up, Lucky #7, Mismatch Expert, Rhythm Shooter, Set Shooter, Slippery Off-Ball, Sniper, Stop & Pop, Volume Shooter
Playmaking Badges
Ankle Breaker, Balt Out, Break Starter, Bullet Passer, Dimer, Downhill, Floor General, Glue Hands, Handles For Days, Hyperdrive, Needle Threader, Post Playmaker, Quick Chain, Quick First Step, Space Creator, Special Delivery, Stop & Co, Tight Handles, Triple Threat Juke, Unpluckable
Defense/Rebounding Badges
Ankle Braces, Ball Stripper, Clamps, Defensive Leader, Hustler, Interceptor, Menace, Off-Ball Pest, Pick Dodger, Pick Pocket, Tireless Defender
Top 2 - Defensive PG Build
Body Setting
Height: 6'5"
Weight: 175 lbs
Wingspan: 6'11"
Body Shape: Defined
Attributes
Finishing
Close Shot: 59
Driving Layup: 81
Driving Dunk: 80
Shooting
Mid-Range Shot: 81
Tree-Point Shot: 83
Playmaking
Pass Accuracy: 60
Ball Handle: 86
Speed With Ball: 85
Defense/Rebounding
Perimeter Defense: 96
Steal: 84
Offensive Rebound: 40
Defensive Rebound: 67
Physicals
Speed: 92
Acceleration: 91
Vertical: 70
Stamina: 99
Badges
Finishing Badges
Fast Twitch, Fearless Finisher, Giant Slayer, Limitless Takeoff, Lob City Finisher, Mouse In The House, Posterizer, Pro Touch, Putback Boss, Slithery Finisher, Tear Dropper, Unstrippable
Shooting Badges
Blinders, Catch & Shoot, Chef, Circus Threes, Clutch Shooter, Corner Specialist, Deadeye, Difficult Shots, Fade Ace, Green Machine, Hot Zone Hunter, Limitless Spot-Up, Lucky #7, Mismatch Expert, Rhythm Shooter, Set Shooter, Slippery Off-Ball, Sniper, Stop & Pop, Volume Shooter
Playmaking Badges
Ankle Breaker, Break Starter, Bullet Passer, Downhill, Glue Hands, Handles For Days, Hyperdrive, Needle Threader, Post Playmaker, Quick Chain, Quick First Step, Space Creator, Special Delivery, Stop & Co, Tight Handles, Triple Threat Juke, Unpluckable
Defense/Rebounding Badges
Ankle Braces, Ball Stripper, Box, Clamps, Defensive Leader, Hustler, Interceptor, Menace, Off-Ball Pest, Pick Dodger, Pick Pocket, Pogo Stick, Tireless Defender
Top 3 - 3-Point Shot PG Build
Body Setting
Height: 6'3"
Weight: 182 lbs
Wingspan: 6'7"
Body Shape: Defined
Attributes
Finishing
Close Shot: 63
Driving Layup: 81
Driving Dunk: 85
Shooting
Mid-Range Shot: 85
Tree-Point Shot: 89
Playmaking
Pass Accuracy: 75
Ball Handle: 90
Speed With Ball: 90
Defense/Rebounding
Perimeter Defense: 85
Steal: 82
Physicals
Speed: 92
Acceleration: 90
Vertical: 80
Stamina: 99
Badges
Finishing Badges
Acrobat, Fast Twitch, Fearless Finisher, Giant Slayer, Grace Under Pressure, Limitless Takeoff, Lob City Finisher, Posterizer, Pro Touch, Putback Boss, Slithery Finisher, Tear Dropper, Unstrippable
Shooting Badges
Blinders, Catch & Shoot, Chef, Circus Threes, Clutch Shooter, Corner Specialist, Deadeye, Difficult Shots, Fade Ace, Green Machine, Hot Zone Hunter, Limitless Spot-Up, Lucky #7, Mismatch Expert, Rhythm Shooter, Set Shooter, Slippery Off-Ball, Sniper, Stop & Pop, Volume Shooter
Playmaking Badges
Ankle Breaker, Balt Out, Break Starter, Bullet Passer, Dimer, Downhill, Floor General, Glue Hands, Handles For Days, Hyperdrive, Needle Threader, Post Playmaker, Quick Chain, Quick First Step, Space Creator, Special Delivery, Stop & Co, Tight Handles, Triple Threat Juke, Unpluckable
Defense/Rebounding Badges
Ankle Braces, Ball Stripper, Clamps, Defensive Leader, Hustler, Interceptor, Menace, Off-Ball Pest, Pick Dodger, Pick Pocket, Tireless Defender