Madden 21 Fan Appreciation Promo - Release Date, Packs, Rewards & Contents
5/19/2021 11:37:08 AM

New big exciting content is dropping into Madden 21 Ultimate Team, that's the MUT 21 Fan Appreciation Program which gives the common MUT player a great chance to earn the coveted free Golden Ticket player and free rewards to bolster your team. When will the promo start and what new content we expect to get? Let's dive into the Madden 21 Fan Appreciation Promo now!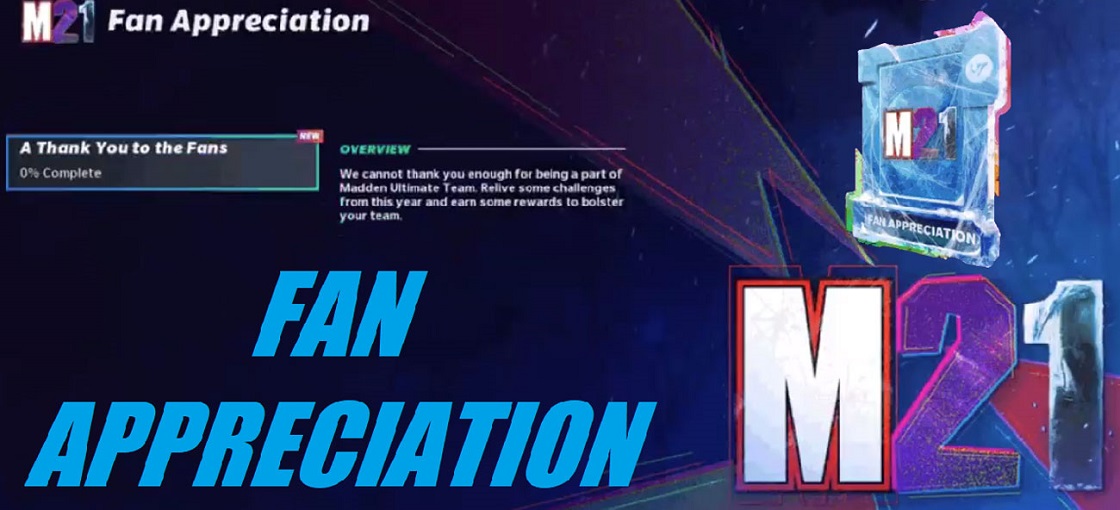 Madden NFL 21 Fan Appreciation Program
Fan Appreciation is actually a end of season program to give players free content. As a Thank You to the Madden 21 Fans' support starting from the launch of the game, EA Sports show their appreciation by giving away 99 OVR NAT Golden Ticket (Fantasy Pack) through challenges and offering special Fan Appreciation Packs in the Store to players in 2 weeks.
Related Read:
Madden 21 Rookie Premiere Promo Release Date Prediction
Fan Appreciation Release Date
Madden 21 Fan Appreciation promo is scheduled to start on Thursday, May 19th, and will lasting weeks until June 2nd.
Fan Appreciation Challenges & Rewards
Starting from May 19th, Fan Appreciation Challenges release each week until June 2nd. By completing these final week of solo challenges, you can earn a bunch of rewards including 99 OVR NAT Golden Ticket player of your choice, NAT Theme Builders 2.0 Player and Madden 21 coins.
Note: As there is no expiration date associated with these challenges, you can feel free to complete these challenges at your own pace through 6/2.
The following Challenges & Rewards are available for all MUT players:
Week 1: A Thank You to the Fans
First Round of Challenges (18 Challenges, 8,500 Coins, 50 Stars possible) - Complete the first round of challenges to gain progress towards earning a NAT 99 OVER Golden Ticket player
Tier 5 (50 Stars) - 91 OVR Team Builders Pack (NAT)
Tier 6 (60 Stars) - 2,000 Coins
Tier 12 (120 Stars) - 99 OVR NAT Golden Ticket Fantasy Pack
Tier 13 (130 Stars) - 5,000 Coins
Tier 16 (150 Stars) - 20,000 Coins
Tier 17 (170 Stars) - 95 OVR Team Standout Pack (NAT)
Tier 18 (180 Stars) - 20,000 Coins
More details will be updated here...
Fan Appreciation Packs & Bundles In Store
Fan Appreciation Pack (75,000 Coins or 500 Points, 5 Limit) - Contains 1 x 89+ OVR NFL Draft Player, 1 x 87+ OVR Ultimate Legends Player, 1 x 86+ Elite Player and 2 x 72+ OVR Gold or better players
5x Fan Appreciation Bundle (2,200 Points, 2 Limit) - Contains 5x Fan Appreciation Packs. Limit of 2.