Madden 21 NFL Draft Promo - 99 OVR Masters, Sets, Solos, Missions & More
4/22/2021 9:31:14 AM

The huge promo - NFL Draft for Madden Ultimate Team is backing in Madden 21, which undoubtedly will feature 99 OVR Draft Masters, 2021 NFL Draft Class, Sets, Solo Challenges, Missions, and Store Pack Offerings. Check out all the details here!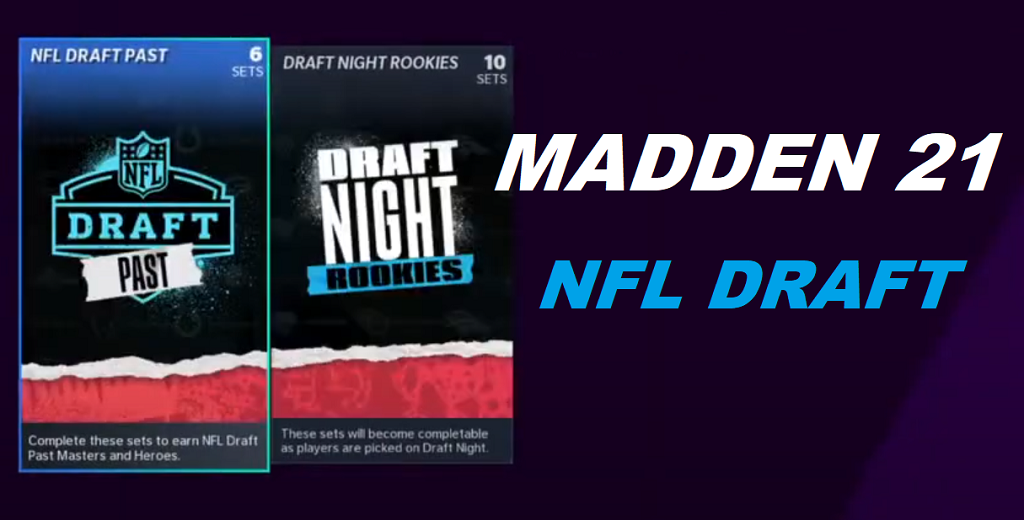 Madden 21 NFL Draft Program Guide
To celebrate the 2021 NFL Draft that will start at the end of April, the new Madden 21 NFL Draft promotion will be launched in MUT. If you are considering strengthen your team or replace some players, don't miss this opportunity to acquire some powerful players! Here we have everything you need to know about this year's NFL Draft Program in MUT!
Related Read:
Madden 21 Upcoming Promos - Power Ups, Rookie Premiere, Fan Appreciation
Madden 21 Power Up Expansion Promo Guide
Madden 21 NFL Draft Promo Release Date
Madden 21 NFL Draft promo rolls out in Ultimate Team at 10:30am ET / 3:30pm BST on Tuesday, 20 April, and will last until the end of the month.
Madden 21 NFL Draft Players
The first release of many releases featuring stars of the game who were drafted in the 5th to 7th round, including the 1 x 99 OVR LTD, 2 x 99 OVR master, 4 x 97 OVR Heroes and 14 x 95-89 OVR Players.
99 OVR NFL Draft Pass LTD:
Shannon Sharpe (Pick 192)
99 OVR NFL Draft Past Masters:
Antonio Brown (Pick 195)
Kam Chancellor (Pick 133)
97 OVR NFL Draft Past Heroes:
Shaquil Barrett (Undrafted)
A.J. Bouye (Undrafted)
Wyatt Teller (Pick 166)
Harold Carmichael (Pick 161)
NFL Draft - Past (5th-7th Round + Undrafted):
Matt Paradis (95)
Bobby McCain (95)
Troy Hill (95)
Taysom Hill (95)
Bradley Bozeman (93)
Bilal Nichols (93)
Anthony Walker Jr (93)
Alejandro Villanueva (93)
Adrian Phillips (91)
Alex Singleton (91)
Blessuan Austin(91)
Dan Arnold (91)
Dion Lewis (89)
Kerry Hyder (89)
In order to unlock the card, you'd complete the NFL Draft program quests (sets, solo challenges and missions) as soon as possible.
NFL Draft Sets
New NFL Draft sets are available for MUT players to complete and get NFL Draft Masters and Heroes:
NFL Draft Past Hero - Exchange 2x 95 OVR Draft players to earn the respective 97 OVR Hero
NFL Draft Past Master - Exchange 2x 97 OVR and 1x 95 OVR NFL Draft players to earn the respective 99 OVR Master and his respective Power Up player item
NFL Draft Night Rookies -
NFL Draft Solo Challenges
New NFL Draft Challenges are available for MUT players to complete and get Draft Heroes and Masters:
Any Given Draft Day Challenges (40 challenges, 16,000 MUT 21 coins, 160 stars possible): NAT 97 OVR NFL Draft Past Player Fantasy Pack (a NAT choice of one of the 4 heroes)
NFL Draft Milestones
New milestones are cumulative for all of the NFL Draft releases:
99 OVR NAT NFL Draft Player: 448 stars (max tier)
89+ OVR NFL Draft players: 64, 224, and 384 stars respectively
NFL Draft Missions
Complete these missions to add draft standouts to your Ultimate Team:
Late-Round NAT 97 OVR Draft Hero: Complete this challenges sequence to earn a NAT 97 OVR version of Harold Carmichael, Wyatt Teller, Shaquil Barrett, or A.J. Bouye
Late-Round NAT 97 OVR Draft Master: Collect 2 x 97 OVR Draft Players and 1 x 95 OVR Draft Player then exchange them to earn 99 OVR NFL Draft Master Antonio Brown or Kam Chancellor.
Great Theme Team Tracker With NFL Draft Update
All teams have been updated with the new NFL Draft players:
Team OVR/OFF/DEF
49ers 98/98/98
Bears 96/95/97
Bengals 96/96/97
Bills 96/95/98
Broncos 97/95/98
Browns 97/98/97
Bucs 97/97/97
Cardinals 96/95/98
Chargers 97/96/97
Chiefs 98/98/98
Colts 96/96/96
Cowboys 96/95/96
Dolphins 97/96/97
Eagles 97/97/97
Falcons 97/97/98
Giants 97/96/97
Jaguars 97/96/97
Jets 97/96/98
Lions 96/97/96
Packers 97/97/97
Panthers 95/94/95 (OVR +1)
Patriots 98/97/98
Raiders 97/97/97
Rams 97/97/97
Ravens 98/97/98 (OVR +1)
Saints 97/96/97
Seahawks 97/96/98
Steelers 96/95/98
Texans 96/95/98
Titans 96/96/96
Vikings 96/95/98
Washington 97/97/97