Madden 21 Power Up Expansion Promo - Date, PU Players, Challenges & Tips
5/6/2021 6:21:42 PM

Power Up Expansion Promo returns in Madden 21 Ultimate Team, let's dive into the details of the promo, featuring the new MUT 21 Power Up player cards, challenges, as well as the release date.
Madden NFL 21 Power Up Expansion Program
Power Up Expansion is introduced last year and it's really good for theme teams as a great way to cap off especially at the end of the in-game season. Every week EA takes a select number of players who have power ups, and instead of giving them a new card they just give them an expansion to their power up that let them get upgraded to 99 overall.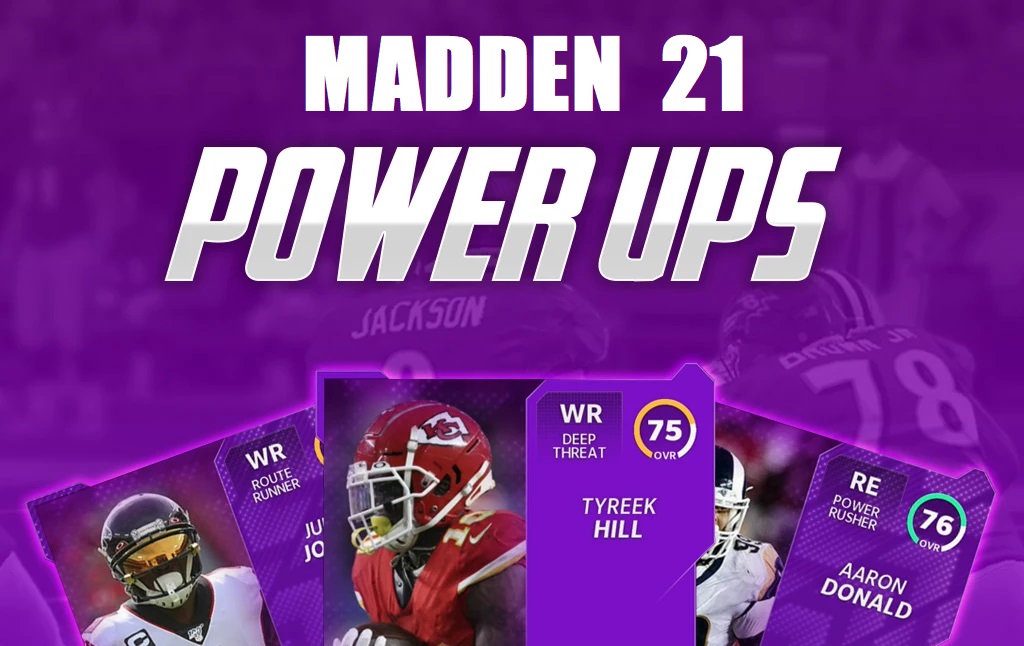 How the Power Up Expansion Exactly Work?
1. Every week, a group of six new Power Up cards (players who already had items, but needed a way to upgrade further) will be available to collect on Madden Ultimate Team.
2. Game players can obtain players' Power Up cards, and then use Madden Training or other special cards (such as a Core Elite, MUT Heroes, NFL 100, or Legends card) to boost the players up to new ratings levels.
Madden 21 Power Up Expansion Promo Release Date
During Monday's Good Morning Madden live stream on Twitch on May 5th, 2021, the Agent K confirmed the exciting Power Up Expansion Promo is going to kick off in the next week.
Updated! Madden 21 Power Up Expasion promo is scheduled on Tuesday, May 11th, 2021
New Madden 21 Power Up Players
Power Up Expansion is a weekly program, means a bunch of new Madden 21 Power Up cards are coming to the game over the next several weeks, so we will keep updating here for you to get the full list of the new Madden 21 Power Ups:
98 Saquon Barkley (HB - New York Giants)
98 Taylor Mays (SS - Cincinnati Bengals)
98 Phil Loadholt (RT - Minnesota Vikings)
98 Takeo Spikes (MLB - Cincinnati Bengals)
98 Roddy White (WR - Atlanta Falcons)
98 Frank Minnifield (CB - Cleveland Browns)
98 Devin McCourty (FS - New England Patriots)
98 Michael Brockers (LE - Los Angeles Rams)
98 Logan Thomas (TE - Washington Football Team)
98 Drew Bennett (WR - Tennessee Titans)
98 Mack Strong (FB - Seattle Seahawks)
98 Osi Umenyiora (RE - New York Giants)
Will be updating....
How To Get Power Up Player Cards in Madden 21?
Although Power Up Cards are not players cards that can be used directly in the game, like other LTD cards, you can obtain them in a variety of ways:
1. Completing Ultimate Challenges
New Ultimate Challenges such as the "Power Brokers" in previous version will available for players to complete and win the player's PU card. In addition, as part of the transaction, each challenge has a total of 900 Madden coins. Challenges are relatively easy, because all challenges involve starting the game in the third quarter and must win.
2. Opening MUT Packs
Like other cards, these new Power Up cards will also pop up in MUT Packs, so you can open your packs in order to get power up player cards. But remember that the odd of pulling out the PU cards from packs is unpredictable.
3. Trading In Auction Browser
What's more, these Power Up cards are tradeable, so you are able to find them available at Auction Browser for bidding or "Buy Now" prices with Madden 21 Coins. However, depending on the popularity (how powerful on his position) of player on Ultimate Team, some of the Power Up cards will be on sale at high prices.