Madden 21 Team Masters - Release Date, Players, Solos, Sets & More
4/16/2021 11:21:00 AM

32 brand new 99 OVR Team Masters drops into Madden 21 Ultimate Team as part of the Series 6 Team Masters, ready to hunt them!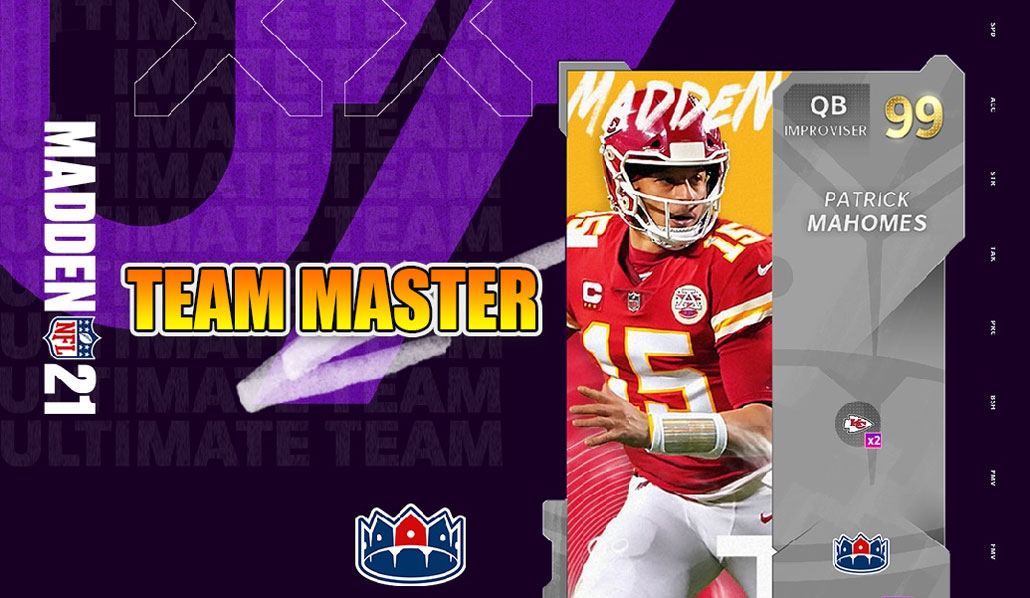 Madden NFL 21 Team Masters (Series 6)
Heads up! Madden 21 Series 6 update is rolling out with big surprises to MUT players, and the most expected 99 OVR Team Master for each of 32 Team added into the Team Masters! Now follow us to dive into all details you should know, as well the full list of Madden 21 Team Masters.
Related Read: Madden 21 Series 6 Update Guide
When will the new Madden 21 Team Masters release in Ultimate Team?
The 32 Team Masters will be available in MUT on Friday, 16th April 2021
Full List Of MUT 21 Team Masters
Patrick Mahomes (QB) - Kansas City Chiefs
Joe Burrow (QB) - Cincinnati Bengals
Stefon Diggs (WR) - Buffalo Bills
Mike Evans (WR) - Tampa Bay Buccaneers
Keenan Allen (WR) - Los Angeles Chargers
Calvin Ridley (WR) - Atlanta Falcons
Davante Adams (WR) - Green Bay Packers
Duron Harmon (FS) - Detroit Lions
Budda Baker (FS) - Arizona Cardinals
Marcus Maye (FS) - New York Jets
Minkah Fitzpatrick (FS) - Pittsburgh Steelers
Marcus Williams (FS) - New Orleans Saints
Kareem Jackson (SS) - Denver Broncos
Harrison Smith (SS) - Minnesota Vikings
Roquan Smith (MLB) - Chicago Bears
Shaq Thompson (MLB) - Carolina Panthers
Bobby Wagner (MLB) - Seattle Seahawks
Zach Cunningham (MLB) - Houston Texans
Josh Jacobs (HB) - Las Vegas Raiders
Antonio Gibson (HB) - Washington Football Team
Derrick Henry (HB) - Tennessee Titans
Stephon Gilmore (CB) - New England Patriots
Marlon Humphrey (CB) - Baltimore Ravens
Jalen Ramsey (CB) - Los Angeles Rams
DeForest Buckner (DT) - Indianapolis Colts
Myles Jack (ROLB) - Jacksonville Jaguars
Jason Kelce (C) - Philadelphia Eagles
George Kittle (TE) - San Francisco 49ers
Zack Martin (RG) - Dallas Cowboys
Blake Martinez (MLB) - New York Giants
Emmanuel Ogbah (LE) - Miami Dolphins
Myles Garrett (RE) - Cleveland Browns
How To Get Team Masters In Madden 21?
Undoubtedly, MUT players will be able to get these 99 OVR Team Masters by completing related Solos, Sets, and missions. What's more, Series 6 Team Master-themed packs will be on sale at the in-game store.
Team Master Sets, Solo Challenges & Missions
We will update more information here to tell you how to get the new 99 Team Masters in Madden 21 Ultimate Team!