Madden 21 Top 10 Budget Beasts Ranking List - Best Madden 21 Budget Players For Your Ultimate Team
4/2/2021 3:11:47 PM

All the players on the list are 100K or below. It's so late in the series, all those player cards under 75K are good, but they're not playable compared to the teams they are participating in. When you grind all your levels and you do all your challenges, you will have a 92 to 93 overall team base with a lot of coins as well from all the free cards you get, so there's no excuse after doing challenges for not being able to afford a couple of these players that are under 100K. so without further ado, let's go into the ranking list.
#10 Cameron Curl
Cameron Curl has 92 speed, six foot one, 94 excel. He has decent man coverage at 87. That's pretty decent for a strong safety. He will not be your user, because later on the list we have a good budget beast user. But 91 zone and 94 hit power. Especially now that a lot more fumbles with Deflator and all that is happening, Cameron Curl is a very good budget beast to throw in there. As mentioned before, you could do so many free challenges to get a decent team. All these players are very additional pieces to put on there with your budget squad. A lot of people have a lot of good things to say about Cameron Curl.
#9 Carl Banks
The outside linebacker Carl Banks is sitting around 50-ish K MUT 21 Coins on Xbox. He has 83 base speed, 87 acceleration, he also gets very high play wreck tackling block shed and power remove both hitting the threshold of above 90. And if you did not know, he does have a big zone coverage boost at 72 plus lockdown, he will be at a 77. This is very solid for a player you could drop off the edge into a flat or even if you want to drop him down into a purple or even a hook or anything. This player is super solid for you. He is a bit on the slower end but comparing him to other outside linebackers that are the same kind of overall in price as him, no one matches up with him, even on the right outside linebacker side. Maybe you can see Ricky Jackson. But Ricky Jackson's lower card is not very playable at the moment. Even though he does hit a lot of thresholds even being a very cheap 92.
#8 Jaquiski Tartt
Another safety with 93 speed, 94 acceleration, six foot one as well. You can see why he's above Cameron Curl has a higher zone. He's faster and has better excel or the same excel, higher pursuit, and play rack and then the man coverage is 86. They're still solid stats. The power's a little lower, but that speed is everything. Especially if you're using him or having him up top, playing the high safety with that pretty good zone. You will be able to get 98 zones on him with pretty decent speed as well. This player is cheap as well, around 80-ish K. That's not bad at all, that's a couple of head-to-head games. Jaquiski Tartt is a very good player for a budget team.
#7 Pat Watkins
A six-foot-five free safety, the thing with him, you can't play him sub linebacker unless you manually sub him in every single game. Six foot five with the 90 speed to be 92 acceleration, the speed's not the highest, but that height does help mod a lot, it does counter it. But 90 zone, 86 hit power, 86 man coverage. The pursuit is good, everything on this card is the hype. Everybody knows when this card first came out, everybody had him on their team that could afford him. He is insane that height is carrying him on this card. You can sub him in manually every single time. This player will be an insane sub linebacker. He's great for when you leave him at free safety as well, but for a six-foot-five-player, you want him to be your user.
#6 Chris Cooley
There are a bit faster tight ends for this price, but they do not hit those thresholds Chris Cooley does hit. A 93 overall tight end, he has 77 run blocks which is a great ability for tight ends. 90 short route running and 90 medium route running. So for crossers, a lot of those short routes, even if you're putting him at wide receiver, he will be able to beat man for you. He also is a possession tight end, meaning he gets the really good abilities: tight end apprentice and all those catching abilities for cheaper as well, which a lot of people do love on their tight end. So good AP usage and the speed's not the best, but when you're looking at his run blocking and route running, it's still very solid and also he does have power upon his card.
#5 Jeremy Chinn
The best budget cards in this game. Jeremy Chinn has 92 speed, 93 power, 94 acceleration, and six foot three. Pretty low man and zone coverage, but the reason you will be using this card is that he will be your user, so the man in the zone does not matter when you're controlling the player. He is pretty big for a safety: six foot three, and weighs 221 pounds. This player is insane, he hawks down the ball. he also has 97 overall cards and is known as being one of the better users in the game, because he is six foot three and all his stats did jump above 90. he will be good at madden years to come. Not only because of his height, and also he's looking good as a rookie too. His budget card at 92 is insane for his price.
#4 Brett Favre
Sitting around 50-ish K, there's also Brett Favre. He has a 92 overall strong arm, it's the same card as his 50 cards, but 70K cheaper. His 77 speed is great for the throw on the run at a 94. Play action's good at 94. The accuracies are a little low. you could use go deep on him, so you can get the throw power up to a 97 and then you get the deep accuracy to 93. He has the best release in the game and gets Gunslinger. A lot of these ultimate legend cards the mental there are the physical ones that are very good budget cards. A lot of them are missing certain stats. Like Brett Favre here, he is missing a medium and deep accuracy. Not the best, but go deep will help this card, you do need to go deep on him. But this player card is the best release in the game for 50K and has Gunslinger.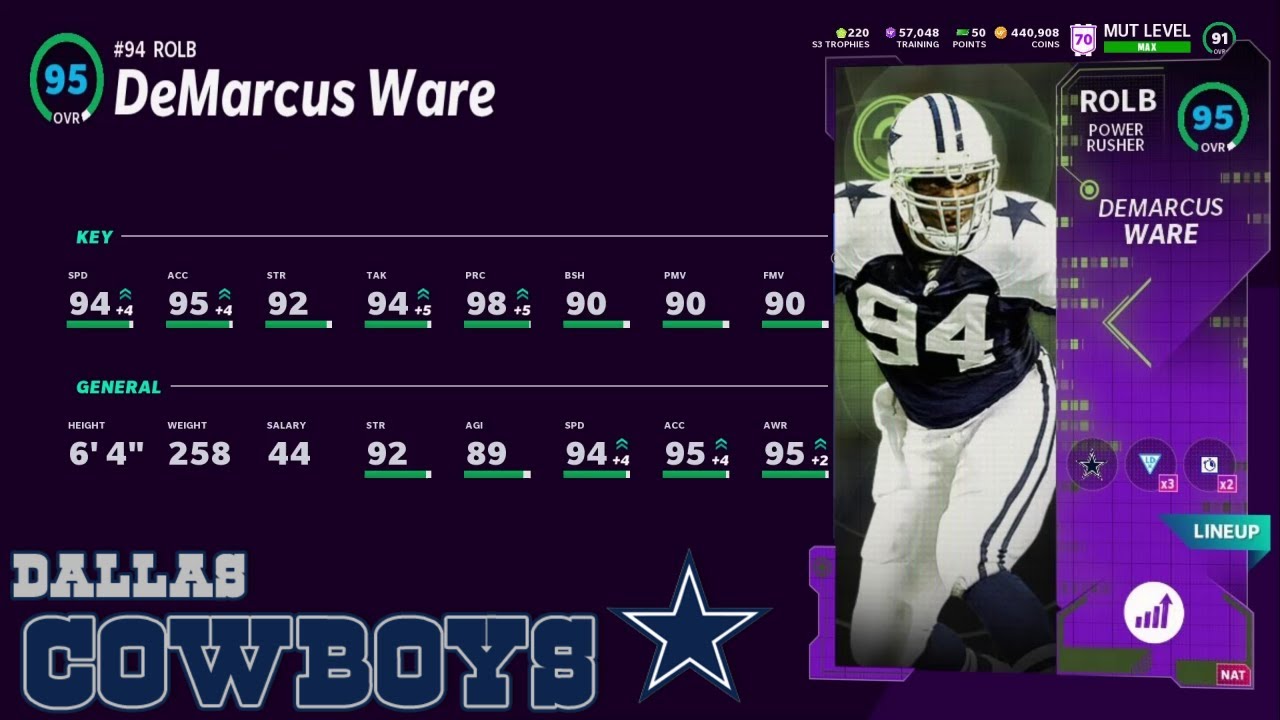 #3 DeMarcus Ware
This is the card you need to get an upgrade in the game. Wait till you see this player's stats: under 100k, his abilities are 89 speed, 90 acceleration, 91 strength. Every single pass-rushing block shed power to move and finance move all at 89 and the threshold is 90. And he got a power-up and it's not the most expensive to power him up. It only cost you around exactly 100K if you could snipe the card. You could even do the set even cheaper in the team of the week. With every threshold being hit, he will go up to a 90 speed, 91 acceleration. when DeMarcus Ware's card first came out, he was super expensive. People didn't even notice that he was one point off of hitting every threshold. This card is the best pass rusher you can get for his price.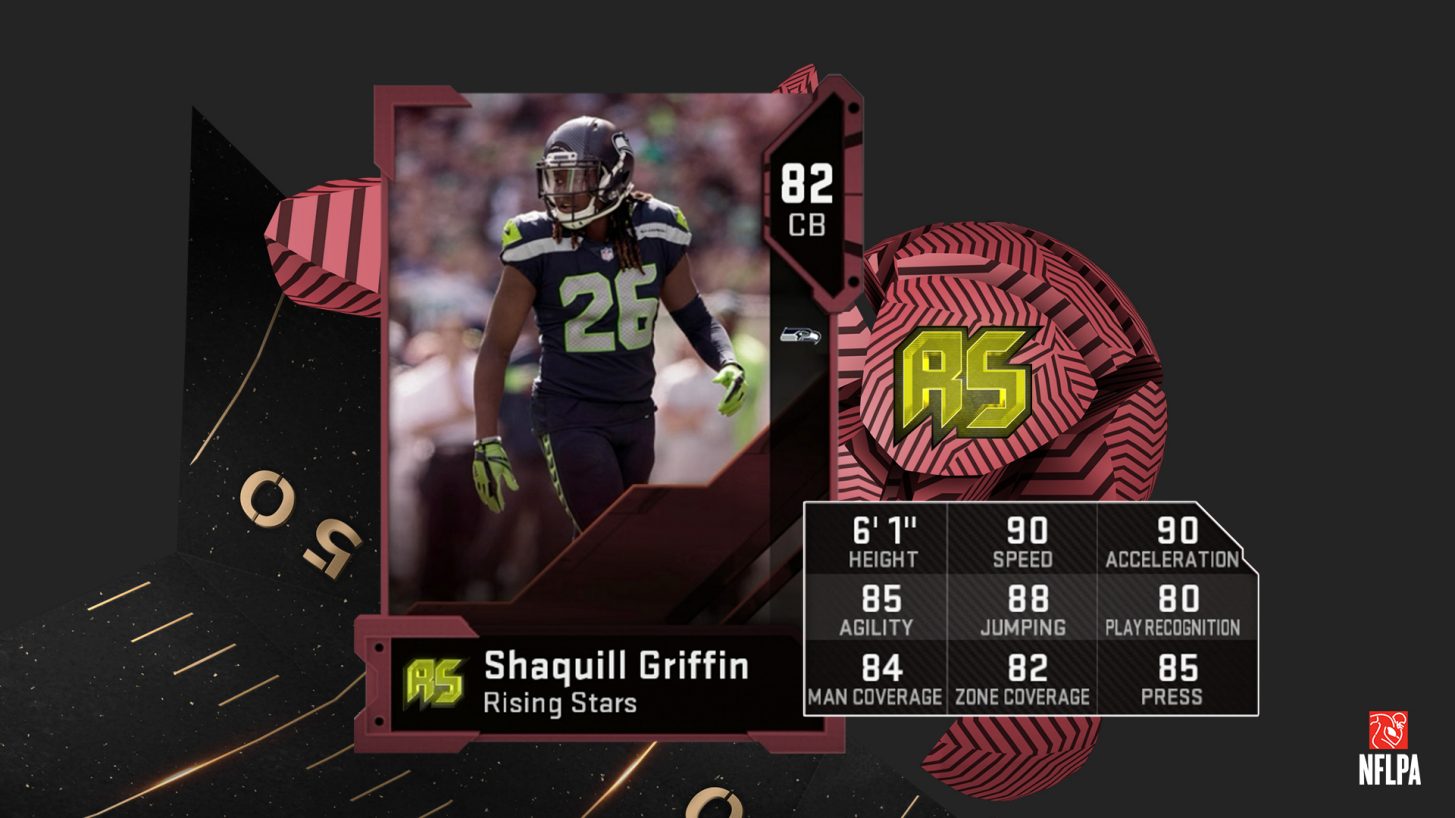 #2 Shaquill Griffin
The budget corner with 93 speed, 92 acceleration, and 92 zone coverage. He is the zone archetype. The reason he can rank so high in this list is because of the new zone meta, he will get all the abilities for a cheaper price. When he first came out, he was one of the best corners on release and the press is good, everything is solid on him. And the lockdown will help a lot of those coverage stats out and also sprinter if you do have it. He is great for budget teams, especially being around 70k. Shaquill Griffin also has a power-up. It does help when budget cards have power-ups because it makes them even better.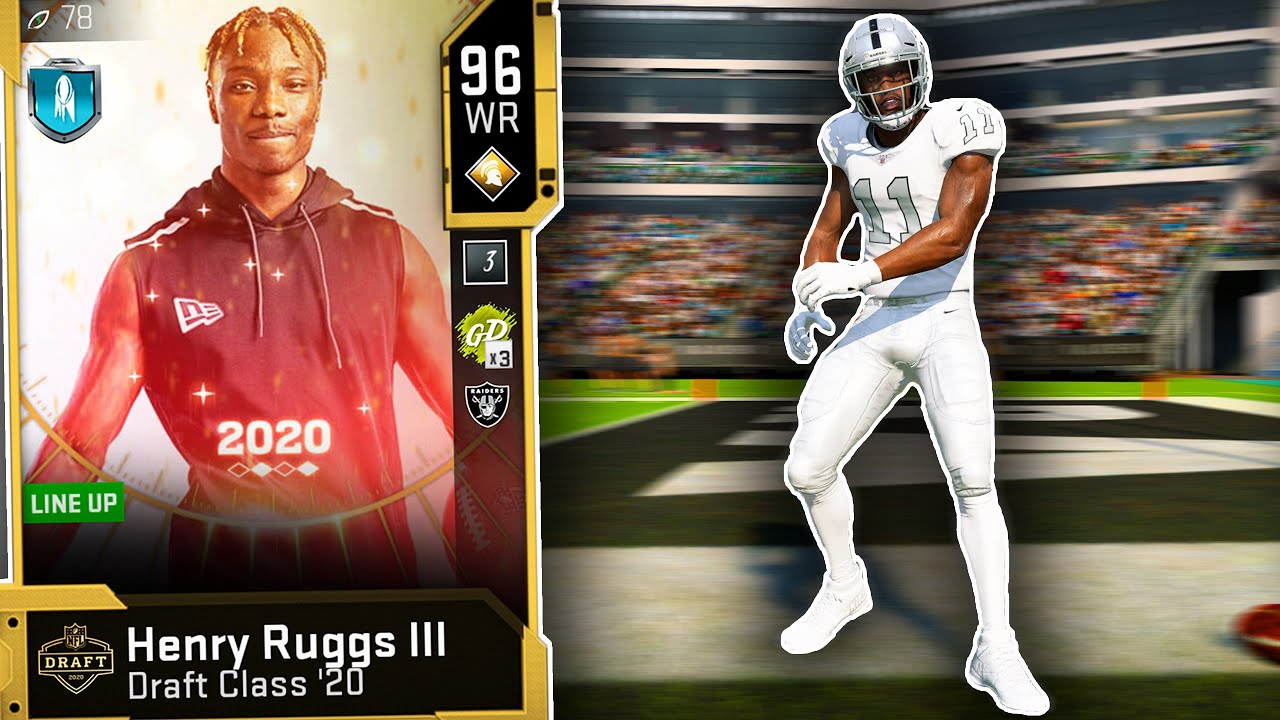 #1 Henry Ruggs III
Henry Ruggs is under 50K, a 5 foot 11 receiver, the height doesn't matter for him. He is your deep threat, 95 base speed, there's no other receiver for this price range that does match up with him speed-wise. His 95 speed in this late in the game is kind of a need. So this is the one receiver you need to have on your team if you are on a budget. You could save up an extra 20K to get Tyreek Hill's 93 overall cards. But this list is all about under 100K Madden Coins On PC. Go deep on Henry Ruggs, he will be your deep threat with 92 deep route running and 95 speed. He most likely will be open a lot of the time. If you can draw him up some good routes for a fast receiver. Henry Ruggs is the only player that matches up with speed to these today corners at 97 overall.
The top 10 budget beast players list inside of madden 21 now is completed, all under 100K or less. And click here if you want to see more info on the list!