Fastest Method to Get 95 Overall in NBA 2K21 - What Happens After 95 Overall 2K21
4/1/2021 3:26:23 PM

Before you hit 99 overall in NBA 2K21, the first requirement is to reach 95 overall, which also guarantees you can move between 95-99. In this article, we are going to explain some common issues about NBA 2K21 overall system, which involves what happens after 95 overall, can you lose 99 overall, how many MyPoints to 95 overall, and the fastest way to get 95 overall in 2K21.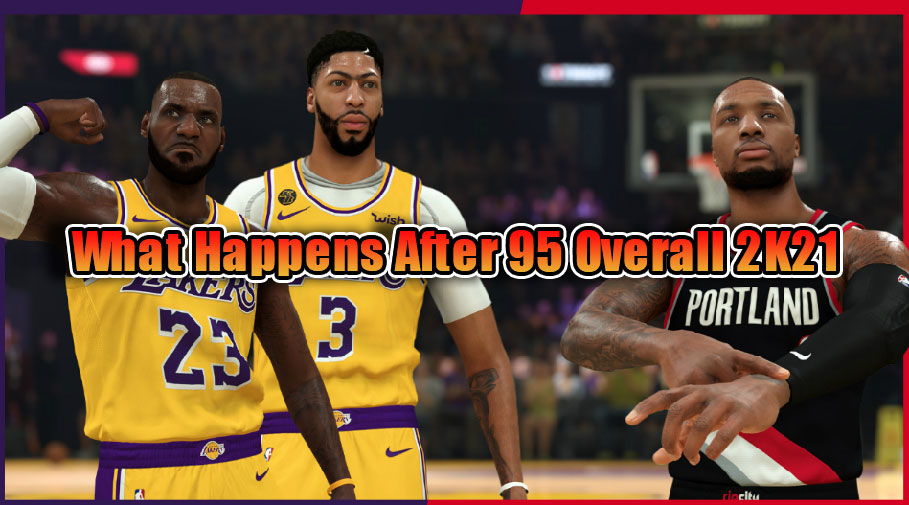 Related Read: NBA 2K21 Best Big Man Build Next Gen
What Happens After 95 Overall in 2K21? - NBA 2K21 95-99 Overall System Explained
Once you hit 95 overall in NBA 2K21, you get to progress from 95 to 99 by great performance, each time you play, you are working your way up to 99, each time you hit an overall of 96, 97, or 98, you will get a +1 to all your attributes. When you hit 95 overall in NBA 2K21, the progression is all about how you play on the court and what competition you're going up against, this has nothing to do with how you decide to use your VC. So if you are winning games or playing really well, you'll be going up by small increments, such as 95.3.
When your overall get past 95 in NBA 2K21, here are some key points from u/yyy2k you can refer to:
- Your overall go up or down based on wins/losses and the on-court performance, not Teammate Grade.
- In MyCAREER mode, performance matters more while wins are more heavily weighted in Park & Pro-Am
- Every time you go up a level, you get +1 to all your attributes for free (no VC required), but you can lose them if your overall drops.
- You will never drop below 95 overall once you get there. And you can move between overalls relatively quickly (up or down).
- The +1 to +4 is on top of the caps you set in the builder.
- You'll move up faster for beating higher overalls.
Can You Lose 99 Overall in NBA 2K21?
Yes. You can drop from 99 back to 98. If you are not performing so well, you'll drop back down to 95, but you'll never fall back below 95. The key here is to try and keep your level of play high so you can get up to 99. But if you're not playing well, you're just kind of be stuck there.
How Many MyPoints to 95 Overall in NBA 2K21? - NBA 2K21 Cap Breaker
A total of 2.5 million (2,575,000) MyPoints are required to get 95 overall in NBA 2K21. From 85 to 95 rating, there are 20 cap breakers in 2K, 325,000 MyPoints are required for 94-95 while 2,575,000 total MyPoints are needed.
How to Get 95 Overall Fast in NBA 2K21 - Fastest Method to Get 95 Overall in NBA 2K21
Whether you want to hit 95 overall or 99 overall, the core of the process is to increase your MyPoints and also get required badges.
What you first need to do is go on a team like Lakers or others that could catch lobs, and you want to play on Hall of Fame 12-minute quarters. You can play on Pro if you want to get badges or you can play whatever but Hall of Fame 12 minutes is usually applied for the most amount of attribute upgrades. You can go on a team that could catch a bunch of lobs or a team with a lot of big men or athletic players.
- Every time all you want to do is pretty much throw lobs over and over, if you have playmaking like anywhere from half or more playmaking in your pie chart this is going to be what you want to do for sure.
- If you are a pure shooter or pure slasher, you want to call for a screen and just dunk every time or just go for a layup.
- If you are shooters, what you're going to want to do is stand towards the mid-range call for a screen and then pull up and bang it.
- If you're on defense, you're just going to try to play the lanes a lot, what you're going to want to do is through the lanes and you're just going to keep throwing lobs, it's really easy to get it especially if you're a playmaker, this method is going to be the best for playmakers.
- If you're playing Hall of Fame, make sure you don't try to shoot because there you're not going to make many shots if you play on HOF, so play on all-star if you're going for shooting badges.