Madden NFL 21 March Promos Leaked - Space, Blockbuster, Off Season, Easter & Golden Tickets
3/10/2021 11:43:46 AM

There are about five Madden NFL 21 promos features Untitled Space, Off-Season, Blockbuster, Golden Tickets, and Easter programs that have basically been confirmed to be coming out in March and April through a couple of leaks on Twitter. We'll overview the new promos showing you some pretty cool pack animations for the programs and speculating about what could happen in the promos, as well as when they might be coming out.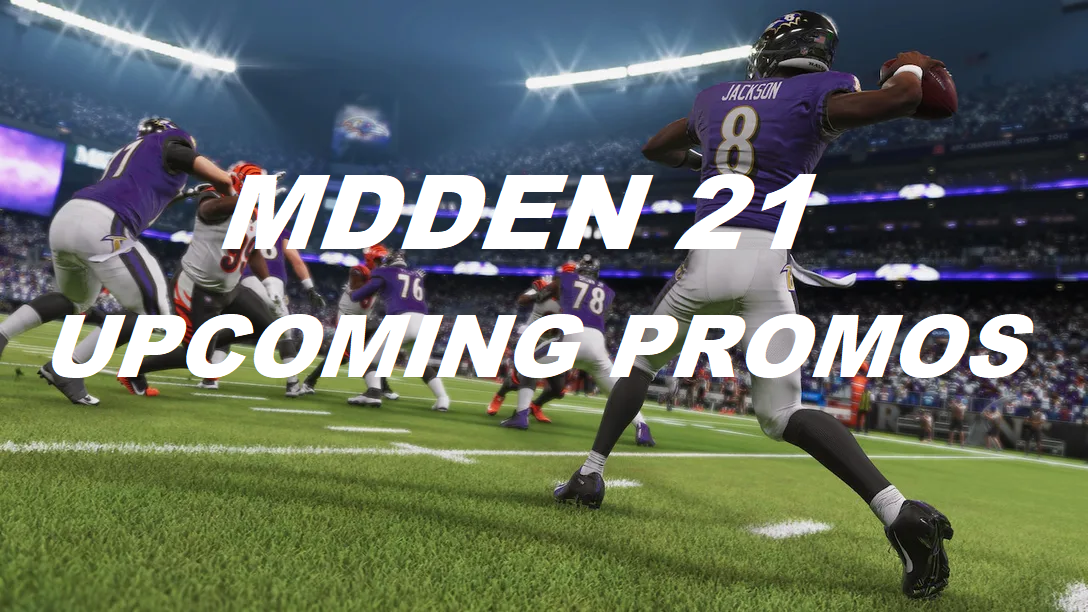 Madden 21 Untitled Space Promo
The first promo which has basically been confirmed is going to be the space promo, we don't even know what this is going to be as we have not seen anything like this in Madden Ultimate Team. As you can see on the screenshot right here, there is a pretty cool pack animation for this program - it's like some astronaut on the side of the screen as you pull the card. What could this really be? Let's do a little bit of speculating, and now the only thing could really come up with for this promo is some type of extraterrestrial promo where we get cards that are really crazy at one specific attribute. As you know, spaceships and all that kind of stuff could be associated with like extraterrestrial things so kind of like weird attributes or martians and stuff like that. So we are kind of thinking that maybe we get players upgraded that have really cool stats at certain positions, like how we got Jonathan onto the QB. Also maybe with this promo, we get some type of new specific ability or X-Factor with it.
Spoiler Alert: If you like being surprised when opening packs, do not proceed

Untitled Space Program Elite Reveal pic.twitter.com/qbFtbBVb4c

— MUTLeaks (@MUT_Leaks21) March 9, 2021
Pace Promo Release Date: We do expect that space promo is definitely a program that's probably coming out in not necessarily the near future but probably in the next month or so.
Madden 21 Off Season Promo
Now the next promo which they also did confirm through these leaks on Twitter is the off-season promo. This could be kind of like the movers promo or the free agency promo, there's a few different animations for you to see a tier-one, a tier two, and a tier-three animation, think of those animations similarly to the ultimate legends we got a lower one and a higher one. This has three of them so that essentially means we'll probably get like three tiers of cards. These are going to be players that have potentially gotten a big contract so someone like Dak Prescott, someone that gets traded, someone that signs with a new team, or really some of the big-name free agents could get cards in this program. That's honestly a pretty fun one again it's called the off-season program, not free agency and it's not like the draft or something like that.
Spoiler Alert: If you like being surprised when opening packs, do not proceed

OffSeason 3/3 Reveal pic.twitter.com/RzMxm78ZMg

— MUTLeaks (@MUT_Leaks21) March 9, 2021
Off-Season Promo Release Date: If it is a promo instead of MUT free agency promo in the previous Madden series, we can expect it on Wednesday, March 17th, 2021.
Madden 21 Golden Tickets Promo
We are going to be getting golden tickets as you will see the leaked golden ticket animation is on the screenshot right now. If you don't know what the golden ticket promo is essentially the way this works is you can pull golden tickets in packs for about a week or two weeks; and if you get a golden ticket like Willy Wonka, you're going to get an email from EA Sports and you're going to be able to create a 99 overall version of any player in this game right now. Essentially the way it works is there are about 10 to 15 golden tickets and then EA starts to release these golden tickets kind of similar to the way they do with ultimate legends with a couple coming out every single week after you do make your selection. That's honestly a super fun promo right there, we actually were able to get a free golden ticket last year through Solo Challenges, so we'll probably be able to do the same this year.
Spoiler Alert: If you like being surprised when opening packs, do not proceed

Golden Ticket Reveal pic.twitter.com/ZxNp8SJYmj

— MUTLeaks (@MUT_Leaks21) March 9, 2021
Golden Tickets Release Date: Madden 21 Golden Tickets would be scheduled in mid-March, as EA Sports started the Golden Ticket program in Madden 20 at this time.
Madden 21 Blockbuster Promo
Another one is going to be the blockbuster promo which is the big name promo in which players are probably going to get upgrades. Just the big blockbuster names such as Stefan Gilmore in this game should get a new card in this program, there's honestly a lot of cool options. Essentially the way this works is it's kind of like a big card drop and we would compare this promo to MUT heroes, there's not a ton of depth when it comes to solos and stuff like that it's more just a big card drop.
Spoiler Alert: If you like being surprised when opening packs, do not proceed

BlockBuster Reveal pic.twitter.com/fGV4vJSafn

— MUTLeaks (@MUT_Leaks21) March 9, 2021
Blockbuster Promo Release Date: It is possible coming out at the end of March 2021
Madden 21 Easter Promo
The final promo which is confirmed is going to be the Easter promo. As you can see on the screenshot right here, we got a pretty cool pack animation.
All the pack animations this year have really been absolutely incredible, so the Easter promo will definitely be coming out very soon. Last year we got a Barry Sanders with 98 overall, and there's a couple of cool things they do with the promo - typically we get some good cards and some type of cool stuff like egg hunt to be able to get a master player or to be able to get free cards. We're definitely going to get some type of egg hunt this year, based on how they've been doing the missions.
Easter Promo Release Date: Obviously, you'll be getting that promo on Easter 2021 will be observed on Sunday, April 4.