Best NBA 2K21 3 Level Scorer Build - Best Playmaking Build 2K21 Next Gen
1/6/2021 3:21:03 PM

NBA 2K21 3 Level Scorer is an archetype of 2K21 build on current-gen or next-gen, as the game suggests, it takes the scoring first and can be built at all five positions. In this article, we'll look at the power forward version of NBA 2K21 3 level scorer build, it's also a demigod playmaking build, check out the attributes, badges, takeovers, and more details below.
Related Read: NBA 2K21 Best Slasher Build
Best NBA 2K21 3 Level Scorer Build for Next Gen - 99 Overall Best Playmaking Build 2K21
This NBA 2K21 next gen power forward build found by Koza2k is going to be dominant at 99 overall, but he may not that good until you reach 99 overall, here you can check out the fastest way to hit 99 overall on 2K21 next gen on our site. No matter what updates comes out, this build is always useful. Cheap NBA 2K21 MT for next-gen consoles are offered at the best prices at UTPLAY.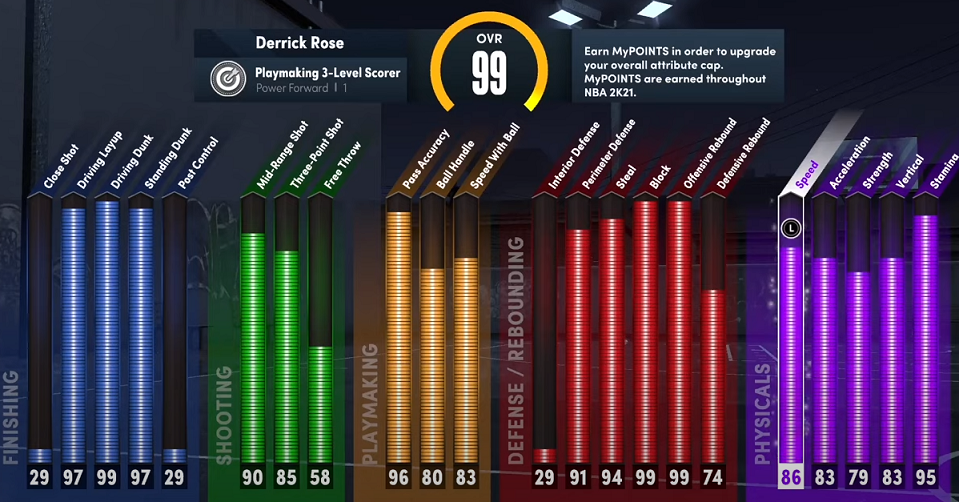 Position: Power Forward
Height: 6'8"
Wingspan: max
Overall: 99
Main Attributes
Here are the main attributes for this build, starting with the fishing attributes, 99 driving dunk and 99 driving layup, then moving to shooting, 85 three-point shot, so you can be able to green every shot, the playmaking category is also crazy. Last, we have max physicals on this 3 level scorer build.
Fishing: 97 Driving Layup, 99 Driving Dunk, 97 Standing Dunk
Shooting: 90 Mid-Range Shot, 85 Three-Point Shot
Playmaking: 96 Pass Accuracy, 80 Ball Handle, 83 Speed With Ball
Defense/Rebounding: 91 Perimeter Defense, 94 Steal, 99 Block, 99 Offensive Rebound
Physicals: 86 Speed, 83 Acceleration, 79 Strength, 83 Vertical, 95 Stamina
Badges
There are 86 badges, you can get everything you want. You don't need too many shooting badges to shoot well in the match, Rhythm Shooter is a good option. Hall of Fame Floor General can help your teammates no matter what game mode you are playing.
Finishing badges: Acrobat (HOF), Fearless Finisher (HOF), Heat Seeker (HOF), Posterizer (HOF), Slithery Finisher (HOF), Lob City Finisher (Bronze)
Shooting badges: Rhythm Shooter (HOF), Hot Zone Hunter (Gold), Deep Threes (Gold), Hot Shot (Silver)
Playmaking badges: Bullet Passer (HOF), Floor General (HOF), Handles For Days (HOF), Quick First Step (HOF), Unpluckable (HOF), Ankle Breaker (Gold), Tight Handles (Gold), Special Delivery (Bronze)
Defense/Rebounding badges: Intimidator (HOF), Interceptor (HOF), Pick Pocket (HOF), Rebound Chaser (HOF), Rim Protector (HOF), Clamps (Gold), Ankle Braces (Silver), Chase Down Artist (Bronze)
Takeover
For the takeovers, this build uses double Limitless range to help with the shooting because that's the only downfall of the build even though you can green every shot.
Primary: Limitless Range
Secondary: Limitless Range