FIFA 20 TOTW 26 Predictions - Potential Team of the Week 26 Squad in Ultimate Team
2020/3/9 15:11:41

It's time for the new weekend, who will be selected in Team of the Week 26 in FUT 20? Here is the FIFA 20 TOTW 26 predictions featuring a team of players who are potential to win the inform cards. The special black items will be released this Wednesday, March 11, 2020, and available in FUT packs for a week.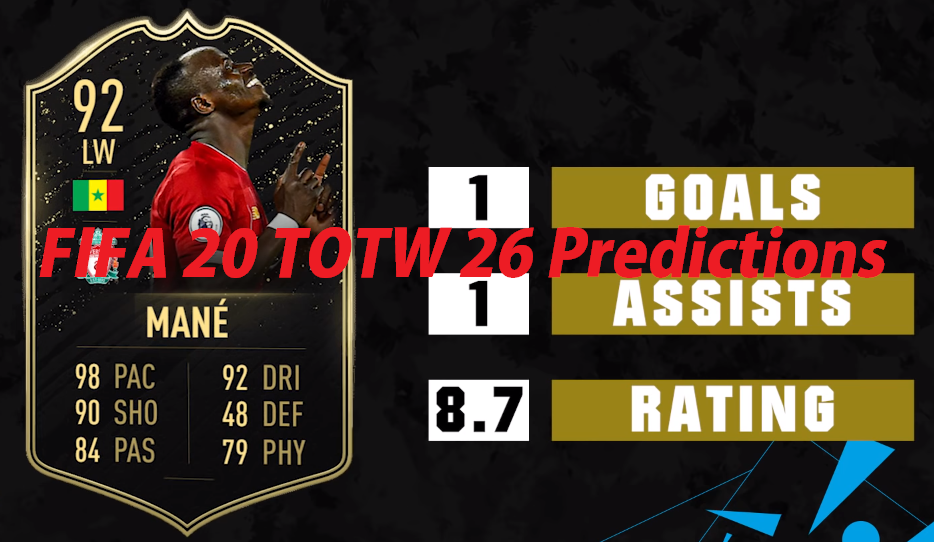 FIFA 20 Team of the Week 26 Predictions - Potential TOTW 26 Squad
Check out the Austor's FUT 20 TOTW 26 prediction with matches stats and possible upgrades. Get to know who will be worthy to invest for earning FIFA 20 coins.
GK: Leno - Arsenal - 84 to 86 - 6 saves, 8.6 rating
GK: Muslera - Galatasaray SK - 81 to 86 - 6 saves, 8.4 rating
RWB: Wan-Bissaka - Manchester United - 79 to 82 to 84 - 8.4 rating
RB: Dumfries - PSV - 78 to 84 - 1 goal, 8.1 rating
RWB: Risdon - Western United FC - 71 to 78 - 3 goals, 8.8 rating
CB: Sidnei - Real Betis - 80 to 83 - 1 goal, 8.1 rating
CDM: Gregus - Minnesota United FC - 69 to 77 - 1 goal, 2 assists, 9.3 rating
CM: Barkley - Chelsea - 79 to 82 - 2 assists, 9.8 rating
CM: Ramsey - Piemonte Calcio - 83 to 85 - 1 goal, 1 assist. 8.6 rating
CM: Junior - Heracles Almelo - 69 to 77 - 3 assists, 9.2 rating
CAM: Vlap - RSC Anderlecht - 75 to 81 - 3 goals, 9.6 rating
CAM: Sanson - Olympique de Marseille - 79 to 82 to 86 - 1 goal, 1 assist, 8.5 rating
LW: Tait - Stade Rennais FC - 78 to 82 - 1 goal, 1 assist, 9.8 rating
LW: Mane - Liverpool - 88 to 89 to 90 to 92 - 1 goal, 1 assist, 8.7 rating
RM: Insigne - Benevento - 70 to 78 - 1 goal, 2 assists, 9.6 rating
RM: Murilo - R. Sporting - 73 to 79 - 1 goal, 2 assists, 8.6 rating
RW: Tadic - Ajax - 84 to 86 - 2 goals, 9.5 rating
ST: Schaffler - SV Wehen-Wiesbaden - 70 to 78 - 3 goals, 1 assists, 10 rating
ST: Dolberg - OGC Nice - 76 to 81 to 84 - 2 goals, 8.4 rating
ST: Griffiths - Celtic - 74 to 80 - 3 goals, 10 rating
ST: Smith - Millwall - 68 to 76 - 3 goals, 10 rating
ST: Quagliarella - Sampdoria - 83 to 85 to 86 - 2 goals, 8.6 rating
ST: Havertz - Bayer 04 Leverkusen - 84 to 88 - 1 goal, 1 assist, 9.0 rating
More FIFA 20 Team of the Week 26 Predictions: