Enjoy Refreshing Football Experience in Rocket League & Best Rocket League Trading On RocketPrices.Com
2020/3/6 16:23:25

If you are asking what is the most popular football game in 2020, most of the players will say FIFA 20. But actually there is another soccer game named Rocket League is also becoming a trending, especially beloved by FIFA fans.
The Most Popular Football Game In 2020
Football is one of the most popular team sports in the world which almost always offers a great level of excitement and thrill, so without a doubt, the virtual football video games are becoming more and more popular, such as the FIFA 20. Just like actual games, millions and millions of football fanatics spend hours on their console and other devices playing all shorts of stimulating football games. What is the best and most popular football (soccer) game in 2020? No doubt, it is the FIFA 20, which is definitely by far the best option for ultimate satisfaction, especially if you are on console. Most traditional soccer (football) games like FIFA 20 either let you play on the field with your favorite players or sim the game and make you the manager.
Rocket League Brings A New Way To Play Football & Racing
In order to make football games more interesting, game developers have made more explorations, combining traditional football games with other elements. That's why Rocket League attracts millions of players, even those who don't follow real-world football games. Football is played with cars and other vehicles instead of humans, Rocket League makes the profound thinking come true, is prepared for those who enjoy high-speed driving and the world's most exciting sport. This cross-genre arena battler is the latest craze on Steam, PS4, Xbox One, and Nintendo Switch. Since its first release on July 7, 2015, Rocket League has gathered millions of players coming to compete in this battler. The number of people is still on the rise.
Rocket League's colorfully absurd cars-playing-sports concept works so well because the energy of its arcadey gameplay meshes with its deep team-based strategy and variety of modes. Rocket League remains a balanced multiplayer playing field, easy to learn but hard to master, compounds the accessibility of soccer with racing games, satisfying physics and feel, well designed with a great soundtrack, good graphics and hundreds of tradeable cosmetics items, all these make the game attractive.
Create A Unique Car With Cosmetic Items Is A Fun Of Playing Rocket League
The cosmetic items including the car bodies, decals, goal explosions, wheels, trails, toppers, rocket boosts, are the main unique element of the Rocket League, which gives players the freedom to create personalized battle cars. The cache of hundreds of tradeable cosmetic Rocket League items continues to grow. With everything from customizable goal explosions to player banners, there are innumerable combinations that allow you to truly stand out, and almost all of it can be earned just by playing. There's some grinding, sure, but you're always rewarded, and even duplicate items can be stacked up and traded in for items of better quality using a rudimentary crafting system that adds another layer to the appeal of collecting cosmetics. So if you want to try a new way to play football games, Rocket League could be you idea choice, which can provide you with a refreshing experience.
Best Rocket League Items Trading On RocketPrices.Com
When playing the game, almost all players know that they have to collect Rocket League Credits, Blueprints and Items to help them make up an eye-catching car. To meet players' need, Rocket League Trading is very active in the game, trade items with other players or buy Rocket League items from a reliable store like Rocketprices.com are both feasible.
If you are going to take a try of Rocket League or already playing Rocket League, and want to collect Rocket League Items fast in the most cost-effective way, you should check out the offers on RocketPrices.Com, you will be the following great trading services from them:
- RocketPrices.Com provides cheap Rocket League Credits and Items (all tradeable decals, goal explosions, wheels, decals, toppers, boosts, trails, banners, antennas, paints, engine audios, avatar borders, etc.) for your better gameplay.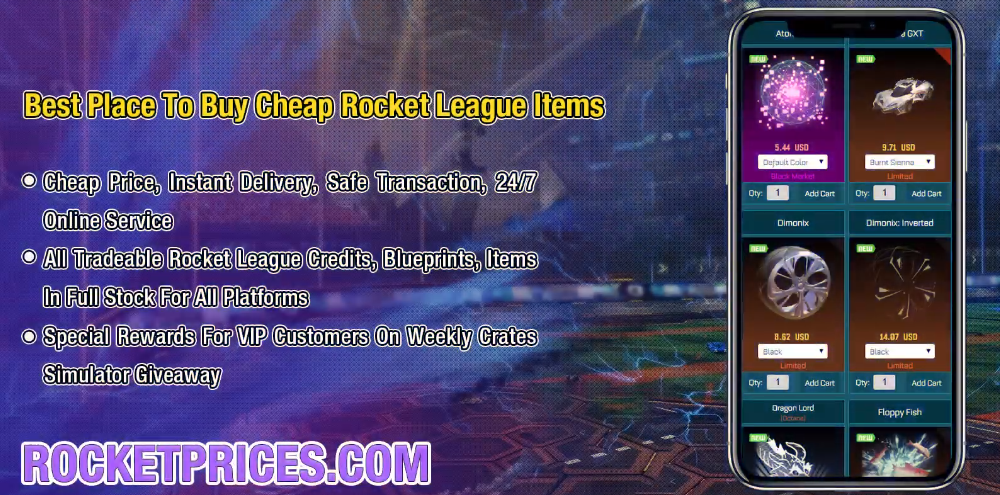 - RocketPrices.Com offers the daily updated Rocket League item price index to helping players check out the current value of each item, ensure every player does the best trading.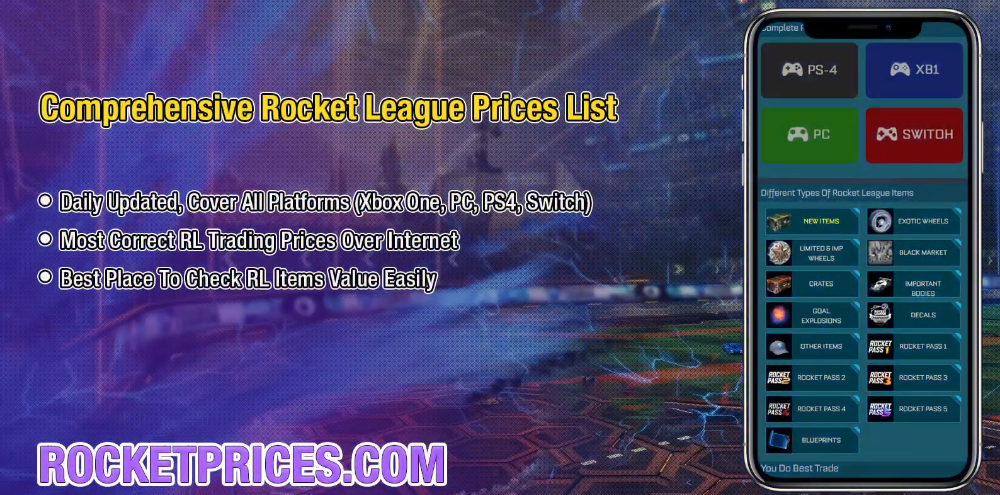 - RocketPrices.Com launches daily and weekly giveaways to give out FREE Rocket League Credits and high valued items to all Rocket League fans, completely free!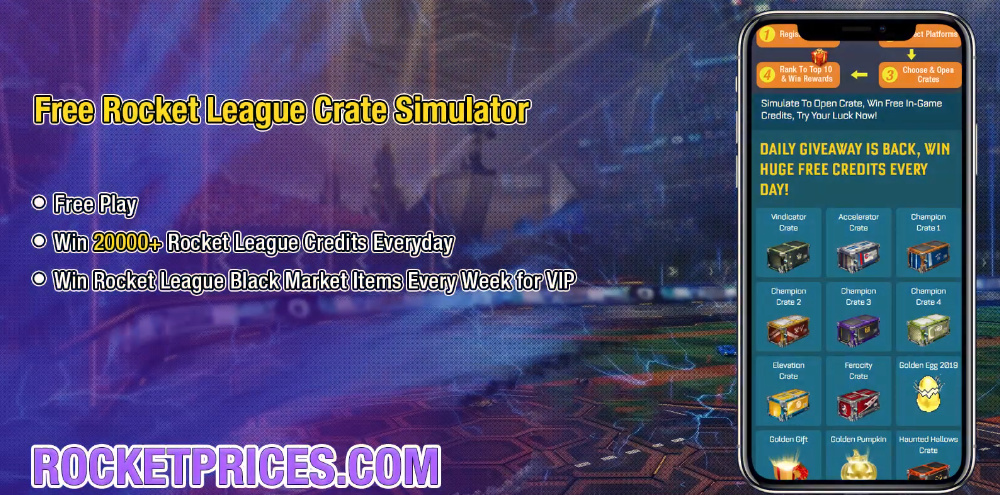 As one of the best online Rocket League Trading Store, RocketPrices.Com aims to provide the best shopping experience to all Rocket League Fans.