NBA 2K23 Best Rare Builds - How To Make J.R Smith Swish Replica Build in NBA 2K23?
11/25/2022 4:11:35 PM
We're going to be going over how to make the J.R Smith Swish replica build, but not only that we're going to show you how to optimize your own replica builds to make them the best they can be.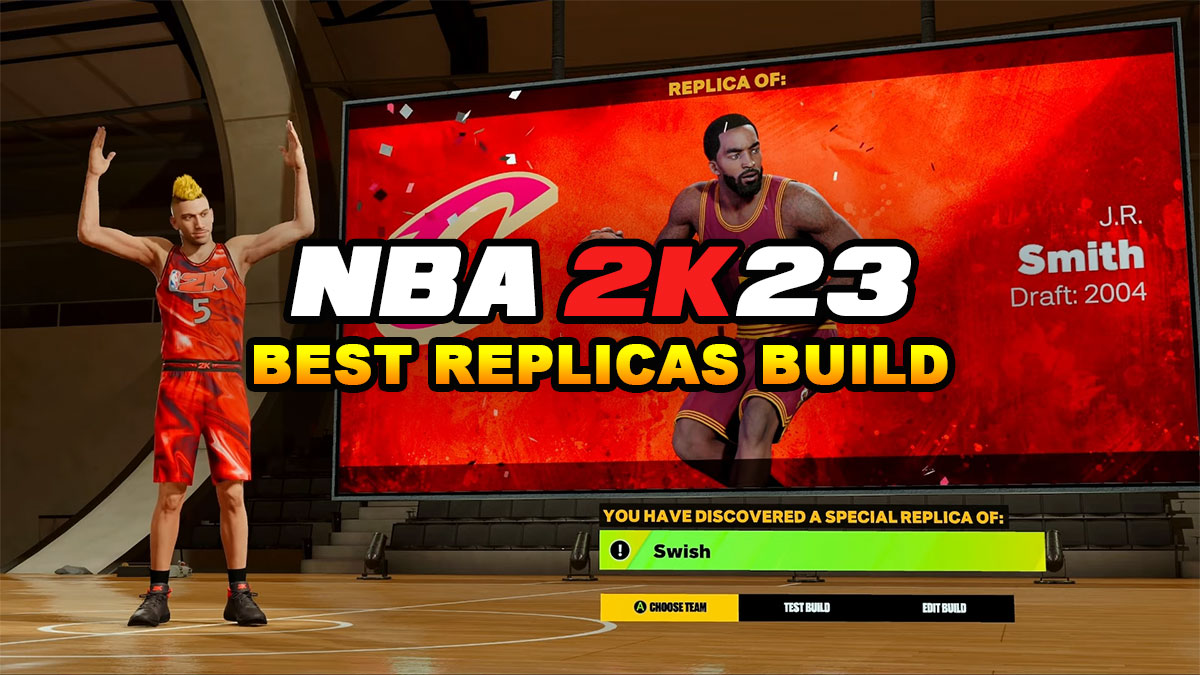 NBA 2K23 Easter Egg Replica Builds
Before diving into the J.R Smith build, we're going to give you some tips that you'll need to know when making your own replica builds:
2K dropped one of the coolest Easter eggs builds ever in the NBA 2K23 and basically, they made it so that if you make your build the same exact position, height, weight, wingspan, handedness, and number with similar attribute caps as certain players, you'll get a special build name relating to that player. For example, Dennis Rodman's replica build is called the worm Penny Hardaway is Lil Penny and there are a whole bunch of others.
Now when we first did our replica build tier list there were only around 35 five replica builds discovered at the time but 2K seems to be releasing more and more with each Season released, right now there are about 60 different replica builds. When these builds were first found, people didn't really understand how it worked to get the special names but we figured it all out.
How To Make (Customize) Your Own Replica Builds?
Now the original batch of builds wasn't really optimized to hit the correct attribute thresholds for certain animations and badge unlocks which made most of them look like terrible builds and deterred a lot of people from actually making one, but we found a way to customize these builds to make them much more viable.
Now to make any replica build, you need to find the correct player from the correct roster for some players. You can use the same player for multiple different teams but you just have to find the right team.

For the Swish build, we looked up JR's attributes from the historical rosters and he can actually have a build made from the 07-08 Nuggets, a 15-16 Cavs, or the 2011-2012 Knicks. The version we chose was the Cavs one, now the easiest way to get attributes from these players is to use the website 2kratings.com but you can also find them in the rosters within 2K as well.

When making and customizing the build in order to keep the replica build name, the attributes must all be within eight points of the original version you chose, and that 8 point threshold can be above or below the original attribute level.

For example, if the player you're copying has an original dunk rating of 88, you can go as low as 80 or go as high as 96, so there's definitely a good amount of leeway with these replica builds.

Most of the replicas have some high attributes and stats that don't really matter, for instance, you might see a 6-4 build with 90 Plus close shot or 70 plus post control, but the reason we made this Jr swish build is that his attributes are lower in the categories that we don't really care about.

The minimums and maximums of each attribute for the switch build are to get a better perspective on what we can do with this build. There are a couple of different routes:

You can go and he can get up to 93 driving dunks who have the ability to get gold posterizer and Elite contacts and make take this build into an insane slasher, or you can go with a really high three-ball and make more of a pure sharp version.

But either way, like in real life there are negatives to a build and when it comes to JR Smith his negative would be his defense, but that's not really much of a big deal in this case because it will allow us to make his offensive game even stronger.
How To Make The JR. Smith Replica Build in NBA 2K23?

Let's get into the actual build here now, The beginning is one of the most important parts of the replica builds. You'll need to have the same position, height, weight, wingspan, handedness, and jersey number in order to get the build names. So to start you can name it whatever you'd like but you have to make sure you have everything else exactly the same:
Profile

Position: Shooting Guard
Handedness: Right
Jersey Number: 5
Height: 6'6"
Weight: 208lbs
Wingspan: 6'10"
Body Shape: Compact
Main Attributes
Finishing
Close Shot: 67
Driving Layup: 82
Driving Dunk: 86
Standing Dunk: 32
Post Control: 37
Shooting
Mid-Range Shot: 81
Three-Point Shot: 92
Free Throw: 69
Playmaking
Pass Accuracy: 82
Ball Handle: 85
Speed With Ball: 80
Defense/Rebounding
Interior Defense: 37
Perimeter Defense: 76
Steal: 55
Block: 34
Offensive Rebound: 27
Defensive Rebound: 37
Physicals
Speed: 80
Acceleration: 84
Strength: 44
Vertical: 80
Stamina: 90
Takeover
Primary: Limitless Range
Secondary: Team Ratings Boost
Main Badges
Finishing
Tier 1: Giant Slayer (HOF), Acrobat (Silver)
Tier 2: Fearless Finisher (Silver)
Tier 3: Limitless Takeoff (Silver), Posterizer (Silver)
Shooting
Tier 1: Volume Shooter (Silver)
Tier 2: Green Machine (HOF), Space Creator (HOF), Catch & Shoot (Silver)
Tier 3: Agent 3 (Gold), Limitless Range (Gold)
Playmaking
Tier 2: Quick First Step (Gold), Hyperdrive (Gold), Unpluckable (Gold), Bail Out (Bronze)
Tier 3: Clamp Breaker (Silver)
Defense/Rebounding
Tier 1: Off-Ball Pest (Bronze), Work Horse (Bronze)
Tier 2: Pick Dodger (Silver)
If you don't really care about layups and don't mind sacrificing some defense and Speedway ball, you can make this build with gold posterizer and Elite contacts. You honestly don't miss out on much and with this build, you're also getting a gold clamp breaker which pairs perfectly with that 93 dunk. After playing with this build for the past few weeks, we probably would have opted for this 93 dunk version but don't forget though that you'll need to add at least three of your extra badge points into finishing in order to unlock and equip that gold posterizer.