FIFA 23 Out of Position Tier List - Ranking All Best Out of Position Cards on FIFA 23
10/31/2022 5:26:04 PM
EA has released out of position players, there's only 13 of them so far. Today we are going to be presenting the out of position cards ranking tier list for FIFA 23, and we are going to be talking about each player card, explaining why that card in particular is brilliant.
FIFA 23 Out of Position Tier List - Ranking All Best Out of Position Cards on FIFA 23
Now that the Out of Position promotion has gone live in FIFA 23, players may get their hands on some unique new cards. While most of these cards are available in packs now, your odds of opening one are relatively low. Moreover, by accomplishing SBCs and objectives, gamers can ensure themselves out of position cards. Each card has a different position from its usual versions. EA Sports has also added relevant boosts to their stats to ensure that these cards can dominate their new positions. All of the cards are intriguing to some degree, but some are clearly superior to the others. These out of position cards can be a nightmare for your opponent if you play them right in FIFA 23.
Now, let's rank every out of position on FIFA 23 Ultimate Team.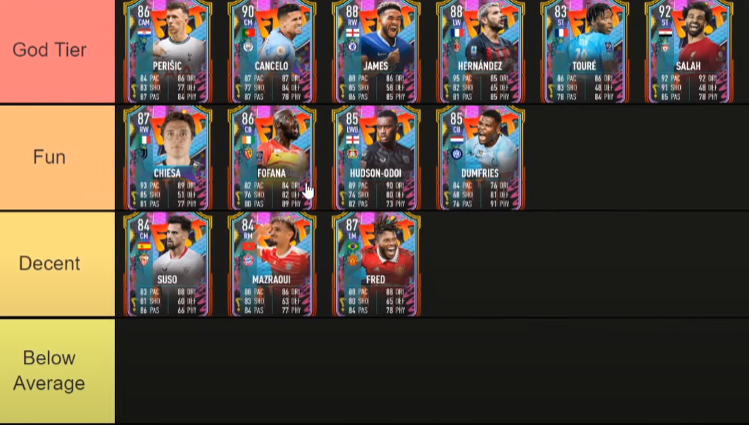 God Tier Out of Position Cards
He's got high/medium rates, a 5-star weak foot, and 4-star skill moves, this is the best one so far, just a right back, right wing, as well as cam, is absolutely mental. For his stats, you can genuinely play this card, 865 acceleration, 64 sprint speed, 87 attacking position, 93 crossing, 92 composure, 94 jumping and 90 stamina. He can be lengthy with the architect on him.
This is a bit of a weird one when he plays pretty much center mid when he inverts from left back or right back. 4-star skill moves, 4-star weak foot, right wing back, CDM, center mid, he's got 90 crossing on this card, he's also got 90 short pass, 81 long pass. As a passer and a dribbler in this game, he's really good, also got the acceleration, sprint speed to back it up. You cannot play him lengthy which is a shame, but he's still going to be absolutely sick as that defensive midfielder if you want him. Because of that, we should put him into the god tier.
He is a ridiculously good right mid striker and right winger. 86 agility, 92 balance, 88 strength, 92 crossing, 92 attacking position, 90 sprint speed, the shot power is after Richter Scale Lads and he's got early crosser, he can't be lengthy though which is a shame. But he's definitely should be god tier, we have to put a Chelsea player in there if you put a Tottenham player in there.
The left foot, he can also play striker as well. He's 6'0'' with high/medium work rates, 3-star weak foot, 4-star skill moves. For his stats, he's got 94 acceleration and 96 sprint speed, so he runs very fast in the game. He's also got 94 shot power, 92 stamina, 90 reactions, and 80 finishing, but he might miss a few of them crucial chances. If you add four-star skills, he'd probably be better than Reese James.
We all know how good this card is, 4-star skill moves, 3-star weak foot for high/medium work rates. So you can play left wing as well if you want him to, it's just a ridiculous card. He's got finishing 95, composure 94, even long shots and shot power are good as well for the power shots. the 92 agility, 93 balance, he's out unfinished on outside foot shot, he is absolutely in the God tier.
He is a center-back for Marseille, but he's got 4-star weak foot, 3-star kill moves, and he's 6 foot 8. If he's got high jumping, this card is ridiculous. He's got 90 sprint speed, 97 shot power, 96 composure, 99 penalties, 95 ball control, 96 reactions, 99 attack positioning and he's more than likely going to be lengthy, at 96 reactions, this card might be like one of those meta highland cards, sold off cards. He's not really for under 40K, he's going to keep dropping.
Fun Tier Out of Position Cards
He's an SBC, high medium, 4-star skill moves, 4-star weak foot, he can play anywhere along the top 3, why is he got an outward position that right wing, he can play cam as well right mid. The fact that you can play cam, that's pretty interesting. He's a really good card, the player trait includes outside the full shot. Striker, cam, definitely on the wings if you wanted him to. He has the explosive accelerate feature, there's no way to make him lengthy.
This is a bit of a different one, because Denzel Dumfries definitely does not play center-back, because he is absolutely a right-sided player. 84 pace on the center is really good, he's lengthy on his normal right wing back card, so they should have it as well. He's also had his defensive work rates are mixed around, he's now medium-high on his right wing back, can also play CDM which is reall cool. He's just fast, he's got long throwing as well if that kickers your fancy.
This one's really cool, he's 6'11'' with high/high work rates, 4-star skill moves, 4-star weak foot. You can also play left back in CDM, so far this is the most versatile card we've had. If you play him CDM, you've got probably one of the best since cdm's in the game and he's lengthy is well. This card looking pretty saucy.
He's a left wing back, he can also play left back as well. This is sick 4-star skill moves and 3-star weak foot. This is a pretty Saucy card, for an objective card, it can't go wrong. He got the power headed straight, good crossing, good vision, can even score goals if you want to in the box.
Decent Tier Out of Position Cards
He's not much of a position change, you play cam, you play left wing and you can play center mid, looking pretty tasty nice, bit of dribbling on them, 88 heading accuracy, 86 defensive awareness, early crosser as well, it's pretty cool. He's not that expensive and he looks pretty decent.
He looks pretty good too, but once again not really much of an L position, is he pretty decent card, they're taking away his defensive qualities obviously but you can still easily play center mid if you wanted them to. Good physicals, passing is pretty good too, dribbling's good, attack position is in 97,
The skill moves are pretty nice, looking pretty tasty, you can play center forward as well which is a weird one. His 97 agility and 96 balance is great, the way pace works on New Gen anyways, it's not really going to make that much of a difference. The main thing there is the dribbling is absolutely great, he's got no good traits other than the flare trade, but as a passer, as a center mid even with 72 interceptions, he's more than possible.