NBA 2K23 Best Jumpshots for All Builds & Tips To Create The Fastest 100% Greenlight Jumpshots
9/9/2022 11:38:07 AM
What are the best Jumpshots in NBA 2K23 you should pick up for kicking off Season 1? In this guide, we will give you the answer by going over our Top 5 Jumpshots for all builds (positions) on both Current Gen and Next Gen, as well as breaking down the best jump shot bases to use for NBA 2K23!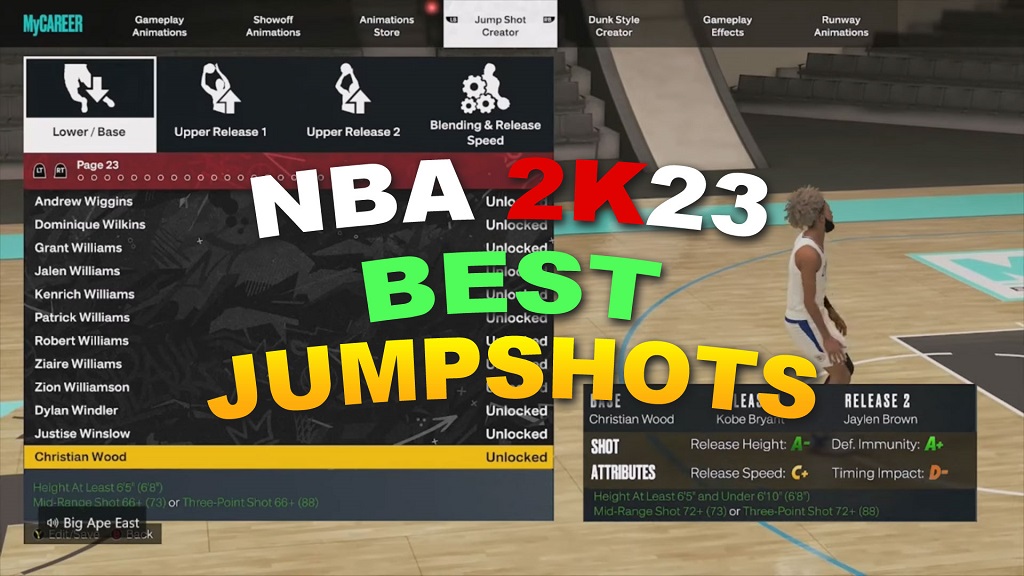 NBA 2K23 Best Jumpshots Guide (Current & Next Gen)
NBA 2K23 is live, alongside the kick-off of Season 1 in MyTeam and MyCareer mode! Now it's time to focus on the best NBA 2K23 Jumpshots to use for getting the 100% greenlight window with the new tier system!
Tips To Create The Best Jumpshots in NBA 2K23
Before we dive into the best jump shots, we're breaking down the jump shot creator because it's completely different in this game. So we want to teach you how to create the best jump shot on NBA 2K23 now:
Tip 1 - Jumpshot Shot Attributes Grades
With this year's game, each signature jump shot now has unique shooting stats and those stats are broken down into four categories and they're going to play a big part in determining the effectiveness and make the percentage of your shots. As you can see on the screenshot, the jump shot creator looks kind of different - no more custom bases, every base and release has a name, and also we have stats on the side. So obviously you want these stats to be at an A grade.
Tip 2 - Base & Release Jumpshot Affect the Shot Attributes
If you look at the shot attributes - release height, defense immunity, release speed, and timing impact, every base and release changes these stats, so you need to be careful on what you equip. With this new jump shot creator, there will be an actual best jump shot and worst jump shot in the game. Every base and release change your grade, you have to find that balance and need to understand like are you taking shots off the dribble, are you taking shots from the corner, it's very important.
Tip 3 - Timing Impact + Defensive Immunity Definitions
Release Speed + Release Height have been around over the years and you know we've tinkered with them. Timing Impact + Defensive Immunity are brand new and these two shooting sets is something we really haven't seen before for it being applied to signature jump shots in a unique and individual manner.
Timing Impact: Adjust Shot Make Window, Rewarded for Good Timing + Increased Penalty for Bad Timing

Defense Immunity: Shot Contest Counter, Determines How Effective Shot is vs. Shot Contests
If these definitions kind of sound familiar to you, it is because they actually have similar effects to some badges we know, like defensive immunity is kind of like blinders and steady shooter, while timing impact kind of behaves like Sniper and Flexible Release. However don't make the mistake on assuming, they're just like badgers because they're not because bash jump shot boosters used to be universal, so like sniper badge boost last year gave a 15 increase to slightly earlier and slightly late across all signature jump shots.
So keep in mind that some of these jump shots have requirements, such as you have to be a certain height or certain attributes on your My Player, that's why it's always better to make a dummy account and see what you really need before you spend VC and money on that build.
Tip 4 - NBA 2K23 Sig. Jumpshot Shooting Stats Can All Be Different
However, the shooting stats like timing impact and defense immunity can be all different depending on the individual shot because each individual signature jumper has different shooting stats.
So because of just how much more unique every shot is, it is possible that NBA 2K23 will give us many viable jump shots compared to previous games, so user with the in-depth jump shot knowledge is going to have an in-game competitive edge
Tip 5 - Crucial to Lab Jumpshots + Thinker with Builder
As a final note, in NBA 2K23, signature jump shot animations will be gated by your player builds shooting rating, so you can't have access to every shot and the higher your rating the better shots you're going to get access to, so it's going to be crucial to lab jump shots and tank it with the builder.
Tip 6 - Release Speed Customize Setting
You can also customize release speed when you want to release your shot, so if you go into your controller settings, you will see "Shot Timing Release Time" and this actually affects online and when you want to release your shot.
NBA 2K23 Best Jumpshots for All Builds (Next & Current Gen)
Now you have known some tips to create your jump shots, we would like to share you with the best and fastest jump shots for all builds to automatic greens on the court!
NBA 2K23 Fastest Base Jumpshots for Different Heights
Height Under 6'4"
De'Aaron Fox

Russelll Westbrook

Cole Anthony
Height At Least 6'5" and Under 6'10" (6'9")
Kyle Kuzma

Terance Mann

Marquis Chris
Height Above 6'10"
Christian Wood

Lamarcus Aldridge
Top 5 Best & Fastest Jumpshots for All Postions in NBA 2K23
Top 1
Base: Jake LaRavia
Release 1: Klay Thompson
Release 2: Bennedict Mathurin
Shot Attributes: Release Height: A- / Def.Immunity: A- / Release Speed: A- / Timing Impact: C
Release Speed: Max Out
Animation Blending: 40% Klay Thompson / 60% Bennedict Mathurin
Top 2
Base: Allen Iverson
Release 1: Stephen Curry
Release 2: Penny Hardaway
Shot Attributes: Release Height: A+ / Def.Immunity: A+ / Release Speed: A- / Timing Impact: B-
Release Speed: Max Out
Animation Blending: 25% Stephen Curry / 75% Penny Hardaway
Top 3
Base: Lamelo Ball
Release 1: Darius Garland
Release 2: Penny Hardaway
Shot Attributes: Release Height: C+ / Def.Immunity: A+ / Release Speed: A+ / Timing Impact: C-
Release Speed: Max Out
Animation Blending: 60% Darius Garland / 40% Penny Hardaway
Height Under 6'5" (6'4")
Top 4
Base: Trea Young
Release 1: Darius Garland
Release 2: Darius Garland
Shot Attributes: Release Height: F / Def.Immunity: A+ / Release Speed: A+ / Timing Impact: A
Release Speed: Max Out
Animation Blending: 50% Darius Garland / 50% Darius Garland
Top 5
Base: Dwyane Wade
Release 1: Jordan Poole
Release 2: Jordan Poole
Shot Attributes: Release Height: C- / Def.Immunity: A / Release Speed: A- / Timing Impact: A-
Release Speed: Max Out
Animation Blending: 50% Jordan Poole / 50% Jordan Poole