Diablo 2 Resurrected Beginner's Runewords Guide- Farming Steps& Low-Level RUNES Recommendation
1/19/2022 3:55:31 PM
Today to talk a little bit more about Diablo 2 Resurrected runewords, this is going to be low level and just kind of more for the beginners, the basic d2r rune word making process and just go through it. There's still a lot of new players to the game, so kind of help them out with that so right here got a variety of things, and to go ahead do a little instruction.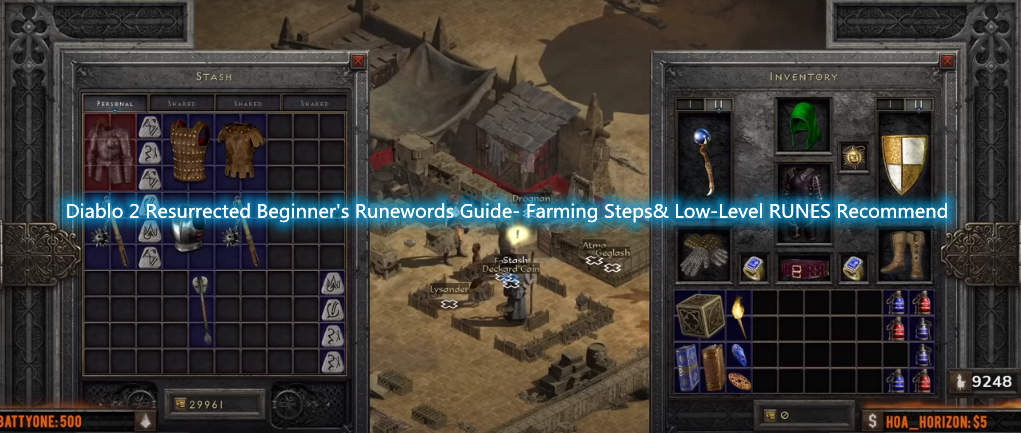 Diablo 2 Resurrected Beginner's Runewords Guide- Farming Steps& Low-Level RUNES Recommendation
How you can get some of those really cool D2 items?
The exact number of sockets for whatever it is that you're making, so if to make stealth which is tau plus s, cannot put it in a three open socket. Then trying to put a gem or something in the third socket doesn't work that way has to be two open sockets. A two-open socket will not work, it has to be two open sockets and it needs to be gray as well, you'll note right here mechanics leather armor, this is a magic D2R rune word or a magic item and the affix is one of the affixes in the game is mechanics which gives the item sockets.
Mechanic's Leather Armor
Taleth
Defense: 17
Durability: 24 of 24
Required Strength: 15
Required Level: 17
Regenerate Mana 15%
Poison Resist +30%
Socketed(2)
How you can get the like two open socket rare helms?
How can get you to know like your pelts or your coronets?
How you can get your J mods?
All of these things through affixes that can give more sockets than the Diablo 2 item can allow and whatever stuff normally all that being said once again, it has to be gray, the right number of sockets. You need two open sockets, gray armor, gray item, every single runer will be made in a gray item, you can't make it in any sets, but you know Griswold set has three open sockets on the armor, it doesn't matter you can't make any Diablo 2 rune words in that right gray, and two open sockets for this right there or whatever the exact number of sockets.
Low Level Diablo 2 Resurrected rune words for beginner
Gemmed Breast Plate
Taleth
Defense: 65
Durability: 50 of 50
Required Strength: 30
Required Level: 17
Regenerate Mana 15%
Poison Resist +30%
Socketed(3)
Studded Leather
Taleth
Defense: 37
Durability: 32 of 32
Required Strength: 27
Required Level: 17
+ 25% Faster Run/Walk
+ 25% Faster Cast Rate
+ 25% Faster Hit Recovery
+ 5% Enhanced Defense
6 To Dexterity
Regenerate Mana 15%
+ 15 Maximum Stamina
Poison Resist +30%
Mage Reduced By 3
Ed(2)
Gemmed Grand Scepter
Tirel
One-Hand Damage: 8 to 18
Durability: 60 of 60
Required Strength: 37
Required Level: 13
Mace Class-Normal Attack Speed
+ 50 To Attack Rating
+3 To Defiance (Paladin Only)
+1 To Sacrifice (Paladin Only)
+2 To Mana After Each Kill
+1 To Light Radius
+ 50% Damage To Undead
Socketed(2)