D2R 2.4 New Runeword Mist Guide - How to Use Mist in Diablo 2 Resurrected 2.4 PTR
1/19/2022 11:52:41 AM
In the way of approaching Diablo 2 Resurrected 2.4 Patch, a slew of new runewords have been revealed with details. Before the D2R PTR actually arrives, we are going to outline the D2R 2.4 new runeword Mist, what runes are needed to make Mist, is it a good runeword to use in 2.4 PTR and how to use it?
D2R 2.4 New Runeword Mist Guide & Tips - How to Use Mist in Diablo 2 Resurrected 2.4 PTR
What is Mist Runeword in D2R Patch 2.4 & How to Get It?
Mist is a newly introduced runeword for Diablo 2 Resurrected 2.4, after Plague, Pattern, Unbending Will, and Wisdom. The Mist runeword seems to be specifically revolving around the Act one rogue mercenary, to make the Mist in D2R 2.4, we need to get five runes first, including Cham, Shael, Gul, Thul, and Ith. The Cham and Gul are high runes in Diablo 2, while Shael, Thul, and Ith are low runes. Both use a Cham and a Gull, it seems competitive with Faith.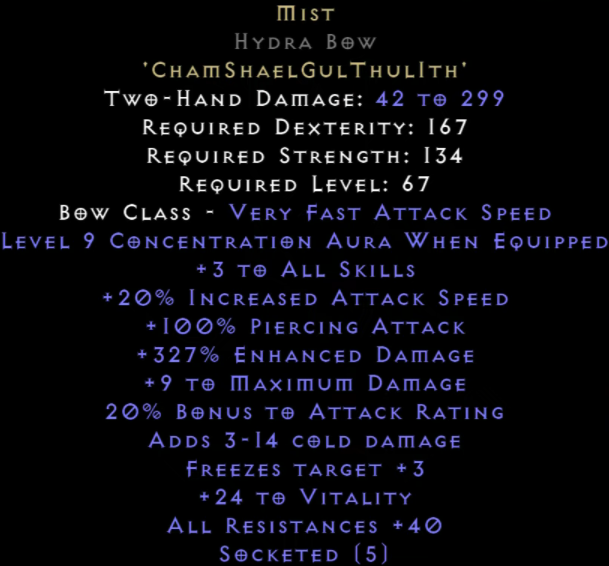 Cham is rare, it doesn't really have a lot of very good recipes or uses, and putting a Cham rune in this also limits this slightly, because it does give the freeze target effect, so if you are a person who does not want your corpses being shattered, you're probably going to want to look other options. But the freeze target is extremely powerful, if you do not care about corpses, it is going to be fine with the freeze target.
Below are the stats and attributes of D2R 2.4 Runeword Mist:
Mist
Hydra Bow
ChamShaelGulThulIth
Two-Hand Damage: 42 to 299
Required Dexterity: 167
Required Strength: 134
Required Level: 67
Bow Class - Very Fast Attack Speed
Level 9 Concentration Aura When Equipped
+3 to All Skills
+20% Increased Attack Speed
+100% Piercing Attack
+327% Enhanced Damage
+9 to Maximum Damage
20% Bonus to Attack Rating
Adds 3-14 Cold Damage
Freezes Target +3
+24 to Vitality
All Resistances +40
Socketed (5)
Is Mist a Good Runeword in D2R 2.4? - How to Use Mist in Diablo 2 Resurrected 2.4 PTR
Ginger Gaming Mentor has released a video explaining the newly announced runeword - Mist, which will be added in the upcoming Diablo 2 Resurrected Patch 2.4, you can click here to watch more details.

Looking at the stats of Mist, we have damage of 42 to 299, which is pretty good for a bow, it is a five socket runeword and it could be put in a lower-level D2 item, but it would be limited by the Cham rune. You will find out that the Cham is a level 67 item, which means that it makes this D2R ladder runeword level 67. We also get level 9 Concentration, which is a very nice ability when equipped, it can prevent the monsters from preventing you from attacking, so when you attack with Concentration, that is a 20% chance that your attack will be completely uninterruptable.
In addition, the +3 to all skills is amazing and definitely going to beef up the mercenary, this can be a powerful player item as well. +20% increased attack speed is coming from the Shael rune, it's always nice to have attack speed on a bow. +100% piercing attacking means that every single attack that is fired from this particular bow will pierce with a 100% chance and will hit targets behind it and pierce through them. Having a 100 pierce passive is an extremely powerful ability. If you want a piercer as an Amazon, you have to put skill points into it to make it work, but if you have the bow, you can save those points, this is helpful for building your character. As a rogue mercenary who has no piercing ability, this will make a big difference in the amount of output damage.
We also have +327% enhanced damage, this is massive for a bow, and there is a plus 9 to the max damage. 20% bonus to attack rating is going to increase the amount of times that you are actually going to connect your hits, being able to pierce does not mean anything if you can connect the hits that are piercing. 3 to 14 cold damage is going to improve the freeze target, so the targets will stay frozen a little bit longer. All resistances plus 40 is another amazing bonus, that's going to pretty much cap off the resistances on your mercenary and make them a lot more tanky. Overall, Mist is a great weapon for Act one mercenary, it may be a good budget alternative to Faith.