How To Vote For FIFA 22 TOTY Nominees - FUT 22 Team Of The Year Vote
1/12/2022 11:20:43 AM

FIFA 22 Team of the Year (TOTY) is about to begin. At the end of January, we will see one of the best promos added to FIFA 22. What is exactly your official FIFA 22 TOTY vote? In this guide, we are going to show you how can you vote for your players to make the Year of the Year FIFA 22.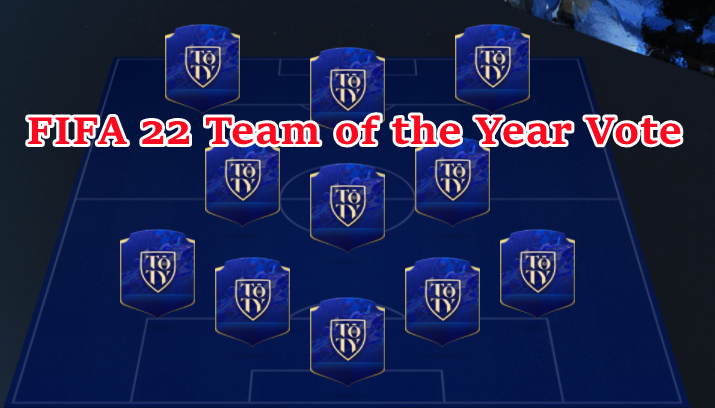 What Is FIFA 22 Team Of The Year (TOTY)?
FIFA 22 TOTY promo is the biggest event in the FIFA Ultimate Team calendar. We are not just talking of being similar to the Team of the Week where they get increased by one or two ratings with certain individual stats also being boosted. With Team of the Year, they get boosted by over ratings of 5, even more, to take them to high rated 98 or 99 rated players. For those that start off having a relatively lower rated card, they still get into those mid-90s. With these types of players along with it comes an insane price tag. In previous years, these types of players have cost millions of FIFA 22 Coins. With that price tag connected to it, it always makes sense for you to prepare.
FIFA 22 TOTY Vote Release Date & Close Date
The FUT 22 TOTY nominees were released between January 7 and January 9, with voting opening on Monday, January 10, and closing on Monday, January 18.
FIFA 22 Team Of The Year Nominees Vote
Team of the Year is by far one of the biggest that we get every single year for every single FIFA. The players that get selected to be part of this team will have insanely boosted card stats. 80 nominees, one ultimate XI. Back the best and vote now for Team of the Year. It's always a controversial vote because people either vote for which players might deserve a Team of the Year card or which players might be the best in FIFA 22. Therefore, we are most likely to see Hakimi and Ronaldo in this Team of the Year, because of how good they are.
How To Vote For FIFA 22 TOTY Nominees
1. Go to the official FIFA 22 Team of the Year vote website.
2. Agreed to the EA terms and conditions.
3. Choose the 11 of your favorite players from Goalkeepers, Defenders, Midfielders, and Attackers. Drag their cards into the corresponding positions.
4. After you have decided All of your Team of the Year nominees FIFA 22, click submit vote.
5. Team of the Tear nominees Vote FUT 22 Submitted. Share the ones you've backed now on social media using #TOTY.
Once you vote for FIFA 22 TOTY nominees, you need to prepare for the upcoming FIFA 22 Team of the Year event, you'd better save all the packs from Division Rivals, Fut Champions, Squad Battles, and Squad Builder Challenges. Once FIFA 22 TOTY promo is released that's when you open them all.