How To Complete Winter Party Bag SBC Challenge In FIFA 22
12/30/2021 3:52:33 PM

The Winter Party Bags are back in NBA 2K22 ultimate team, along with new icon SBC's. It's sad that we don't have the Winter Wildcard packs, but it'd be cool if we had farty bags in FIFA 22. How you can grind the party bag challenge and why you should grind the party bag in FUT 22? Next, we are going to talk about how to complete FIFA 22 Winter Party Icon Bag SBCs.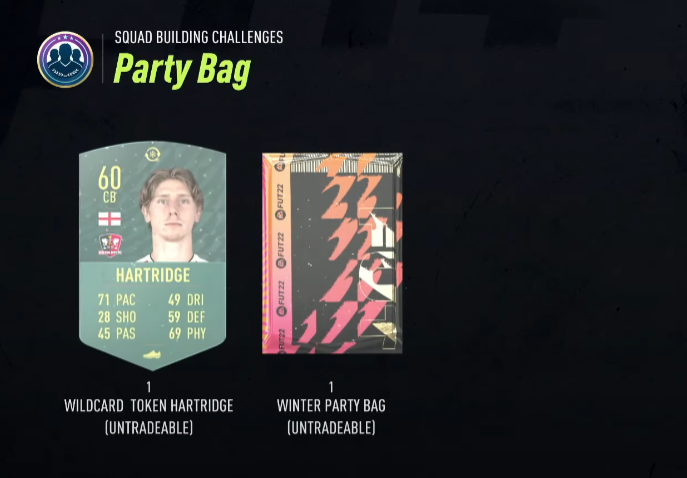 FIFA 22 Winter Party Bag Icon SBC
There are 3 new icons that have been released in FIFA 22 Farty bags. We've got the Carles Puyol, Gianfranco Zola, and George Best. All of them seem to be okay value. The Gianfranco Zola is the one that everyone likes more, this one has the 76 stamina and the rest of the stats are cracked with four-star skill moves and four-star weak foot. However, the issue with Carles Puyol is always doesn't have elite-level acceleration or sprint speed, and the agility's bad. But he's got the 92 defensive awareness, the 92 strength, and 91 aggression. As for George Best, he is the one that most people are excited about coming in around 550,000 FIFA 22 coins is what the SBC is. He's about 550,000-600,000 coins on the market.
Some people don't have liquid coins, some people use their own tradable fodder for those of us that grind the game and just get on tradable packs and season objectives and wild card token swap packs and icon swap packs. If you don't have a crazy liquid coin balance, these might be some icons that appeal to you.
What Is Winter Party Bag In FIFA 22?
The Winter Party Bag aka Farty Bag has just arrived there. When you are opening this Winter Party Bags, it will display a fart sound. There is a new Winterwild card, there is an Awad and then there is also a cheeky party bag with the Hartridge center back. The reason you do this SBC it's about 30,000 coins.
What Contains In Winter Party Bag In FIFA 22?
The majority of you are going to do the SBC for the Wildcard token, but you also get yourselves a FIFA 22 winter party bag that contains a Team of the Group Stage, Rule Breakers, Ones to Watch, and the upgraded Numbers Up or TOTGS player that are currently available in packs.
How To Grind The Winter Party Bag SBC In FIFA 22 Ultimate Team
First of all, you get a Wildcard token, all you can do is get as many of these Wildcard tokens as possible. Because you get rewards based on how many tokens you have, you can choose from. Kind of like icon swaps. Then we need two Team of the Week players with 83 overall ratings and 60 cams. This shouldn't be too hard to complete but if you're trying to get some in the Team of the Weeks. Essentially what you're going to want to do is grind the 75 plus player picks. This gives you the option to pack one and three players that are 75 rating and above. The best thing you can do is gold rare, use your untradable first. If you have any in your club that way you don't have to spend any coins, you save yourself some coins. We'll put in 3 rares and then we will go to the commons untradable. Then put in some more. If you have Syria cards this should be pretty easy. Then put him at center back, at last, you should be able to get 75 plus.
Above is an example of doing one of these with untradeable in her club and you didn't have to spend a single coin. The truth is you're not going to get a board or walk out every single time. But you will get some Team of the Weeks, you will get some more fodder for League SBCs and you'll get a bunch of different stuff. If you don't have any untradable fodder in your club, there are a couple of different things to grind Winter Party Bag SBC FIFA 22. One you can use tradable fodder you might have. Just look for tradable options in your club or go to the market. If you go to gold common, look at the lowest buy now. The thing you might run into is depending on the cards you're bidding on. You might run into League SBCs, people bidding on League SBC cards and they're willing to pay way more than just the average gold price on the market.
Would you guys pay for a 100, 000 coin or maybe even 150, 000 coin for a FIFA 22 Winter Party bag pack if it guaranteed a Winter Wildcard? At the end of the day, it's a minimal investment, you get the Winter Wildcard and token, then you get a farty bag.