FIFA 22 TOTW 10 Predictions - Best OTW & Inform Players To Invest In FUT 22 Team Of The Week 10
11/20/2021 10:26:37 PM

Which players will be named into FIFA 22 Team of The Week 10? Let's break down the list of the players with the most potential to get a rating boost in the upcoming week!
FIFA 22 Team of The Week 10 Predictions
As the FIFA World Cup qualifiers were carried out on all continents, football superstars scattered in clubs all over the world return to their hometowns to fight for their country in the middle of the week. While, on the weekend, they went back to the league non-stop to play for their club. In this busy week, we can still see some big names maintain their stunning performances in the weekend fixtures, and some players made their names impressive for the first time in the new season. These outstanding players have won the opportunity to enter FIFA 22 Team of the Week 10 in FUT, but who deserves a final spot?
Here we list all candidates and the most worth investing in OTW for you, you know who to target for your team:
GK: José Devecchi (Aldosivi) - 5 saves and MOTM in 2-0 win - 69 > 78
GK: Lukáš Hrádecký (Leverkusen) - 7 saves in 1-0 win - 83 > 85
RB: Graham Zusi (Sporting KC) - 1 goal, 1 assist and MOTM in 3-1 win - 69 > 77
RB: Trent Alexander-Arnold (Liverpool) - 2 assists in 4-0 win - 87 > 88
RB: Christopher Trimmel (Union Berlin) - 1 goal and MOTM in 2-0 win - 77 > 81 > 83
CB: Jimmy Dunne (QPR) - 1 assist and MOTM in 2-0 win - 68 > 77
CB: Curtis Good (Melbourne City) - 1 goal in 2-1 win - 69 > 78
CB: Jorge Cuenca (Getafe CF) - 1 goal and MOTM in 4-0 win - 70 > 78
CB: Tiago Djaló (LOSC Lille) - 1 assist and MOTM in 2-2 draw - 74 > 80
CB: Jeffrey Gouweleeuw (FC Augsburg) - MOTM in 2-1 win - 76 > 81
CB: Grant Hanley (Norwich) - 1 goal and MOTM in 2-1 win - 75 > 81
CB: Tyrone Mings (Aston Villa) - 1 goal and MOTM in 2-0 win - 78 > 82
CB: Florian Grillitsch (TSG Hoffenheim) - MOTM in 2-0 win - 78 > 82
CB: James Tarkowski (Burnley) - 2 assists in 3-3 draw - 81 > 84
CB: Antonio Rüdiger (Chelsea) - 1 goal in 3-0 win - 83 > 85
CB: Leonardo Bonucci (Piemonte Calcio) - 2 goals in 2-0 win - 85 > 86
LM: Mads Pedersen (FC Augsburg) - 1 goal in 2-1 win - 68 > 77
RM: Francisco Pizzini (Defensa) - 2 assists in 3-2 win - 74 > 80
RM: Romain Faivre (Stade Brestois 29) - 1 goal, 1 assist and MOTM in 4-0 win - 75 > 81
RM: Jonas Hofmann (M'gladbach) - 2 goals and MOTM in 4-0 win - 79 > 84 > 86
CDM: Rob Schoofs (KV Mechelen) - 1 goal and MOTM in 2-1 win - 71 > 78
CDM: Rúben Ribeiro (Hatayspor) - 1 goal, 1 assist and MOTM in 3-1 win - 72 > 79
CDM: Martin Terrier (Stade Rennais FC) - 1 goal and MOTM in 2-0 win - 77 > 81
CDM: Ibrahim Sangaré (PSV) - 1 goal and MOTM in 2-0 win - 77 > 82
CDM: N'Golo Kanté (Chelsea) - 1 goal and MOTM in 3-0 win - 90 > 91
CM: Vitaliy Buyalskyi (Dynamo Kyiv) - 2 goals in 6-1 win - 76 > 81
CM: Rodri (Manchester City) - 1 goal and MOTM in 3-0 win - 86 > 87
CAM: Sonny Kittel (Hamburger SV) - 1 goal, 2 assists and MOTM in 4-1 win - 73 > 79
CAM: Lars Stindl (M'gladbach) - 3 assists in 4-0 win - 82 > 84
CAM: Andres Iniesta (Vissel Kobe) - 1 goal, 1 assist and MOTM in 2-0 win - 80 > 83 > 85
LW: Mario Pašalić (Bergamo Calcio) - 2 goals, 1 assist and MOTM in 5-2 win - 78 > 82
LW: Luis Sinisterra (Feyenoord) - 1 goal, 1 assist in 4-0 win - 75 > 81
LW: Sadio Mané (Liverpool) - 1 goal, 1 assist and MOTM in 4-0 win - 89 > 90
RW: Ismail Azzaoui (Heracles Almelo) - 2 goals in 3-1 win - 67 > 76
RW: Harry Wilson (Fulham) - 1 goal, 1 assist and MOTM in 4-1 win - 75 > 81 > 83
ST: Sebastian Grønning (Viborg FF) - 2 goals in 3-2 win - 64 > 74
ST: Sebastián Sosa Sánchez (Patronato) - 1 goal, 1 assist and MOTM in 3-2 win - 65 > 75
ST: Giacomo Vrioni (WSG Tirol) - 3 goals in 5-1 win - 65 > 75
ST: Rhys Healey (Toulouse FC) - 4 goals in 4-1 win - 68 > 76
ST: Gustavo Del Prete (Estudiantes) - 2 goals in 4-1 win - 70 > 78
ST: Jakub Świerczok (Nagoya Grampus) - 2 goals in 3-1 win - 72 > 79
ST: Zian Flemming (Fortuna Sittard) - 1 goal and MOTM in 3-1 win - 72 > 79
ST: Leandro Damião (Kawasaki Frontale) - 2 goals in 4-1 win - 74 > 80
ST: Emmanuel Dennis (Watford) - 1goal, 2 assists in 4-1 win - 74 > 80
ST: Bryan Linssen (Feyenoord) - 2 goals and MOTM in 4-0 win - 74 > 80
ST: Walter Bou (Defensa) - 2 goals and MOTM in 3-2 win - 75 > 81
ST: Dušan Vlahović (Fiorentina) - 2 goals, 1 assist and MOTM in 4-3 win - 78 > 82 > 84
FIFA 22 TOTW 10 Lineup Predictions
Starting XI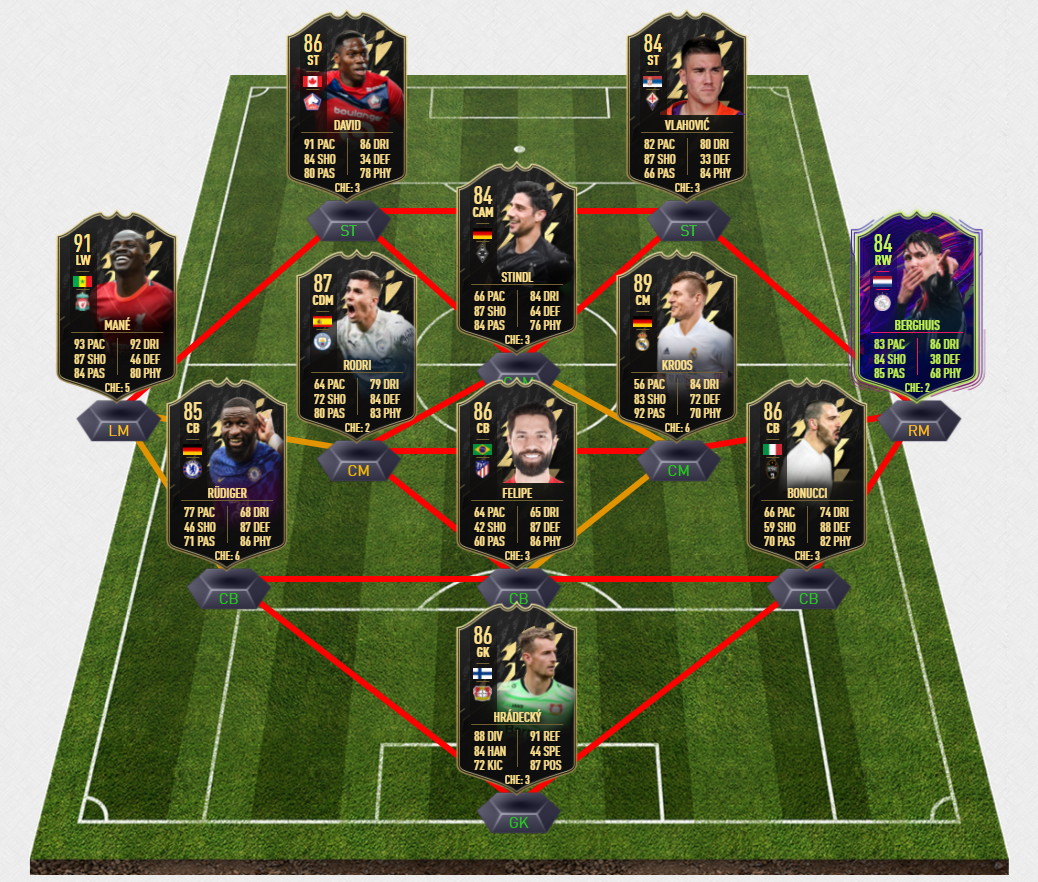 Bench

Reserves