Best FIFA 22 Hybrid Squad Builder 50K/100K/250K - Most Overpowered Cheap Team To Get More Wins
11/19/2021 9:47:20 AM

If you're looking to build yourself the best possible cheap Hybrid FIFA 22 team, you have chosen the perfect guide. We tell you how to build this team with 50K/100K and even 250K. It depends on how much budget you have, but every single time you can build yourself this overpowered meta squad, sometimes you can get a Ones to Watch inform, a Road To Glory card. Now let's get straight into this 50K/100K/250K Hybrid team FUT 22, covering individual players in each position which can definitely help you out in certain areas of the field.
FIFA 22 Most Overpowered Best Hybrid Squad & Team 50K/100K/250K
Squad details
Formation/lineup: 4-2-2-2
Clubs: Manchester Utd, FC Bayern, Dortmund, RB Leipzig, Dortmund
Leagues: Premier League, Ligue 1, Bundesliga
Rating: 85
Chemistry: 100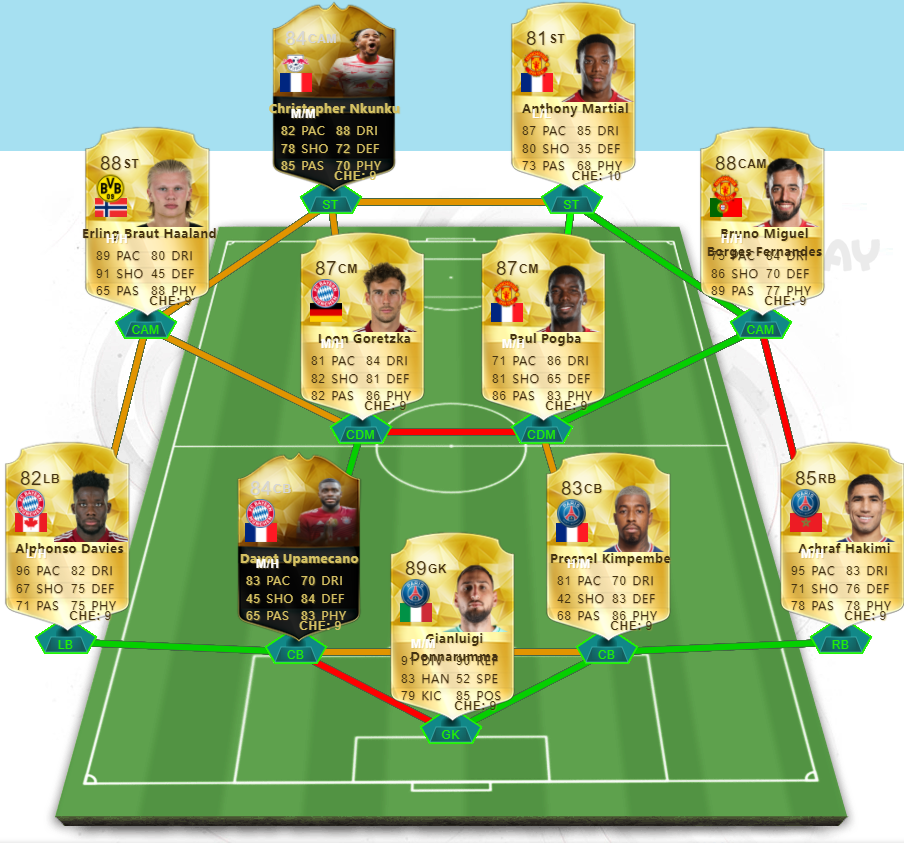 Player instructions – why should I pick them?
Donnarumma: The best goalkeeper in the league. He's 6'5'', his reflexes and diving making him one of the unpossible goalkeepers. So if you're looking for reflexes for reach and for diving and that is a dream coming true. Have Donnarumma as your goalkeeper and he will save you every single match.
Kimpembe: The center back you want to get in your squad. He has 80 acceleration, 81 sprint speed, great 84 interceptions and 84 slide tackle.
Hakimi: He is the best right back in the FIFA game at the moment without recognizing all those icon cards. He's so lightning quick on the ball and off the ball that he is a nightmare for a winger. If a left-winger like Neymar will escape you, don't worry, Hakimi is catching up with them so easily. It feels like taking candy from a baby, he will cost you quite some around 50K at the moment, but he's worth it.
Upamecano: If you want to make the team a little bit cheaper, you can go for Upamecano's regular record. This is Ones to Watch 84 rated card, can only dream about another upgrade to 86. He's a tank, he's super quick with 92 sprint speed.
Davies: One of the cheaper cards in this episode, he will bring the skills on the pitch to pay the builds, he's very quick with 96 pace, you got him a goalkeeper, so this is a squad to really keep an eye on out for.
Goretzka: Sometimes he is a danger for your own team, he's needed to be from box to box in possession scoring ghouls defensively great and putting pressure on that opponent because diving into tackle means he wants to mark very tightly and tackle all the time. If you can do that Goretzka is your man forever on the camp position.
Haaland: He is used as a cam in this episode and he was a god at the start of FIFA. Now more strikers are giving that godly status overall but don't forget Holland is 6'4'', he's massively quick, massively strong and a fantastic finisher. So don't rule him off. He's still 88 rated and for the number of FUT coins you spend on Holland, you can't get better for that amount of money. So Haaland will not only score you the goals, he can play as a target man, he can be a finisher, he can be whatever you want on the striker position.
Nkunku: You can go for a rule breaker card, you can for the first info card the second inform card and Kuku, it doesn't matter every player you select with and Kunku as an image is nice to use in that game. You will use him on the CAM position, Holland is switched to a striker. He has everything you desire and much more, he can be a target man, he can be a finisher, he can be a playmaker and then conquer his long shots or also extraordinarily powerful.
Pogba: He is great in defense, good defensively, physicality, he's more a playmaker than he actually is a CDM. Pogba is something extraordinary, you don't see every single day and he's putting those strikers one-on-one with goalkeepers multiple times in the match.
Martial: He's very cheap and reliable, and he still pays you back with so many goals.
Brund Fernandes: With Brund, there is nobody that can only pull back against your FIFA 22 Hybrid squad because the long shots will kill them off. So you have multiple weapons in your squad, you have lightning speed, amazing passing and incredible long shots.
If you are ready to win every single game in FIFA 22 and you want to get the players you always dream about, head over to Utplay.com to buy discount FIFA 22 coins.