NAB 2K22 Best Guard Build- A DEMIGOD in NBA 2K22! (Best Build + Best Badges)
9/10/2021 4:32:57 PM

The point guard is the most important part of the NBA 2K22 team lineup. PG is mainly responsible for organizing the offense of the team, commanding the defense, and controlling the ball to decide to pass the ball to the right player at the right time, which is to take it on the court. The person with the most chances of the ball. Not only does he have to take the ball safely from the backcourt to the frontcourt, but he also needs to pass the ball to other teammates so that they have a chance to score.
It can be said that the point guard is an extension of the head coach on the court. Indispensable to every team is a good point guard. Today bring NBA 2K22 best point guard build to help you get better performance in NBA 2K22.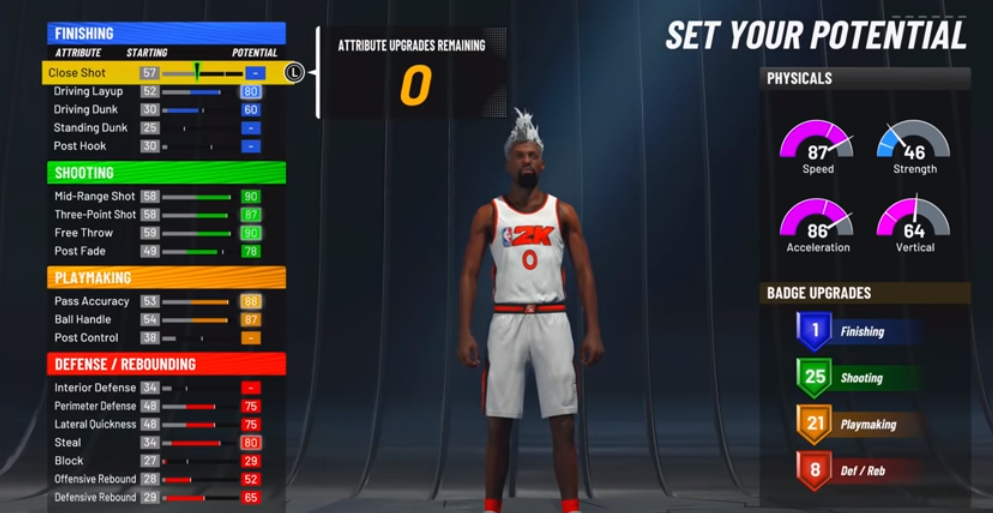 NAB 2K22 Best Guard Build- Best Build + Best Badges
Position
Point Guard
Skill Breakdown
Choose the pie chart with majority Shooting/Finishing
Physical Profile
Choose the agility and vertical pie chart
Set PG Potential-Attribute
Finishing:
Close Shot - 55
Driving Layup - 80
Driving Dunk - 52
Standing Dunk - 25
Post Hook - 30
Shooting:
Mid-Range Shot - 90
Three-Point Shot - 87
Free Throw - 90
Post Fade - 78
Playmaking:
Pass Accuracy - 88
Ball Handle - 91
Post control- 31
Defense/Rebounding:
Interior Defense - 28
Perimeter Defense - 75
Lateral Quickness - 75
Steal - 84
Block -29
Offensive Rebound - 41
Defensive Rebound - 56
Choose PG Body Shape
Body Shape: Compact
Height: 6'2"
Weight: 169 lbs
Wingspan: 74.0"
Choose PG Takeover
Spot Up Shooter
Test PG Potential-Badges
Finishing:
Bronze - Slithery Finisher
Shooting:
Bronze: Deadeye
HOF: Blinders, Chef, Green Machine, Lucky#7, Hot Zone Hunter, Limitless Spot-up
Playmaking:
Bronze: Unpluckable
HOF: Bullet Passer, Handles For Days, Quick First Step, Quick Chain, Ankle Breaker
Defense/Rebounding:
Bronze: Menace, Hustler
Gold: Clamps, Pick Dooger
That's the NBA 2K22 best PG build you need. Buy NBA 2K22 MT at UTPLAY.com!